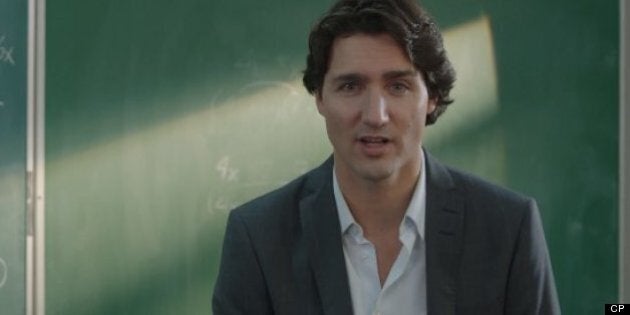 In the Harper government's most recent attack ad on Justin Trudeau, an announcer who has obviously had some drama training, given his tone of voice and use of emphasis, disparages the new leader of the Liberal Party for having been, among other things, "a drama teacher."
Trudeau's team responded poorly by pointing out he also taught math, rather than challenging the implication that there's little of value in the teaching of drama.
I coached drama in Quebec and taught the subject for more than 30 years in British Columbia. I am extremely proud of what I was able to accomplish for my students during that time. A few of them went on to become actors, some became drama teachers themselves but all of them learned vital life skills.
Confidence, creativity, co-operation, concentration, and communication skills are the five "Cs" of drama in the classroom. When preparing for a play, all of these elements are essential for a successful experience.
In the classroom, quick thinking is taught through improvisation, empathy through role play, and characterization. The ability to use the voice wisely and with knowledge of the effect it can have on an audience is an important element in the curriculum. All of these are skills that can be used in later life. My students were better able to interview for jobs, state their positions in business meetings, and articulate their ideas.
One of my former students, Salman M., was awarded Simon Fraser University's highest honour. He received the Gold Medal in 1998, which gave him a scholarship to study law at Oxford University. He telephoned me afterwards to thank me and to acknowledge the influence of drama on his accomplishments.
A few others responded to a request I put out on Facebook as I prepared to write this blog asking them to write a sentence or two if they felt that drama had any influence on their lives and careers. The response was overwhelming. Here are just a few of their comments:
Ashleigh M.: "Drama made me a more observant, understanding person by having to get into people's heads in order to play them. Drama taught me how to process information and decide on a logical course of action without panicking -- something that has helped me at every stage of my professional life."
Steve C.: "I have been enjoying much success as a business leader and also hockey & baseball coach in my community, and I attribute most of my success to the life skills I learned in my High School Drama classes. Many of my fellow classmates from these Drama classes are successful business owners, outstanding military people, and corporate lawyers. These classes, more than many other[s] in school, build strong future leaders."
Theresa L.: "[I was] a new immigrant to Canada in 1998, [and] the drama courses I took significantly improved my ability to communicate, and helped me develop a voice of my own. If not for my experience in these drama classes, I wouldn't be who I am now. I currently work as a communications co-ordinator for a science department at a university, and continue to use some of the skills I developed in drama classes everyday."
Danny G.: "In my opinion Harper could have used some improv/drama classes so he wouldn't be seen [as being] so stiff by Canadians. He would probably be more apt to answer reporters' questions and conduct media scrums more often, which he typically refuses to do. Drama taught me to have an open view to new ideas and encouraged me to be expressive without fear of being ridiculed."
On this last point, I've spent some time during my career presenting communication skills workshops based on drama techniques to politicians and lawyers. Many of them were elected to local, provincial, and federal government. Stephen Harper could have used some of those workshops.
Henry Brooks Adams wrote "knowledge of human nature is the beginning and end of political education." And how can one not come to a better understanding of human nature after preparing for, researching and acting in productions such as " The Crucible," "Diary of Anne Frank," or "The Ecstasy of Rita Joe"?
People don't take drama classes to become actors, they take them to help realize their full potential; to become better communicators, better citizens, perhaps even better prime ministers.