OTTAWA — Prime Minister Justin Trudeau missed more question periods than he attended during his first year in office — skipping 58 per cent of the daily sessions where MPs try to hold the government's feet to the fire, an analysis by The Huffington Post Canada shows.
The Liberal leader ducked 69 of the 118 QPs held from Dec. 7, 2015, to Dec. 3, 2016. That's more than former prime minister Stephen Harper missed during the first year of his majority mandate. Harper bailed on 46 per cent — 60 of 130 — of the question periods held from June 6, 2011, to June 1, 2012.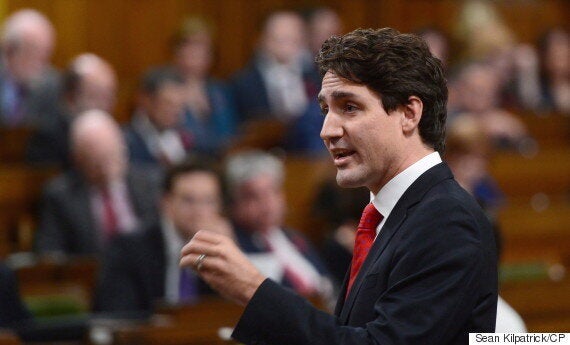 Trudeau usually shows up to two question periods a week, although he has missed more than a week's worth at a time.
Approximately two-thirds of the time — 63 per cent, to be precise — Trudeau had a good reason to miss the daily to and fro of the House of Commons. He was in New York City to address the United Nations General Assembly, for example, or on his way to Cuba for a bilateral visit, or in Montreal with Chinese Premier Li Keqiang to meet representatives of the Montreal Canadiens hockey team.
But 36 per cent of the time, Trudeau chose not to attend the 2:15 p.m. question period for reasons that were less obvious.
On Monday, for example, Trudeau was in Ottawa but not at question period. His office decided to schedule an event, a coding workshop with high school students, at 2:15 p.m. at Shopify, a nine-minute walk away from the House of Commons.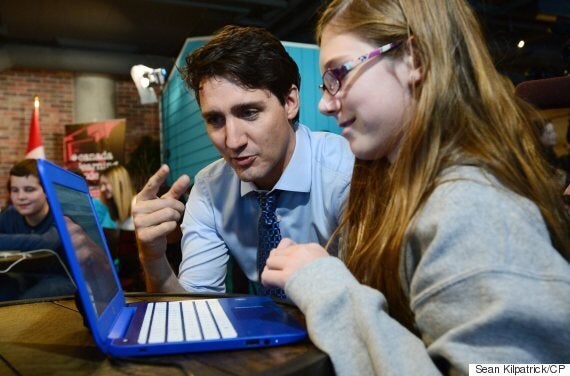 "We noticed that today the prime minister has a meeting scheduled right at 2:15, the event is … I believe, one of the only meetings he has today, and we know the meeting is here in Ottawa," Bergen told the Commons. "We want to be able to help the prime minister accommodate his open and accountable government."
She said "the message that [the PM] gave to his ministers … [is] that he thought it was important [for them] to be in Parliament, to answer honestly and accurately. So, in order to help the prime minister do that, I would ask for unanimous consent of the House to move question period for today."
"In our system, the highest manifestation of democratic accountability is the forum of Parliament," Trudeau wrote to his ministers last November. "You are accountable to Parliament for the exercise of the powers, duties and functions with which you have been entrusted. This requires you to be present in Parliament to answer honestly and accurately about your areas of responsibility," he said.
"Ministers must be prepared to explain and defend the government's policies and actions before Parliament at all times," the prime minister added.
NDP House Leader Murray Rankin told HuffPost that Canadians were used to Harper's skipping out on question period, and it's "worrying that the trend is continuing under Mr. Trudeau."
"If the prime minister is in town and schedules an event at the precise time question period starts, that's a pretty clear signal that he doesn't want to attend," Rankin said.
"If the prime minister is in town and schedules an event at the precise time question period starts, that's a pretty clear signal that he doesn't want to attend."
Trudeau's office declined to say why Liberal MPs refused to move question period to 4:15 p.m. Monday. The Tories had given the Liberals notice that they would move to postpone question period, as has been done in the past to accommodate MPs' flight schedules.
Cameron Ahmad, Trudeau's press secretary, defended the prime minister's attendance record, saying the PM "has always taken his work in Parliament, including question period, very seriously, and has been working hard to concretely improve openness and transparency across government."
"The prime minister made a clear commitment to Canadians that his responsibilities would not be limited to question period, and that he would continue engaging with them across the country, in their communities, homes, and workplaces, as much as possible," Ahmad added.
Monday, Trudeau was doing "just that" by "discussing the importance of education, technology, and innovation with brilliant young students from across the national capital region," Ahmad said about the Shopify event.
'Private meetings' instead of QP
The Liberal leader often misses Monday and Friday sittings, citing "private meetings."
Sometimes he misses Thursday sessions too. On Nov. 3, the eve of his one-year anniversary as prime minister, Trudeau attended a town hall in Ottawa with high school students across the street from the House of Commons. He took questions from the media about 12:15 p.m. but chose not to show up to question period two hours later.
Last Thursday, Trudeau left Democratic Institutions Minister Maryam Monsef alone to explain the government's response to a long-awaited report by the all-party election reform committee. The opposition-dominated committee called for a new system of voting based on proportional representation and asked for the final decision to be put to the public in a national referendum.
The Liberal government doesn't want a referendum, nor does it want proportional representation. Monsef's response was to suggest the committee hadn't worked hard enough — comments the prime minister qualified later as an "outburst" for which she apologized.
That Thursday, the prime minister attended a 10 a.m. flag-raising ceremony for World AIDS Day on Parliament Hill. That evening, at 6 p.m., he was at the Eaton Centre in Toronto taking part in a live interview on the local supper hour newscast carrying toys for Toy Mountain, a campaign to bring gifts to disadvantaged boys and girls.
Toronto is less than a one-hour flight from Ottawa.
Interim Conservative Leader Rona Ambrose told reporters that despite asking for a committee report, and qualifying the voting system as broken, the PM had chosen to "take the day off."
"Why didn't he show up today to actually answer questions on electoral reform?" she asked.
Trudeau's lacklustre attendance has been a running joke among opposition leaders. Ambrose greeted Trudeau this September at his first question period, three days after Parliament Hill had returned to work, by saying: "I would like to welcome the prime minister back to this place called Parliament…. While he was away, our economy has completely stalled, unemployment has gone up, and 110,000 energy workers have lost their jobs."
As leader of the third-place Liberals, Trudeau spent a lot of time on the road. An analysis by The Ottawa Citizen suggested in 2014 that Trudeau had a 39-per-cent attendance record that year in QP. While NDP Leader Thomas Mulcair had the best record at 59 per cent, Harper's was worst, at 37 per cent.
'Prime Minister's Question Period' pledge
During the election, the Liberals campaigned on a pledge to "reform question period" so that all MPs, including the PM, "are held to greater account."
"We will introduce a Prime Minister's Question Period to improve that level of direct accountability," the platform stated.
Critics worried that introducing a PM question period would give Trudeau leeway to skip out on accountability sessions during the rest of the week. The Liberal leader said nothing would stop him from answering questions on other days but he also told HuffPost in an interview that he intended to spend a lot of time on the road staying connected to the people he serves.
After the election, on the first day of regular House business, Mulcair reminded the Commons that Harper had attended only one-third of question periods.
"The best way to show respect for this institution is to show up in Parliament regularly and be answerable to Canadians," he told Trudeau.
With additional research by Catherine Levesque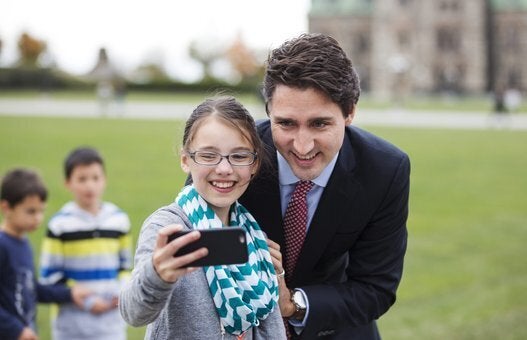 PM Trudeau Posing For Selfies