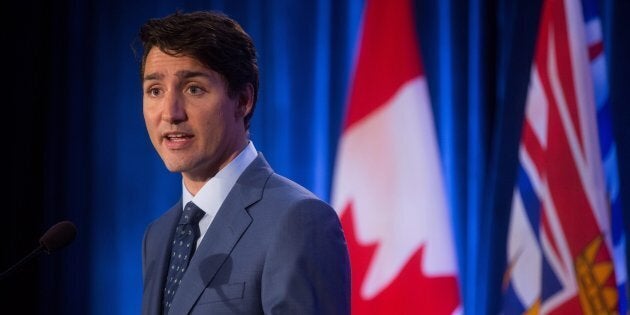 Prime Minister Justin Trudeau says he stands behind his tweet to refugees heard round the world, but has attempted to deliver a message to asylum seekers that goes well beyond 140 characters.
At a press conference at the Liberal caucus retreat in Kelowna, B.C. Thursday, Trudeau was asked about the much-discussed #WelcomeToCanada tweet he sent in January on the same day U.S. President Donald Trump moved to bar refugees and visitors from seven Muslim-majority nations.
The tweet sparked international headlines, with some outlets such as PBS interpreting it as a statement that Canada would take in refugees banned by Trump.
Conservatives have called Trudeau's tweet irresponsible and suggested it contributed to the flood of asylum seekers crossing the border illegally in recent months. New Democrats have blasted it as false information that won Trudeau praise while confusing desperate people.
On Thursday, a reporter asked Trudeau if his initial tweet in the wake of Trump's controversial action was "a little too welcoming" without a counterbalancing message about Canada's refugee rules.
"The message is one that Canada stands by," Trudeau said. "That if you're fleeing terror, persecution, and violence... well, that makes you a refugee. And Canada is a signatory to the UN Convention on Refugees. We welcome refugees into this country."
"There is a process to determine whether someone is a refugee," he continued. "There are steps to go through."
'Rigour, rule of law and processes'
The prime minister said that those who seek to migrate for economic reasons or to reunite with family are potential immigrants who will have to go through a "good and solid process."
However, refugees are "by definition the world's most vulnerable" people who are "fleeing a level of torture and persecution from which the state they live in cannot protect them," he said.
Canada is just one piece of a "global puzzle" on migration, Trudeau said.
"And I think the more we can talk about it — the more we frame it both as openness, compassion and self-interest in welcoming in people, while at the same time having rigour, rule of law and processes to follow — people have a better understanding, not just of the system, but of the path forward."
Earlier, Trudeau pledged to continue to fight "myths and misconceptions" about the rigour of Canada's immigration system. He noted that he attended a citizenship ceremony in Kelowna this week, where the new Canadians "followed the rules and the processes and the steps involved."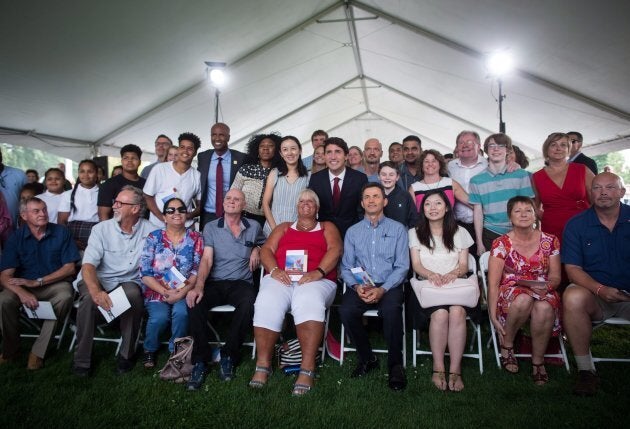 "We will always remain the open and compassionate country we are," he said. "We have ongoing processes and rules of law that apply to our refugee process. But as always, Canadians stand ready to help."
The prime minister's words may serve as a preview for how he will handle opposition questions when Parliament resumes in less than two weeks.
Thousands of asylum seekers crossed illegally into Quebec this summer, primarily Haitians fearing deportation when their protected status ends. Would-be refugees also crossed from the U.S. into Quebec and Manitoba during the winter months.
If you're fleeing terror, persecution, and violence... well, that makes you a refugee.Justin Trudeau
Trudeau has said his government will not alter the Safe Third Country Agreement between Canada and the U.S., which mandates that refugees claim asylum in the first country in which they arrive.
Since the pact only applies at official points of entry, asylum seekers from the U.S. have sought to reach Canadian territory outside of those points. Canada is obliged under international law to process those claims.
New Democrats want the Safe Third Country agreement suspended, arguing that the U.S. is no longer a safe place for refugees with Trump in the White House.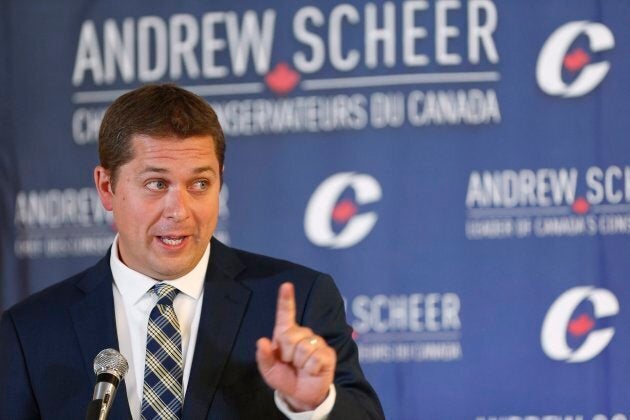 In a speech to the Conservative caucus on Thursday, Scheer urged his MPs to speak out on behalf of Canadians who are angry that people are, in his words, trying to take advantage of Canada's generous system.
"Canadians are proud to do our share to help the world's most vulnerable and offer protection to those facing persecution and violence," Scheer said. "But you know, I've been to upstate New York and I've been to North Dakota. Those places are safe.
"Yet on Trudeau's watch, thousands have walked in, encouraged by his irresponsible comments that everyone will be welcome when he knows it's not true."