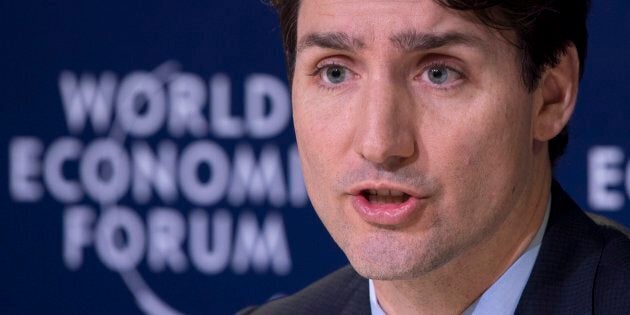 Prime Minister Justin Trudeau has little in the way of good news for Sears Canada workers who risk losing their pension following the company's demise.
At a press conference in Davos, Switzerland, Thursday, Trudeau suggested that laid-off Sears workers, many of whom had counted on their company pensions for their retirement, fall back on employment insurance and the Canada Pension Plan.
Asked by Globe and Mail bureau chief Bob Fife what his government would do about the fact Sears left its pensions underfunded while doling out millions in bonuses to execs, Trudeau gave a vague response.
"Canada continues to support people going through difficult times," Trudeau said. "Obviously pensioners who face uncertainty need to be supported, need to be reassured. That's why Canada has measures like the Canada Pension Plan, like employment insurance benefits — a broad range of ways we can support people who are facing unexpected downturns or layoffs."
"So nothing is going to happen to Sears," Fife responded.
Watch: Regulator investigating Sears Canada's liquidation sale prices
The exchange came after Trudeau expended considerable time at the World Economic Forum summit in Davos to the issue of corporate responsibility, particularly gender equality in the workplace. He argued that businesses have to change their ways going forward, and take into account more than shareholders' interests when making decisions.
"How are corporations going to take you seriously about taking responsibility if the only solution for the workers is to go on unemployment benefits, and hope to get some CPP?" a CBC reporter asked Trudeau later in the press conference.
"Obviously there is an extraordinary amount of sympathy and compassion we have for people who face layoffs, who are put in a difficult position like this," Trudeau responded, adding that "this is something that doesn't have any easy answers."
Sears' priorities under the microscope
Sears Canada closed its last stores on Jan. 14, after filing for creditor protection last summer. The company left 15,000 people out of work. It also left a more than $260 million deficit in its pension plan, meaning many Sears employees who had counted on the pension for their retirement face the possibility of reduced payments.
Many employees were angered by the fact the company spent millions of dollars on retention bonuses for some more senior staff and executives, even as it closed branches around the country. The company said the bonuses were necessary to keep staff in place during liquidation.
In the wake of the company's insolvency, many are raising questions about Sears Canada's financial priorities.
The Sears Canada controversy has renewed calls for tougher regulations protecting workers' pensions in the event a company gets into trouble.
"We must fix the imbalances to current legislation and provide Canadian workers, retirees and their families the protection they expect and deserve," Duvall said last fall.
But some argue that placing retirement pensions above companies' creditors during bankruptcy would have an unintended consequence: It would make it riskier to lend to a Canadian company, making it more difficult for businesses to borrow money.
— With files from Ryan Maloney, HuffPost Canada, and The Canadian Press
Popular in the Community