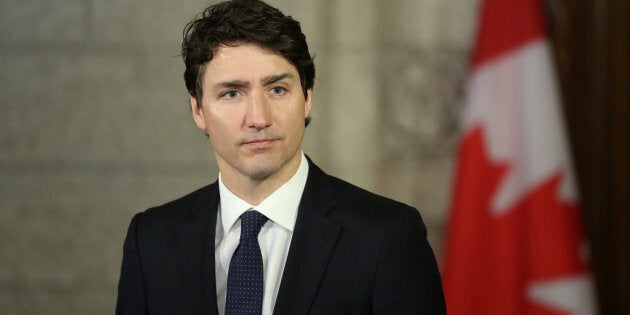 Canadians trying to make sense of a "senseless" van attack in Toronto that claimed the lives of 10 people must not let fear or suspicion change them, Prime Minister Justin Trudeau said Tuesday.
Speaking in the foyer of the House of Commons Tuesday morning, Trudeau said all Canadians are united with the country's biggest city. He said there is no reason, at present, to believe there is a "national security element" to the attack and that Canada's terror threat level has not changed.
Trudeau was asked if there is any way to protect Canadians going about their daily lives when assailants are increasingly choosing so-called "soft targets," when people are vulnerable and exposed in public spaces.
"We need to continue to reflect on the changing situations in which we're in and do everything we can to keep Canadians safe but we cannot as Canadians choose to live in fear every single day as we go about our daily business," Trudeau said.
"We need to focus on doing what we can and we must to keep Canadians safe while we stay true to the freedoms and values that we all as Canadians hold dear."
The prime minister said Canadians will continue to have questions about the possible motives behind the attack but can be comforted by the "extraordinary" work of first responders.
PM will go to Toronto 'as soon as it makes sense'
When asked why he was not heading to Toronto Tuesday, Trudeau said he did not want to interfere in an active investigation but has been in close contact with Toronto Mayor John Tory and Ontario Premier Kathleen Wynne.
"I think all Canadians are with Toronto today in our hearts, in our prayers, in our thoughts," he said. "I will of course go to Toronto for this as soon as it makes sense to do so but right now it's very much an active, ongoing situation and I wouldn't want to distract or remove any personnel or any focus away from the important work that is being done both for the victims and their families and for the investigation."
Conservative Leader Andrew Scheer and NDP Leader Jagmeet Singh has also issued statements Monday offering both condolences for victims in Toronto and praise for first responders.
"The safety and security of Canadians must be the number one priority of any government and the individual responsible for this horrific attack must be prosecuted to the fullest extent of the law," Scheer said in a statement hours after the incident.
Singh said Canadians must not let the attack "sow hate or division" among each other.
"Toronto, like Canada, is strong, diverse, loving and courageous, and this event will not change that," Singh said in a release. "We will come together, we will mourn, we will seek justice, and we will remain strong."
CLARIFICATION - April 27, 2018: Previous reports from Toronto police stated that 14 people were injured in the Toronto van rampage. Officials have since updated that number to 16.