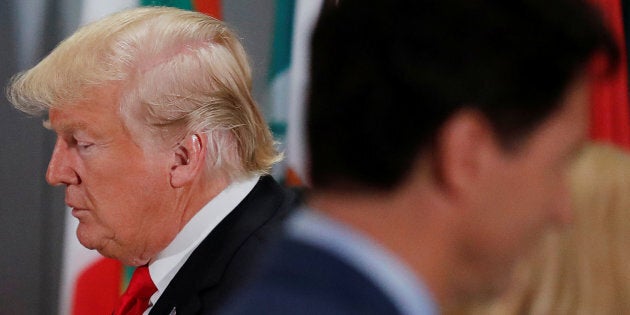 Prime Minister Justin Trudeau made his case Wednesday that what may have looked like a frosty moment with Donald Trump on the sidelines of the United Nations General Assembly is not a reflection of their relationship.
Yet just hours later, U.S. President Donald Trump went on a blistering offensive against Canada, the North American Free Trade Agreement, and Foreign Affairs Minister Chrystia Freeland, who has been Trudeau's NAFTA point person since talks began 13 months ago.
Interest in the personal rapport between Trump and Trudeau has been high since a blow-up in June, after the G7 summit in Charlevoix, Que.
At a press conference at the UN headquarters Wednesday, Trudeau was asked what — if anything — should be read into his brief exchange with Trump at a luncheon the day before with heads of delegations. A reporter noted that there was a lot of interest in what appeared to be an "awkward" moment caught on camera by media.
The clip shows Trudeau tapping Trump on the shoulder as the president is reading some documents. The president turns around, shakes the prime minister's hands, and the two share very brief words before Trump returns to his papers.
"It was an interaction like so many are (at) the UN, quick but cordial. There are all sorts of opportunities for me to speak with President Trump and that was not the time."
The prime minister told reporters he regularly talks to Trump, including a "very good call" last week.
"We continue to have regular conversations whenever necessary, whenever we want to. I don't think there's anything to read into it."
Trudeau said he has a "level of access and interaction" with Trump that few other leaders have and suggested it might not be a productive use of time for both to meet.
"When I come here I am trying to meet with a whole bunch of people who come from, you know, far-flung places that we don't get often to meet," he said. "So my schedule is jammed with meetings with leaders from Africa and Asia that otherwise I might not be able to have a sit-down moment with and I can only imagine that the president's schedule is similar."
We're very unhappy with the negotiations and the negotiating style of Canada — we don't like their representative very much.U.S. President Donald Trump
On Wednesday evening, Trump had time — more than 80 minutes — to hold a free-wheeling news conference where he complained about Canada's NAFTA negotiators, seemingly pointing to Freeland.
"We're very unhappy with the negotiations and the negotiating style of Canada — we don't like their representative very much,'' Trump said.
Trump also said he rejected a request for a one-on-one NAFTA meeting with Trudeau this week because Canada's tariffs are too high and the country's trade negotiators have refused to budge.
Shortly after Trump's news conference, the Prime Minister's Office disputed the president's statement — insisting it did not request a meeting.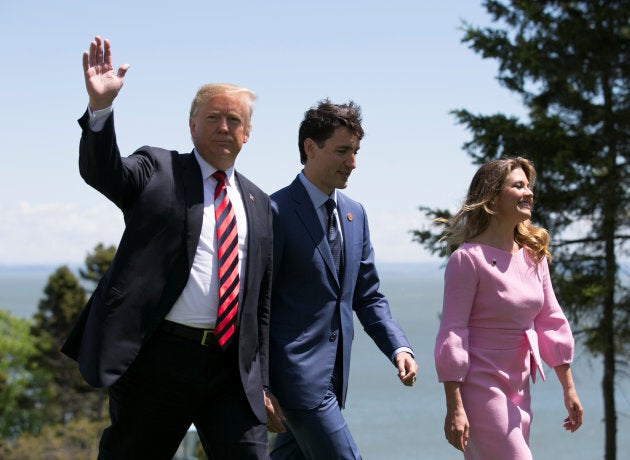 The Trudeau-Trump relationship took a nosedive this spring after the U.S. hit Canada with tariffs on steel and aluminum, under the pretense of national security and in the thick of NAFTA negotiations. Trudeau told reporters after the G7 summit that Canada would have no choice but to retaliate.
"Canadians are polite, we're reasonable, but we also will not be pushed around," Trudeau said at the time.
Trump and his inner circle responded by accusing the prime minister of stabbing the president in the back ahead of his meeting with the North Korean Leader Kim Jong Un, and of being "weak" and "dishonest."
'I will not negotiate in public'
U.S. Trade Representative Robert Lighthizer suggested in New York this week that Canada is not making enough concessions to secure a NAFTA deal and that time is running out. Asked Wednesday if such remarks break an agreement between trade representatives not to negotiate in public, Trudeau answered diplomatically.
"We're very much looking in a positive, constructive way to getting to a renewed NAFTA that will be a trilateral agreement between Canada, Mexico and the United States," he said. "As I've said many times, I will not negotiate in public."
The prime minister said Canadian negotiators will "keep working as long as it take to get the right deal for Canada." He also told reporters that Trump assured him "a few times" the U.S. would scrap tariffs on Canadian imports if a NAFTA deal is reached.
PM asked about Kavanaugh
Trudeau also sidestepped a thorny question related to the U.S. Supreme Court confirmation hearing for Trump's nominee, Brett Kavanaugh.
The prime minister was asked if Thursday's hearing featuring Christine Blasey Ford, who has accused Kavanaugh of trying to rape her in high school, should go ahead or whether proceedings should be paused for a more thorough investigation of the allegations.
"Obviously I'm not going to comment on processes that are extremely internal to the United States," he said.
But Trudeau said his government and country has taken the #MeToo and #TimesUp movements very seriously.
"We recognize that we need to ensure that anyone is working in a place or living in a space free from harassment or intimidation and that requires a shift in both behaviour and perspective, one that Canada is working very hard on."
In July, Trudeau addressed 18-year-old allegations made in B.C. newspaper that he behaved inappropriately, and apologized for being "forward" with a reporter covering a music festival.
Trudeau told reporters this summer that while he is confident he did not behave untoward with the reporter, "the same interactions could be experienced very differently from one person to the next."
With earlier files, and files from The Canadian Press