Just days after wrapping up an historic visit to the White House, Prime Minister Justin Trudeau is headed to New York City to sit down with the secretary general of the United Nations.
Trudeau's office announced Monday that he will be in New York from March 16 to 17 to "reiterate" Canada's support for the UN.
According to a release, Trudeau and Secretary General Ban Ki-moon are poised to discuss climate change, "respect for diversity and human rights, and support for international peace operations."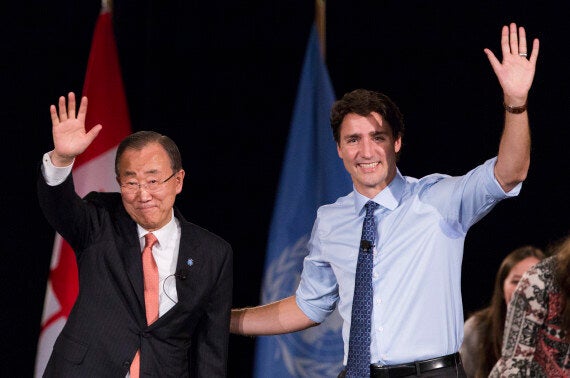 Justin Trudeau with United Nations Secretary-General Ban Ki-moon in Ottawa, on Feb. 11, 2016. (Photo: Chris Roussakis/AFP/Getty Images)
The prime minister will take part in a roundtable talk on girls' advocacy at the Permanent Mission of Canada to the UN, and discuss gender equality with Phumzile Mlambo-Ngcuka, executive director of UN Women.
He will also meet with business leaders and receive a commendation from Catalyst, a U.S. non-profit organization dedicated to promoting the progress of women in the workforce. The group lauded Trudeau in January for appointing a gender-balanced cabinet, a move Catalyst said showed world leaders what is possible when they "deliberately build diverse teams."
"Canada will continue to be a vocal part of the conversation on women's rights and the need for gender equality," Trudeau said in the release.
The prime minister pledged to work with the UN to advance equality, especially in poorer nations.
"Canada will continue to be a vocal part of the conversation on women's rights and the need for gender equality."
"We all benefit when women and girls have equal access to the rights and opportunities that help them realize their true potential," he said.
Trudeau's meeting with Ban comes about a month after the UN secretary general visited Ottawa and Montreal to heap praise on the new Liberal government's efforts to resettle Syrian refugees, advocacy for fighting climate change and its commitment to work more closely with the world body.
The previous Conservative government of Stephen Harper had a reputation for criticizing the UN's effectiveness and playing down its influence.
Canada famously lost a bid for a UN Security Council seat in 2010. Trudeau has already announced that his government will attempt to win a spot on the council "in the coming years."
Motives behind all that flattery?
Ban was very complimentary of Trudeau, and even told reporters that he was back on Canadian soil because "Canada's back" — a phrase the prime minister started using the day after his election win that doesn't sit well with Tories.
But the Conservatives dismissed Ban's flattery of Trudeau as little more than an attempt to drum up more funding, particularly for the United Nations Relief and Works Agency. The Harper government cut funding for the UNRWA — which helps Palestinians — because they alleged it had ties to Hamas, a listed terrorist group.
"It does seem clear he was trolling for new UNRWA funding," Tory deputy foreign affairs critic Peter Kent said of Ban last month.
"He may have asked that Canada re-engage with some of the UN committees and agencies that our government left because they were unworthy of time or money."
Kent also accused the prime minister in the House of wanting to hand money to terrorist sympathizers.
And, if comments made by Tory MP Candice Bergen in the House Friday are any indication, Tories might not be pleased to see Trudeau back on the road.
Bergen accused Trudeau and "choice" cabinet ministers of "partying it up" in Washington in the middle of a jobs crisis in Western Canada.
She charged that Trudeau was too busy "trying to get a pat on the head" from U.S. President Barack Obama to stand up for Canadian jobs.
Treasury Board President Scott Brison shot back that Tories, "in their bitterness," were just playing politics.
With files from The Canadian Press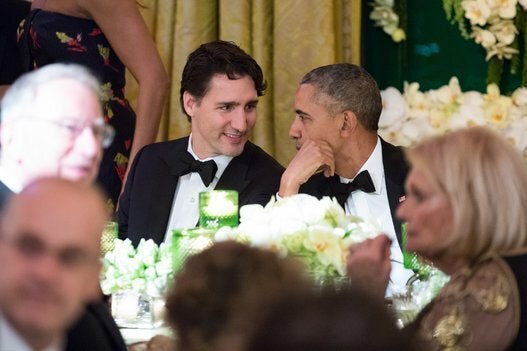 Trudeau's Historic Washington Visit