UNITED NATIONS — Prime Minister Justin Trudeau unofficially kicked off Canada's campaign for a Security Council seat Tuesday, telling the United Nations' General Assembly: "We're Canadian. And we're here to help."
He spoke about economic inclusion, tolerance and diversity — themes that were also raised by U.S. President Barack Obama and British Prime Minister Theresa May.
"Exploiting [fears] is easy," Trudeau told the half-empty room.
But fear has never created a single job or fed a family, he said in a speech that he later denied was aimed directly at U.S. Republican presidential candidate Donald Trump.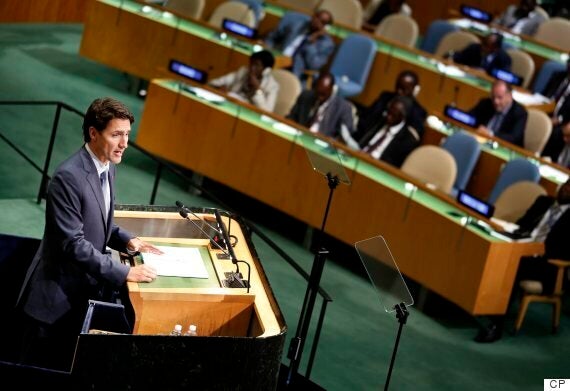 Blaming or rejecting other groups because they look or pray differently doesn't solve anybody's problems, Trudeau told the UN.
"To allay people's anxiety, we need to create economic growth that is broadly shared, because a fair and successful world is a peaceful world."
Trudeau used his first speech at the General Assembly to highlight Canada's re-engagement with the United Nations, saying: "It doesn't serve our interests — or the world's — to pretend we're not deeply affected by what happens beyond our borders."
He told reporters Canada that wants a Security Council seat to push the message of diversity as a source of strength.
"The issues we see right now resonating around the world are worries about globalization, withdrawing support for trade and [for] economic policies that will create growth, and an anxiety whether it is about migration or security that leads people to wanting to close in … what Canada is talking about is the need for inclusive growth, opportunities for all, understanding that diversity and differences are a tremendous source of strength and helping promote that," he said.
"That is a narrative that, right now, the world needs, in terms of dealing with the very real anxieties that citizens are feeling the world over."
"To allay people's anxiety, we need to create economic growth that is broadly shared, because a fair and successful world is a peaceful world."
As if listing off Canada's resumé, Trudeau noted in his speech how his government had:
Helped negotiate the Paris Agreement on climate change
Pledged $2.65 billion over five years to finance clean growth and lower carbon emissions in developing countries
And, just last week, announced more than $800 million for the Global Fund — a 20 per cent boost — while successfully urging other nations to step up with a $13-billion pledge to help end AIDS, tuberculosis and malaria by 2030.
The Liberal government is considering where it will send the up to 600 Canadian Forces already pledged. As of August, only 19 Canadian military personnel were serving as UN peacekeepers. But among the list of possible missions being studied is Mali — the deadliest active peace operation in the world. This year alone, 32 peacekeepers have died there.
When asked how he would explain to Canadians that the cost of a Security Council seat and re-engaging in the UN might be measured not just in dollars and cents but in lives, Trudeau replied, "Canadians expect us to play our role in the world, promoting peace and stability, preventing the kinds of instability and strife that lead to poor outcomes — not just for citizens across different regions but citizens around the world."
The government is carefully deliberating where Canada can play the role best suited to its strengths, he said. An announcement will come later this fall.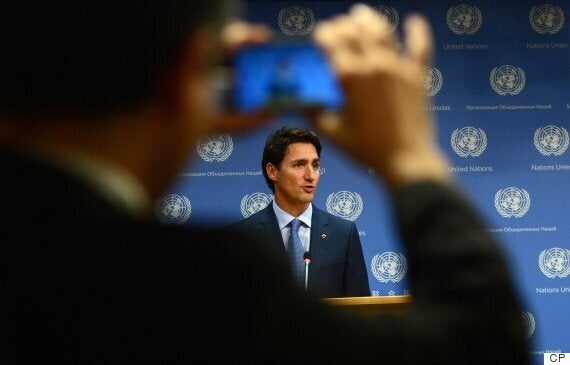 Foreign Affairs Minister Stéphane Dion told The Huffington Post Canada Tuesday that peacekeeping missions come with inherent dangers.
"If there was no risk, they would not be missions," he said, in the cafeteria of the United Nations.
Dion said it is "cynical" to view the government's actions multilaterally — such as its peacekeeping pledge or Tuesday's announcement that Canada is partnering with the UN and billionaire George Soros to export its program of private sponsorship of refugees — as part Canada's four-year campaign to win a Security Council seat.
"We push what we believe in," he said.
Canada hasn't had a seat since 2000, but "it isn't in Canada's or the world's interest that Canada is not efficient at the United Nations," Dion said. "One way to be efficient is to be on the UN Security Council."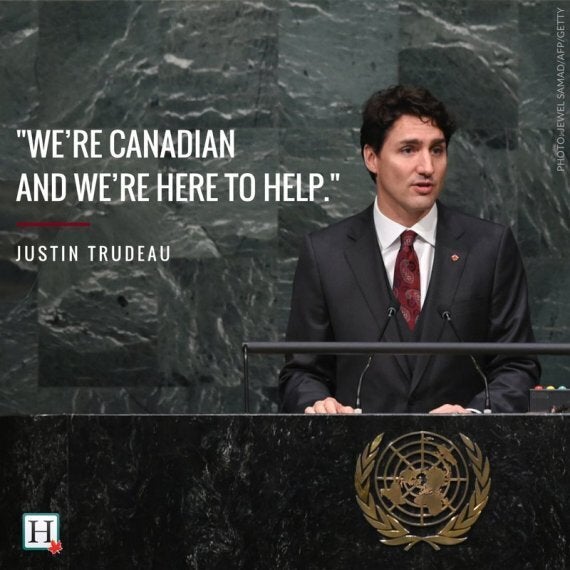 Canada's former ambassador to the United Nations, Paul Heinbecker, told HuffPost that the Liberal government is currently hitting the right notes as it begins its campaign for a two-year rotating seat in 2021.
The Liberals' promises, for example, to boost contributions to UN peacekeeping and foreign aid spending would not go unnoticed with voting members, Heinbecker said as he stood in the luxurious Qatar lounge of the UN.
But campaigning for a Security Council seat takes vision and a lot of effort, said Henbecker, who helped Canada win a Security Council seat in 1998. "It's a real election campaign."
In 2020, when the secret-ballot voting takes place, Canada faces off against Ireland, a member of the European Union and the world's largest aid donor, and Norway, which is the world's largest aid donor per capita.
"The Norwegians walk on water around this place," Heinbecker said, noting the country's well-known diplomatic work in the Israeli-Palestinian peace process, as well as in Sri Lanka and Colombia.
"We have our work cut out for us; it is not a slam dunk."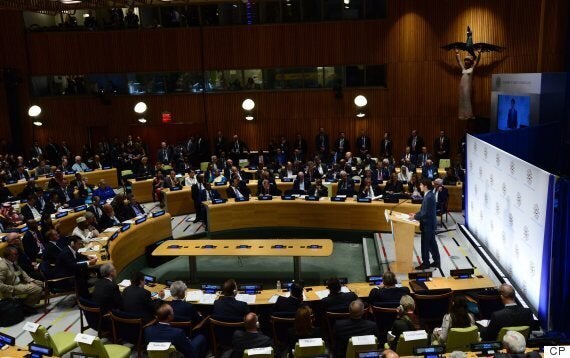 Campaigning for a seat is complicated by some intricacies. While Canada will no doubt use its embassies and consulates to try to lobby local governments for support, about a third of ambassadors wield considerable autonomy and do not receive instructions from their home government, said Queens' University political science professor Kim Nossal.
That will lead to a huge lobby effort waged from New York City and Ottawa to win over the UN representatives. Already, HuffPost has learned there is talk at the Department of Global Affairs about bringing UN ambassadors to Canada to help sell the candidacy.
"The voters need to be given a reason why it would be a 'good thing' to have Canada sit on the United Nations Security Council."

— Kim Nossal, political science professor
There will also be a lot of horse-trading between countries, warned Heinbecker. One vote for one UN council seat in exchange for another, he said.
In 2010, when the Conservative government pulled out of the race after embarrassingly losing support on the second ballot, Heinbecker said, many countries that had pledged to support Canada's Security Council bid failed to show up to vote. There were also many that promised to vote for Canada but simply didn't.
"Some people broke their word, absolutely just straight up broke it," he said. But what was significant, the former diplomat said, was that the switches happened on the first round of voting.
"Everybody believes that they are committed for the first round…. If you don't win on the first round, it's a free-for-all," he said. On the second round, Heinbecker said, countries vote according to what they think of you. "And our numbers dropped dramatically. The third round they were going to drop further when we threw in the towel."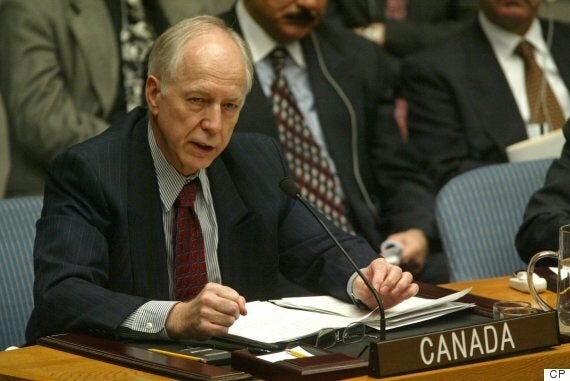 Heinbecker believes Canada needs to rebuild its reputation after spending 10 years mocking the UN and showing contempt for the institution.
Nossal thinks the Liberals need to promote an actual platform, just as the government did in 1998 when it focused on human security, the responsibility to protect and the International Criminal Court.
"The voters need to be given a reason why it would be a 'good thing' to have Canada sit on the United Nations Security Council," he told HuffPost in an email.
For now, the Liberal government seems satisfied with pushing a dialogue of inclusion and re-engagement in UN projects that matter most to many members.
"It's not because we deserted all these sectors for the past 10 years that people don't remember what we represent," Dion told HuffPost. "Canada is stronger than the government of the day, and people are happy that Canada is back."
"There is lots and lots of interest in Justin Trudeau — he is probably the political personality who is most popular in the world right now — so we will push."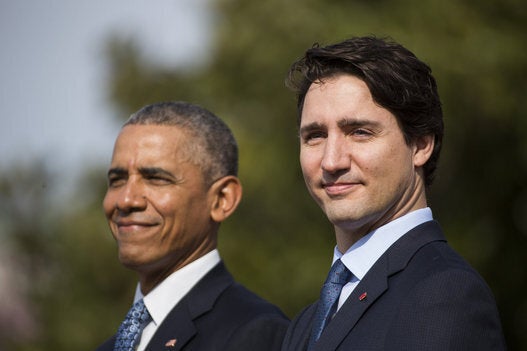 Obama and Trudeau Are Just Awesome Together