Prime Minister Justin Trudeau's response to a question about a much-debated pipeline on Wednesday sowed some confusion over a pledge he made during the election campaign to "absolutely" respect First Nations' veto over pipeline projects crossing traditional territories.
Trudeau spoke to media after meeting Alberta Premier Rachel Notley for a "productive" meeting at the province's legislature.
"The people of Alberta have provided Canada with its economic engine for many years, but today we are facing some very serious challenges," Notley said at the joint press conference.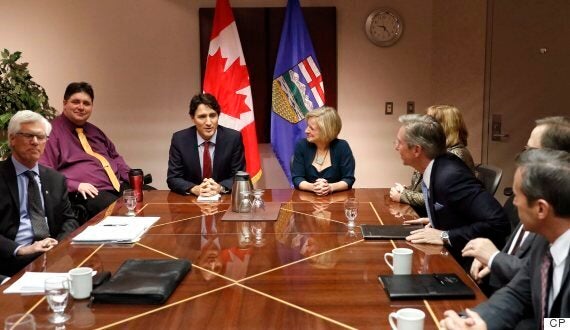 Veterans Affairs Minister Kent Hehr and Prime Minister Justin Trudeau with with Alberta Premier Rachel Notley at a roundtable meeting with oil and gas producers in Calgary on Feb. 4, 2016. (Photo: Larry MacDougal/The Canadian Press)
The prime minister criticized the previous Conservative government for failing to "understand that marginalizing community concerns, ignoring environmental science by refusing to engage with indigenous communities was not a way to fast track pipelines.
"It was a way to ensure, in fact, things wouldn't get built."
A reporter asked Trudeau if his cabinet would approve the Energy East pipeline if the National Energy Board gives the project a green light.
"We are in a situation where we are not going to predict or shortcut any of the processes going through," he said, without offering an explicit yes or no.
'Renewed' relations and First Nations veto
Trudeau's response prompted some to accuse the prime minister of backpedaling on a campaign pledge.
The prime minister's office responded to the claims, telling The Huffington Post Canada on Thursday the government will reach out to First Nations "where appropriate" and engage in "meaningful" consultation when necessary.
"The government has made a clear commitment to building a renewed relationship with Indigenous Peoples, one that is based on a recognition of rights, respect, cooperation and partnership," said Cameron Ahmad, Trudeau's press secretary in an email.
"We believe that partnering with Indigenous communities on sustainable economic development strengthens local economies and benefits all Canadians."
Prior to October's election, Trudeau sat down with APTN for a virtual town hall hosted by anchor Cheryl McKenzie. During the sit-down, the conversation circled around issues related to the environment and pipelines. The topic of a First Nations veto was brought up.
"For some, they'll say no matter what the scientific evidence, they don't want that pipeline on their territories. Would no mean no under your government?" McKenzie asked.
"Absolutely," Trudeau responded at the time.
The notion of a First Nations' veto over such projects stems from an United Nations declaration protecting indigenous rights, which demands governments first acquire "free, prior and informed consent."
Under the previous Conservative government, Canada was the only country in the General Assembly to not vote in favour of the landmark declaration's adoption in 2014. The veto clause was repeatedly cited as a point of contention by the Harper government.
With projects that may impact First Nations' traditional territories, the federal government is required by law to consult with communities that may be affected.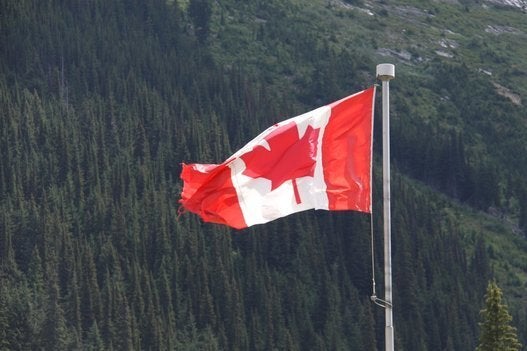 11 Facts About Canada's First Nations

Popular in the Community