OTTAWA — Prime Minister Justin Trudeau should not use taxpayer resources to promote himself like a Kardashian, the Conservatives said Friday.
Whether it is a photo-op in a New York boxing ring, organized by public officials, or a cameo appearance in a tourism ad, Manitoba MP Candice Bergen said Canadians shouldn't have to fund the prime minister's "own need for attention."
"It's a little bit like the Kardashians, and that's not an insult — the Kardashians are very, very successful at marketing themselves — and so that's what the Trudeaus are doing, and what the people behind them are doing, and they are doing a great job," she told The Huffington Post Canada.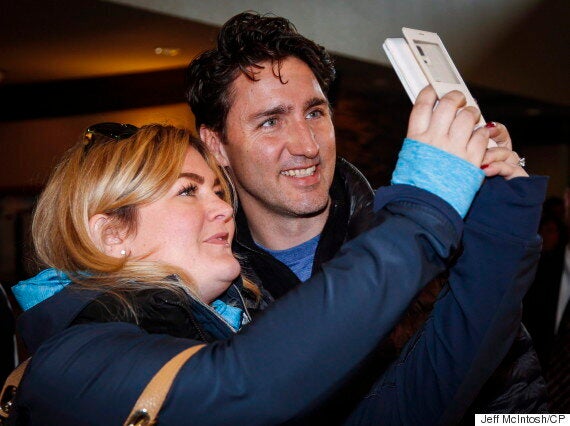 Prime Minister Justin Trudeau poses for a selfie as he arrives at a Liberal Party cabinet retreat in Kananaskis, Alta., Sunday, April 24, 2016. (Photo: Jeff McIntosh/CP)
Trudeau's director of communications, Kate Purchase, rejected that interpretation, saying the ad didn't break the rules because it was on social media.
"The not-yet launched [Destination Canada] video the Prime Minister participated in is not an advertisement," Purchase is quoted saying in an email. "It's a social media video with no advertising dollars behind it and so does not run counter to the policy."
The opposition cried foul.
'Vanity advertising project'
"Just yesterday, the president of the Treasury Board said '...We want to make it absolutely clear that we are ending the ability for any government … to use tax dollars to fund what are partisan or quasi-partisan ads,'" Tory House Leader Andrew Scheer said. "The rules include that the advertising must be '... devoid of any name, voice or image of a minister, member of Parliament or senator.'
"Yet, in the same breath, they are defending a video that stars the prime minister. Why would the Liberals break their own rules for the prime minister's special vanity advertising project?" Scheer asked.
"The prime minister needs to remember that he's not the face of Canada. He's the face of the Liberal party."

— Andrew Scheer
Destination Canada's social media marketing campaign is in line with the government's new policy, insisted Bardish Chagger, the minister of small business and tourism.
"The policy announced yesterday relates to paid advertising. This video is not paid advertising," she said.
That wasn't what Scott Brison, the Treasury Board president, told reporters Thursday when asked about social media such as Facebook and Twitter.
"This policy applies to all our advertising and communication," he said. "And we will be expecting and we'll be governing ourselves, including social media campaigns, accordingly."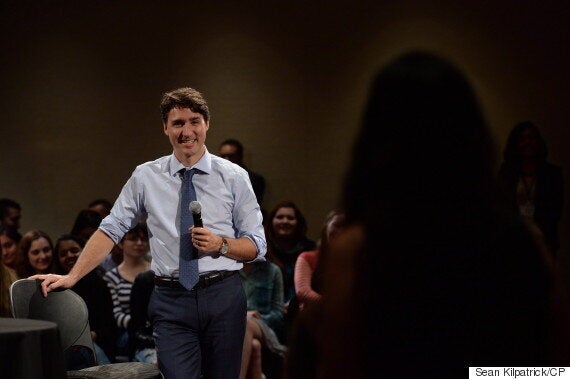 Prime Minister Justin Trudeau pauses smiles as he is asked a question during a question and answer session with students at New York University in New York on Thursday, April 21, 2016. (Photo: Sean Kilpatrick/CP)
Quebec Conservative MP Gérard Deltell said the Liberal government's reasoning that Trudeau can't appear in TV ads but can appear in social media is baffling.
"It's 2016 — and we shouldn't have to remind the Liberals we are in 2016 — social media is as pertinent [as] newspapers and television that we used to do in the 20th century. So when they do promotion on social media, that's publicity," Deltell said. "You have to be completely dishonest to say the opposite."
The ad may not have been funded by taxpayers, he added, but Trudeau was still there, he still had his RCMP escort, Destination Canada is a Crown corporation and, as far as he knows, he said, the person holding the camera wasn't a volunteer.
"So, I think it cost taxpayers something."
Deltell also weighed in on a photo-op that government officials organized during Trudeau's most recent trip to New York City, when he stopped by a famous Brooklyn gym to throw some punches.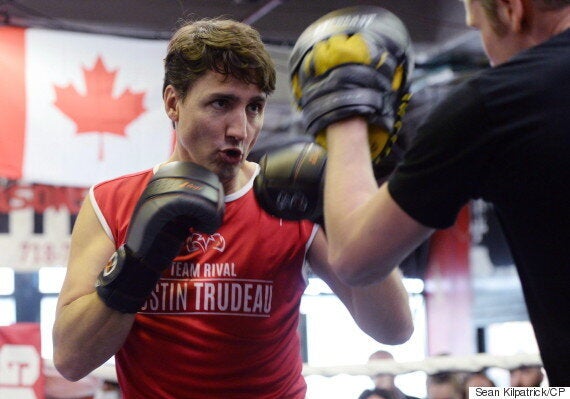 Prime Minister Justin Trudeau spars with professional boxer Yuri Foreman at the Gleason's Boxing Gym in Brooklyn, New York on Thursday, April 21, 2016. (Photo: Sean Kilpatrick/CP)
"If Mr. Trudeau likes to box, as a citizen it is his right and he can do so at his own cost. I understand that when you're prime minister and you move, the RCMP cavalry follows you, but for the state to organize, plan and fund that is something else entirely, and every time it is to show off."
Bergen added that the boxing ring photo-op provided "zero benefits" for Canadians.
The Liberals are using the state to pay for "anything they want," she suggested, pointing to the trip to Washington, D.C., during which Trudeau brought the Liberals chief fundraiser, the Liberal party president and his in-laws to the state dinner with U.S. President Barack Obama.
Scheer said it wasn't a proper use of taxpayers' money for the prime minister to be promoted in a tourism campaign on social media or in "vanity photo-ops."
"The prime minister needs to remember that he's not the face of Canada," Scheer said. "He's the face of the Liberal party of which 61 per cent of Canadians who voted, voted against them. He's not a Canadian image. He's a Liberal party image and he happens to be the prime minister for the time being."
Harper criticized for '24/7' videos
The Tories were ripped apart in the media for using taxpayers' dollars to promote Harper on social media and through Internet campaigns in a "24/7" series that showed the then-prime minister going about his day and delivering on Conservative campaign commitments.
Scheer told reporters those videos were specifically about promoting the prime minister of Canada.
"It was a day in the life of the prime minister of Canada. It was about what the prime minister of Canada was doing," he said.
The Tories were also criticized for using government ads to promote Conservative promises that had yet to be passed by Parliament, for branding government website in blue, and for using Tory logos on government cheques during funding announcements.
Trudeau following in ex-PM's footsteps?
Memorial University political scientist Alex Marland, the author of "Brand Command," told HuffPost Trudeau is following Harper's footsteps and using state resources to engage in permanent campaigning.
While the Trudeau Liberals say they won't make use of partisan political advertising paid for by the government as the Harper Conservatives did, Marland said, instead they "are saying they are going to use media coverage" by "conducting an awful lot of these photo-ops."
"There are expenses associated with that," he said. "It's probably smarter financially, but it is still using and leveraging state resources to optimize your own political and party standing.
"That's what is really happening. It's about mobilizing government resources to promote your own agenda that will help you get re-elected."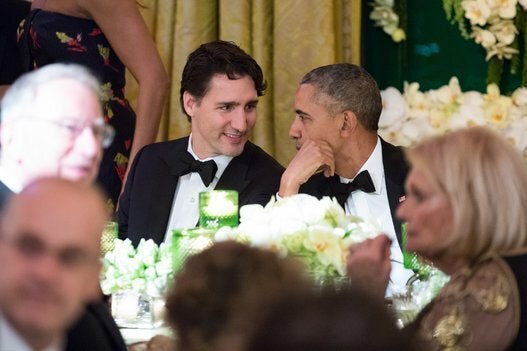 Trudeau's Historic Washington Visit
Popular in the Community