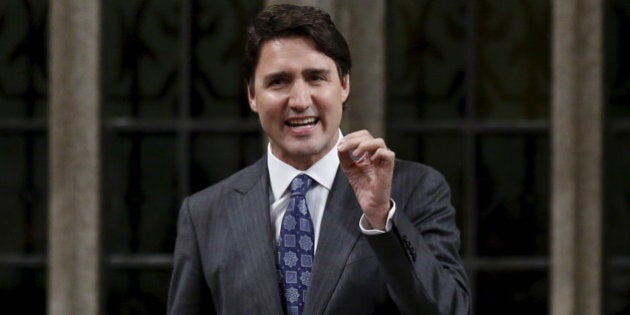 "It's not that global warming is like a world war. It is a world war. And we are losing. "
In his latest longform piece, Bill McKibben makes a pretty compelling argument that climate change has decisively moved from a threat on the horizon to a battle that is already here on our doorsteps, in our living rooms and rampaging through our streets. His argument is simple: if this is a war, we need a wartime-scaled mobilization to confront it.
In the article, he lays out a comparison of what that could mean for the United States, but what about in Canada?
Canada entered the Second World War on Sept. 10, 1939. Three days later, on September 13, the Department of Munitions and Supply Act was given assent by Parliament, creating the Department of Munitions and Supply, a new government ministry led by Liberal Member of Parliament Clarence Decatur "C. D." Howe.
From that moment forward, Canada's industrial engine turned into high gear. Over the course of the war Canada produced over 800,000 military transport vehicles; 50,000 tanks; 40,000 field, naval, and anti-aircraft guns; and 1,700,000 small arms. Shipyards turned out 348 10,000-ton merchant ships, crucial for moving supplies across the Atlantic, employing 57,000 people over the course of the war. Another 27,000 were employed in naval shipbuilding and retrofitting. Over 16,000 military aircraft were assembled in Canada by the end of the war.
But while all this is impressive, perhaps even more is that the majority of this production went to other Allied militaries. In fact, by the end of the war, 70 per cent of Canada's industrial production was going to other nations, with only 30 per cent being used by by the Canadian military.
With these exports, we're also exporting emissions, and that's how Canada's fossil fuel industry makes the argument that Canada accounts for only around one per cent of global emissions -- because they don't count the emissions from actually burning the fuel. It's also why, when you account for lifecycle emissions, the tar sands give Alberta per capita greenhouse gas emissions that are on par with, if not higher than any other country in the world. Put into the metaphor of a world war, instead of exporting support for the good guys, something Canada excelled at during the Second World War, we're aiding and abetting the Axis of warming.
In our government's decade-long push to build tar sands export pipelines, Canada aligned on the wrong side of this climate world war. It's not necessarily malicious, but simply a refusal to accept the uncompromising physics of climate change.
Since his election in the fall of 2015, Justin Trudeau has become less the pipeline pusher that Stephen Harper was, and more of the fossil fuel industry appeaser. Championing Alberta's climate plan, Canada has offered the fossil fuel industry it's own Sudetenland, a 30MT expansion of the tar sands and at least one pipeline. Their argument is textbook Chamberlain -- that the aggressor will relent under their own power if given just a little space to grow.
They're doing it because, according to the Carbon Tracker initiative, even meeting the Paris climate agreement's goals could strand over $2.2 trillion dollars that fossil fuel companies are spending and planning to spend on new and existing fossil fuel projects.
Knowing this, a better idea might be for Canada to get on the right side of history and start passing smarter policy by articulating exactly what the science is saying -- we need to leave fossil fuels in the ground.
If we started there, with a declaration of our outright opposition to the Axis powers of warming, not only could Canada do the right thing, but we could open the doors for a WWII style retooling of our economy that could see Canada play an outsized role in solving the climate crisis, the same sort of role Canada played in the Second World War.
Follow HuffPost Canada Blogs on Facebook