Prime Minister Justin Trudeau's spokesman is suggesting his boss was echoing the sentiments of his predecessor when he said Canada would "phase out" Alberta's oilsands.
Trudeau sparked some controversy Friday when he made clear at a town hall meeting in Peterborough, Ont. that resources wouldn't be extracted from the oilsands indefinitely.
"We can't shut down the oilsands tomorrow. We need to phase them out. We need to manage the transition off of our dependence on fossil fuels. That is going to take time," Trudeau said. "And, in the meantime, we have to manage that transition."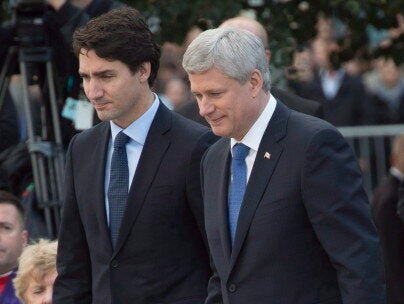 While the statement was pounced upon by politicians in Alberta and several Tory leadership contenders, Trudeau's press secretary Cameron Ahmad says it isn't a new concept.
"The prime minister, as he and previous prime ministers including Stephen Harper have been saying for a long time, was reiterating the need to move away from our dependency on fossil fuels and his commitment to growing the economy all while protecting the environment," Ahmad said in an email.
The federal government is introducing a federal price on carbon pollution and has given the green light on two major oil pipeline expansions. Ahmad said the approvals will "ensure we can move Canada's natural resources to international markets," he added.
"The Prime Minister, as he and previous Prime Ministers including Stephen Harper have been saying for a long time, was reiterating the need to move away from our dependency on fossil fuels."
Harper said at the time that such a shift would require technological "transformations" in Canada's energy sector over the long term to lower greenhouse gas emissions.
"I don't think we should fool ourselves. Nobody's going to start to shut down their industries or turn off the lights," he said. "We've simply got to find a way to create lower-carbon emitting sources of energy, and that work is ongoing."
Watch Harper's 2015 remarks:
A few members of Harper's former cabinet and caucus, who are now pursuing leadership roles of their own, were apparently alarmed by Trudeau's remarks.
Ontario MP Lisa Raitt, now running to replace Harper, took to Twitter to accuse the prime minister of harbouring a "hidden agenda."
Saskatchewan's Andrew Scheer, also running for Tory leader, shared an edited clip of Trudeau's remarks.
"Canada, we need to #PhaseHimOut," Scheer wrote.
Meanwhile, Kellie Leitch blasted the PM on Facebook Friday.
"Would Justin Trudeau ever say we need to phase out manufacturing jobs? Banking jobs? Creative jobs? No, of course not," Leitch wrote. "Why does he insist on being hostile to our energy sector?"
Former federal minister Jason Kenney, now running for Alberta PC leader with hopes to merge with the Wildrose party, released a video targeting Trudeau.
Kenney accused the prime minister of wanting to hand "complete control of global oil markets" to countries such as Saudi Arabia and Venezuela.
"I have a message for Justin Trudeau. We will not let you do to Alberta's oil energy what your father did to Alberta with his National Energy Program," Kenney said.
But conservatives weren't the only ones weighing in. Alberta's NDP Premier Rachel Notley, seen by some as a Trudeau ally, also released a video last week.
"Alberta's oil and gas industry and the people who work in it are the best in the world. And we're not going anywhere, any time soon," she said in the clip, which made no reference to Trudeau.
With files from The Canadian Press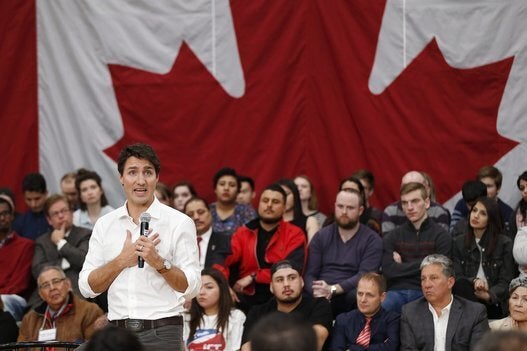 Trudeau's Cross-Country Tour 2017
Popular in the Community