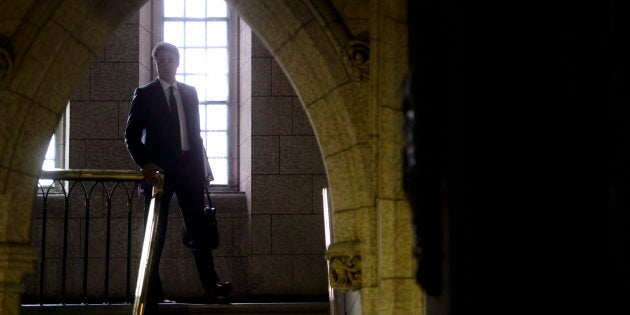 The offer of cold hard cash seems to have sweetened the federal carbon pricing plan in the eyes of some Canadians, a new poll suggests.
Late last month, Prime Minister Justin Trudeau announced that his government will return 90 per cent of revenues raised by the federal optional-but-also-mandatory carbon tax, which will apply to any province that doesn't concoct its own carbon pricing system.
Four provinces — Saskatchewan, Manitoba, Ontario and New Brunswick — are in that bucket, and as a result will be slapped with a tax of $20-per-tonne for emissions starting in 2019.
Trudeau said residents in these provinces will see a rebate caked onto their tax return in the spring to help offset any higher prices for gasoline or groceries that result from the new tax.
The Angus Reid Institute found in a July poll that 45 per cent of Canadians were in favour of Trudeau's carbon pricing plan. After rebate the announcement, however, that number jumped to 54 per cent.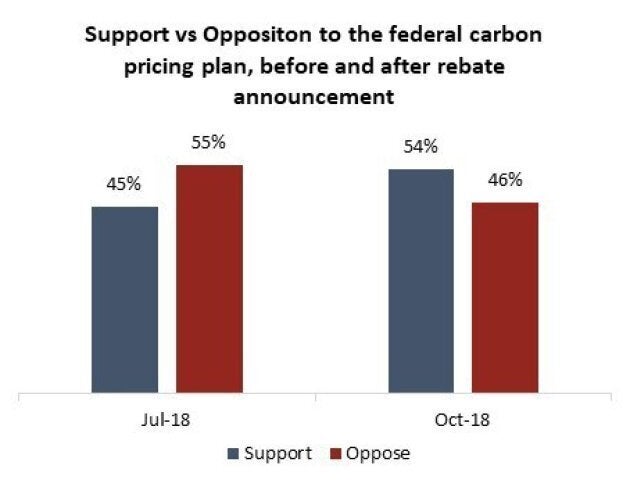 Trudeau's carbon plan, a key Liberal pledge during the 2015 election campaign, hasn't exactly been popular with Canadians, and opposition to it has only grown throughout the Liberals' time in power so far.
Ontario Premier Doug Ford made fighting the carbon pricing plan a staple during his province's spring election campaign. Ontario and Saskatchewan are launching legal challenges against the plan.
But the announcement of a rebate seems to have made the plan easier to digest for many Canadians in those two provinces.
The Angus Reid Institute's new poll found that in Saskatchewan, for example, 29 per cent of respondents said they approve of the federal carbon plan. That's quite the jump from July, when just 11 per cent gave it the green light. In Ontario, a crucial battleground in the 2019 election, approval rates in the poll also went up from 43 per cent to 54 per cent after the rebate announcement.
The average household payments in Saskatchewan will be $598, $300 in Ontario, $336 in Manitoba and $256 in New Brunswick.
The poll found a jump in approval in every province — though not as substantial as Saskatchewan's — except Alberta, where support actually went down by one per cent.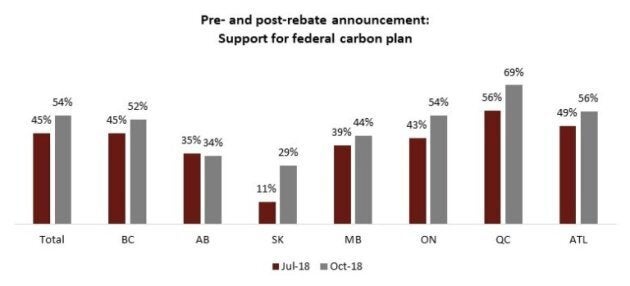 Despite this rise in approval for the plan, the poll found that the majority of respondents believe that provinces, and not the federal government, should have the final say when it comes to carbon pricing.
The rebate announcement seems to have slightly shifted moods on this question as well, but not as strongly. In every province, save for Ontario, the majority said their provincial government should get to decide on how to create and implement a carbon pricing system.
Interestingly enough, the majority of respondents in the poll said they don't trust their provincial governments to provide them with information on climate change. Seventy-eight per cent said they trusted scientists at universities, 45 per cent said they trusted the federal government, and 37 per cent chose "your provincial government."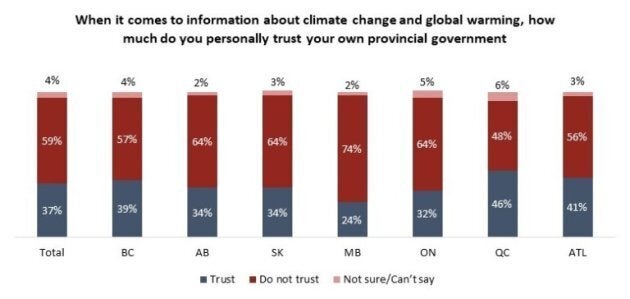 When it comes to why Canadians might oppose a carbon pricing plan, however, the issue of provincial jurisdiction is far from the biggest factor.
Among Canadians who are against the federal plan, the Angus Reid poll suggests, the majority say they oppose it because they feel it's a "tax grab." That's a label that federal Conservatives have repeatedly slapped on Trudeau's plan.
Thirty-six per cent said they don't want a federal carbon price because it "will not help climate change anyway," while six per cent said they don't believe that humans cause climate change.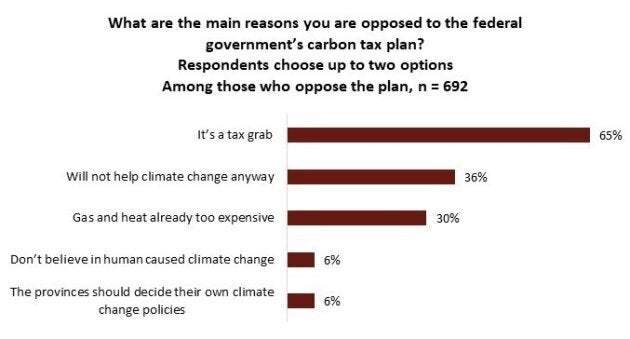 As to who supports and opposes the plan, the poll found the usual differences along party lines. The vast majority of Conservative supporters said they were against Trudeau's carbon pricing, while most Liberal and NDP backers are in favour of it. The poll also found a strong generational divide.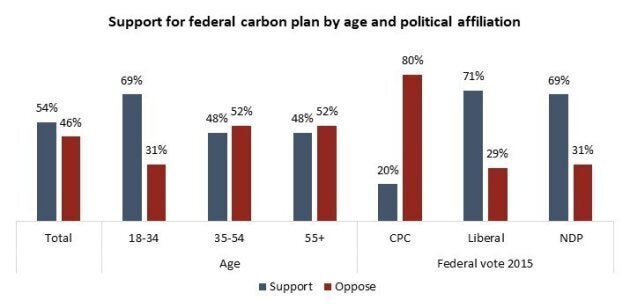 Trudeau has in recent weeks tried to shift the conversation on the carbon pricing plan. The prime minister even made the carbon rebate announcement in Etobicoke, the Toronto riding at the heart of the Ontario premier's so-called "Ford Nation."
The next week, Trudeau called out some of his federal and provincial opponents by name and said they are trying to "make pollution free again."
"Despite what you might have heard from Andrew Scheer or Doug Ford, you simply cannot have a serious climate plan without a price on pollution," he said.