A rookie Conservative MP has called out Prime Minister Justin Trudeau for using taxpayer money to cover the cost of two nannies.
Karen Vecchio, who represents the Ontario riding of Elgin—Middlesex—London, rose in question period Wednesday to accuse the Liberal government of saying one thing and doing the opposite.
"For the last year, the prime minister said he did not need taxpayer child care," she said. "As a mother of five, I am offended… his first act in cabinet was to give himself child care benefits that no other Canadians have."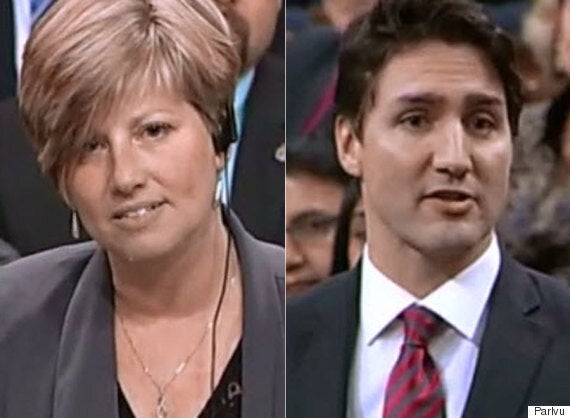 Karen Vecchio, Prime Minister Justin Trudeau in the House of Commons. (Photo: Screengrab)
Vecchio accused Trudeau of breaking his word.
"Is it because he is entitled to his entitlements?" she wondered.
That line was made famous by David Dingwall, the former president of the Royal Canadian Mint and a one-time Liberal cabinet minister, when he testified about his expenses before a parliamentary committee 10 years ago.
Trudeau responded to the new MP — a break from former prime minister Stephen Harper's practice of usually only replying to questions from party leaders.
"Is it because he is entitled to his entitlements?"
The prime minister said it wouldn't surprise Canadians to know he has "different family requirements" than his predecessor. The remark sparked some jeers from the Conservative bench.
Trudeau said he would maintain the existing family budget at the same level and "reformulate it as necessary for the needs of (his) young family."
That was much the same response the prime minister gave at a later press conference when asked how he squared having two nannies on the public payroll while championing the cause of the middle class.
Trudeau said that, with three small children, his situation was different than Harper's when he assumed the job. He again pledged to operate within the "same family budget" as the last prime minister, but shuffle it around to meet their priorities.
"And that's what Canadians expect," he said.
Hammered on left and right
That explanation is evidently good enough for the federal director of the Canadian Taxpayers Federation. Aaron Wudrick told The Canadian Press last week that if the Trudeau family was prepared to forgo the use of staff in other areas to cover child care, at no additional cost to taxpayers, the group didn't see any problem.
Liberals were hammered from the left and right on the issue last week. Interim Tory Leader Rona Ambrose criticized Trudeau for saying on the campaign that "wealthy" families like his did not need child care benefit cheques. She called on the prime minister to pay the expense out of his own pocket.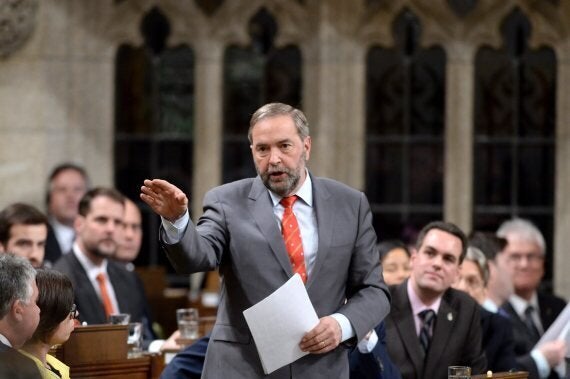 NDP Leader Thomas Mulcair rises during question period in the House of Commons on Parliament Hill in Ottawa, on Tuesday, Dec. 8, 2015. (Sean Kilpatrick/CP)
Tory finance critic Lisa Raitt — who is rumoured to be eyeing the permanent Tory leadership — said Trudeau was being hypocritical.
"The only man in Canada who makes $325,000 a year who is going to get taxpayer dollars for his child care is the prime minister of Canada and I think that's wrong," she told CBC News.
The Trudeau family's two nannies are considered special assistants under the Official Residences Act and, according to Liberals, perform other duties around the household besides helping care for the children.
Trudeau and his wife Sophie Grégoire-Trudeau have three kids: Xavier, eight, Ella-Grace, six, and Hadrien, who turns two in February.
When Harper became prime minister in 2006, his son Ben was 10 and daughter Rachel was six.
With files from The Canadian Press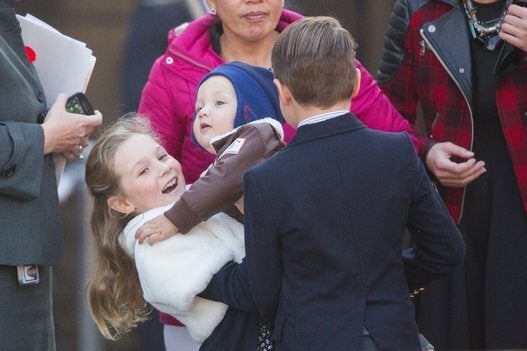 Justin Trudeau's Kids At His Swearing-In Ceremony