On the one-year anniversary of a brazen Ottawa shooting that claimed the life of a 24-year-old Canadian soldier, Justin Trudeau avoided mention of the word terrorism.
In a 239-word tribute posted to Facebook Thursday, the prime minister-designate also honoured the life of 53-year-old Warrant Officer Patrice Vincent, calling both men's deaths "brutal and heartless acts of violence."
His tone mirrored a speech he delivered last year after the horrific shooting, urging people to remain resolute and continue "helping and protecting" others.
Trudeau said in his post that the threat of violence should not cause Canadians to lose sight of "who we truly are."
"We will not allow threats to shape us, nor bow to those who mean to undermine our values and way of life," he said. "Canadians are kind and generous, open-minded, and optimistic.
"We know that Canada was built by people from all corners of the world, who worship every faith, who belong to every culture, and who speak every language."
He also saluted the military, veterans and their families for their service.
In his speech last year, Trudeau refused to call the killings explicit acts of terrorism. NDP Leader Thomas Mulcair was weary of calling the gunman a terrorist, instead choosing to label him a criminal even weeks later.
Vincent was killed in St-Jean-sur-Richelieu, Que. on Oct. 20 after jihadist Martin Couture-Rouleau struck him in a targeted hit-and-run.
Two days later, gunman Michael Zehaf-Bibeau shot and killed Cpl. Nathan Cirillo while he stood sentry at Ottawa's National War Memorial. After shooting Cirillo, Zehaf-Bibeau stormed his way inside Parliament where he was shot dead in a hail of bullets.
Later, Trudeau sided with the Conservatives and RCMP and acknowledged the unlinked killings as "acts of terrorism."
Former Sergeant-At-Arms Kevin Vickers, who fired at Zehaf-Bibeau that day and is now serving as Canada's ambassador to Ireland, extended his prayers to Cirillo's family on the somber first anniversary of his death.
Outgoing Prime Minister Stephen Harper offered his own remarks in a statement condemning terrorism.
"One year ago today, terrorist attacks were carried out against fellow Canadians at hallowed national sites of commemoration and democracy," said Harper. He called witnessing people helping each other after the deadly attacks "inspiring."
"As we remember the victims and heroes on this sombre anniversary, let us be thankful for the freedom and peace we continue to enjoy in Canada," he said.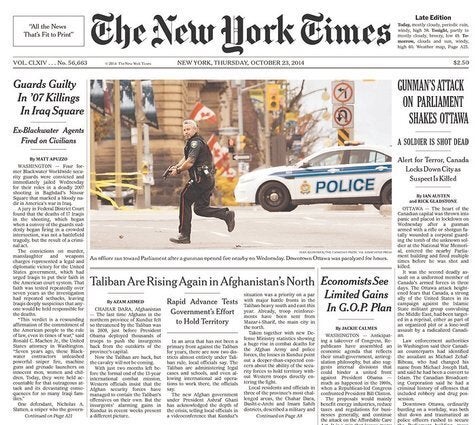 Newspaper Coverage Of Ottawa Shooting