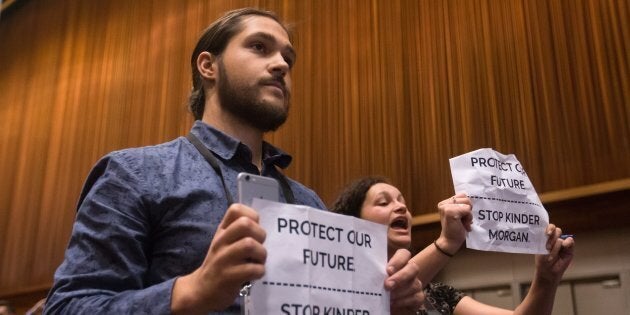 Prime Minister Justin Trudeau thanked a pair of environmental protesters for their "activism" after they interrupted a press conference in Vancouver to question his commitment to fighting climate change.
Hayley Zacks, 20, and Jake Hubley, 24, rose from their seats to ask the prime minister for a "moment of his time" so that he might explain why he approved the contentious Kinder Morgan Trans Mountain pipeline expansion.
The prime minister let the protesters say their piece but did not defend his position on resource projects.
"We're here as youth of today and we're here to say that we voted for you. It was our first election and we were so excited to vote you as our prime minister based on the promise of real action on climate change and reconciliation," Zacks said. "But then you went and approved the Kinder Morgan pipeline."
Nearly a year ago, Trudeau angered environmentalists and some Indigenous groups by green-lighting the expansion of the Trans Mountain pipeline, which runs between Edmonton and Burnaby, B.C., in order to nearly triple the amount of heavy crude flowing through it to almost 900,000 barrels a day.
Zacks noted the project will run through unceded First Nations territories and said young Canadians are scared the planet will become "unlivable" because of climate change.
"The Kinder Morgan pipeline is going to increase emissions from the tarsands, it is going to poison our water, our lands, and everything that we hold dear," she said before being escorted away by security members.
"Thank you for your questions, for your activism. Keep up the activism please," Trudeau said. "It's great to see young people stepping forward and sharing their concerns and views. We certainly take those very seriously."
He listened and nodded but I know he's not hearing us.Hayley Zacks
Zacks, a climate campaigner with Stand.earth in Vancouver, later told HuffPost Canada she did not get a chance to hear Trudeau's response.
"He listened and nodded but I know he's not hearing us," she said of the prime minister. "We didn't feel heard given that we were taken away."
Zacks says that both she and Hubley were taken to a room to face questions from "aggravated" RCMP officers who called in Vancouver police. Though they were both taken to a police station and threatened with mischief charges, Zacks says, they were released a short while later.
"I was shocked by how severe the reaction was given that we just stood up with signs and spoke from our experiences as young people living in Canada," she said.
Voted Liberal in 'swing' riding in 2015
The young activist said she dropped out of Dalhousie University to move west and work full-time fighting Kinder Morgan. She says she voted for the Liberals in 2015 because, at the time, she lived in a "swing riding" — Toronto's York Centre — which was held by the Conservatives but is now represented by Grit MP Michael Levitt.
While Trudeau made clear during that campaign that he was not opposed to all pipelines, Zacks says he also pledged a different approach to resource projects.
"He promised us a new National Energy Board, nation-to-nation relationships and strong action on climate change, all of which wouldn't allow him to approve the Kinder Morgan pipeline if he was serious about any of those commitments," she said.
With a file from The Canadian Press
Popular in the Community