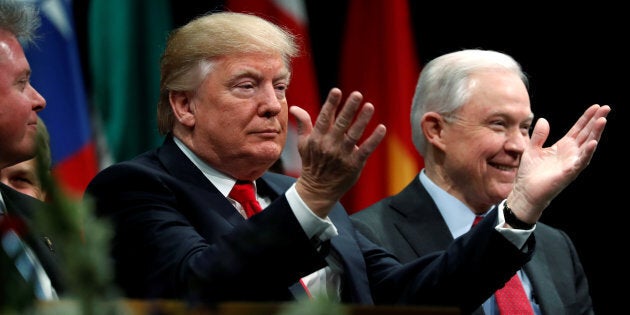 Shares of Canadian cannabis companies took a dive Thursday after news that the Trump administration may allow crackdowns on marijuana in states where it has been legalized.
From now on, AP reports, it will be up to individual prosecutors to determine whether to pursue charges in states where weed is legal.
Shares of Canadian publicly-traded cannabis companies plunged as much as 25 per cent by mid-day Thursday, before recovering some of their losses in afternoon trading. Many Canadian cannabis firms are eyeing U.S. expansion as legalization takes hold in a growing number of states.
Canopy Growth, which bills itself as the world's largest legal marijuana producer and trades on the Toronto Stock Exchange under the symbol WEED, saw its stock price fall as much as 16 per cent during the day, before closing down nearly 10 per cent, at $32.32.
Shares in MedReleaf Corp., which had lost more than 20 per cent by mid-day, closed down 9 per cent. THC Biomed's shares plunged 25 per cent in early trading, then recovered nearly all their losses, closing down 2.5 per cent for the day.
Earlier on HuffPost Canada:
The Trump administration's decision could sow confusion about the legal status of marijuana in states where voters have called for it to be legal.
Following ballot initiatives in last year's elections, a fifth of U.S. citizens, living in eight states and the District of Columbia, have voted to legalize marijuana for recreational purposes.
Sessions' decision comes days after recreational marijuana became legal in California, the largest jurisdiction yet to legalize the herb.
California expects to see US$1 billion in annual tax revenue from cannabis in the coming years.
Also on HuffPost: