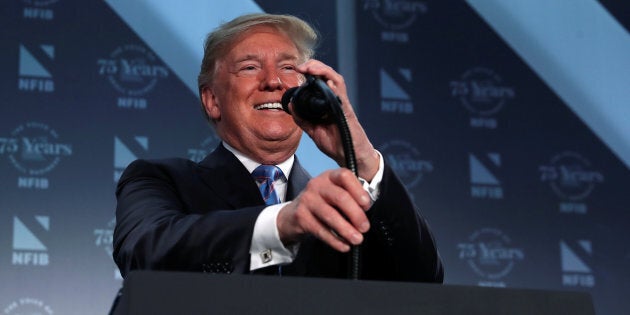 Donald Trump is ramping up his criticism of Canada by claiming we're a nation of shoe smugglers.
Speaking to the National Federation of Independent Business in Washington Tuesday, Trump went off on a tangent against both Mexico and Canada and ripped the North American Free Trade Agreement as a "disaster."
Trump floated that the U.S. could instead do "one-one-one" trade deals with Mexico and Canada.
"And by the way, Canada, they like to talk. They're our great neighbour," Trump said, sparking a few laughs. "They fought World War II with us, we appreciate it. They fought World War I with us and we appreciate it but we're protecting each other."
Prime Minister Justin Trudeau has noted that since Canada and the U.S have stood "shoulder to shoulder" in conflicts, it is insulting for our southern neighbour to impose tariffs on Canadian steel and aluminum for national security reasons.
Trump then pivoted to accusing Canadians of buying products in the U.S. only to sneak them back because of "massive" tariffs, citing a story he apparently read in a "major newspaper." Trump was seemingly confusing tariffs with duties. Under NAFTA, Canada doesn't charge tariffs on shoes made in the U.S.
"The tariffs to get common items back into Canada are so high that they have to smuggle them in. They buy shoes and they wear them," he said. "They scuff them up. They make them sound old or look old. No, we're treated horribly."
According to the Canadian Border Services Agency, Canadians who visit the U.S. for at least 24 hours qualify for an exemption on taxes and duties up to $200. That exemption jumps to $800 if you stay for at least 48 hours.
Listen to 'Follow-Up' podcast: Where will Trump's anti-Canada spasm leave us?
Trump also blasted Canada's supply management system for dairy and poultry, calling it a "barrier." The president has called for the system to be dismantled as part of NAFTA negotiations.
Trump told the crowd that the U.S. needs to change how it treats its neighbours.
"We can no longer be the stupid country," he said. "We want to be the smart country."
With a file from The Canadian Press