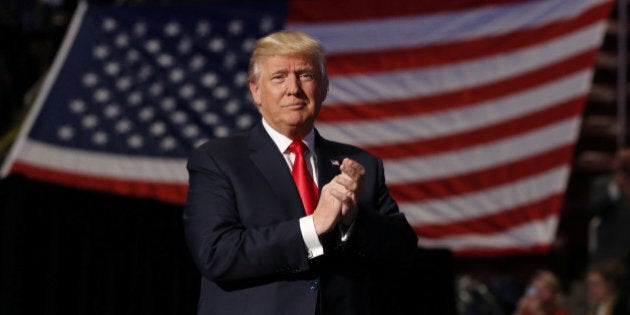 Like thousands of Canadians, I stayed up all night on November 8th watching the US election returns and getting a sick feeling in my gut as, impossibly, the map turned red. Stock markets and currencies plummeted on the shocking news that Donald Trump had won the White House and the brash outsider who'd never served his country in uniform or government was the most powerful man in the world. Predictably, there has been a tsunami of doomsday ink on the fate of the many progressive initiatives that were enacted under President Obama, including the Paris climate accord.
I'm attempting to shine an optimistic, hopeful light on the fate of our children's earth under the climate change denier-in chief. To introduce a peaceful, progressive ying to balance the bitter, redneck yang that has devoured the debate. This election result is a clarion call to climate action; the Chinese symbol for crisis, weiji, is composed of two characters, one for danger and one for opportunity. Call the election of the Donald a Trumpportunity.
First, the sustainability revolution is well under way. Ever since President Obama took office in 2009, private companies have driven the sustainability movement in the U.S. And a new breed of business organization has been born called harvesters, companies whose sustainability-related actions and decisions add to their bottom line. Most harvesters have a chief sustainability officer [CSO] with a place at the board table and the ear of the CEO.
There are CSOs at blue chip companies like DuPont Chemicals, Coca Cola, AT&T and Kellogg. Secondly, consumers are willing to pay more for 'green' goods and services. A Nielsen study found that 66 percent of consumers across 60 countries, up from 50 per cent in 2013, are willing to pay more for products and services from companies committed to positive social and environmental impact. And, the next generation of business leaders recognizes that sustainability is the future of their chosen profession. Business students around the world say they are more willing to work for companies committed to sustainability and would accept lower salaries to do so.
In his campaign, Trump championed unemployed coal miners and pledged to fan the flames of the coal industry and raise it from the ashes [ahem]. Well, the market value of coal companies has fallen off the cliff, down 92 per cent from more than $60 billion in 2011 to $4 billion in 2016.
Trump isn't the first Republican president to hype the coal industry. George W. Bush received millions from King Coal but by the end of his eight years in office, the industry was flat-lining. Electricity generated by renewables produced around 90% of new electricity generation in 2015 and, contrary to the bleats of the fossil-fuel community, the global economy continued to grow by more than three per cent.
Trump has repeatedly pledged to withdraw from the landmark Paris Agreement on climate change. But in late November, he backtracked, saying he would "keep an open mind" about rejecting the deal, and "I think there is some connectivity" between human activity and climate change. The good news is that Trump cannot legally withdraw from the Paris Agreement until 2020.
Trump's basis for denying climate change is as bizarre and unique as he is; he claims it is all a hoax concocted by the Chinese to hurt American manufacturing. But the Chinese are undeterred by Trump's rude ramblings and have calmly continued to lead the world in reducing greenhouse gas emissions. China's top climate change negotiator recently encouraged Trump to work with other countries to fight climate change rather than build walls. "Our policy is that our actions will not be impacted by a new U.S. government. We would continue to be an active player," said Gu Zihua, deputy director at China's Climate Change Office in the Ministry of Foreign Affairs.
World leaders need to figure out how to diplomatically educate Trump on climate change and Canada can play a leading role. We've done it before; Prime Minister John Diefenbaker played an important role in the expulsion of South Africa from the Commonwealth in 1961 for its apartheid policy. Then, in the 1980s, Brian Mulroney defied his many opponents to protest apartheid and openly challenged British Prime Minister Margaret Thatcher on her refusal to enact tough sanctions against South Africa. The UK imposed sanctions on South Africa in 1985 and Canada was one of the first countries visited by Nelson Mandela after he was freed.
Canada needs to be a voice of reason, hope and inspiration and lead the world in seizing this Trumpportunity.
Follow HuffPost Canada Blogs on Facebook