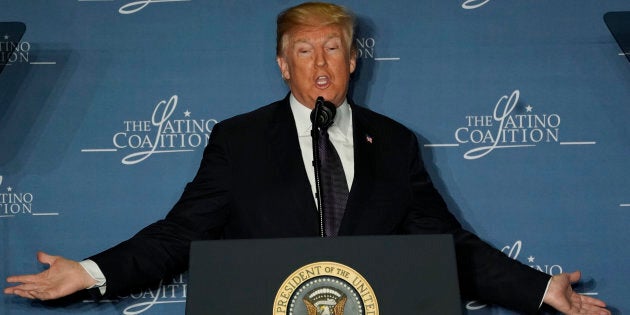 Though U.S. President Donald Trump's administration has suggested its proposed steel and aluminium tariffs are aimed at China, a new report suggests the move would hit Canada much harder.
Data also suggests that one part of Canada — Quebec — stands to lose more than any other if the White House goes ahead with a proposal to slap a 25-per-cent tariff on imported steel and a 10-per-cent tariff on imported aluminum.
According to a report by the Washington, D.C.-based Peterson Institute for International Economics (PIIE), Canada's steel and aluminum industries would lose US$3.2 billion annually if those tariffs are enacted, in lost exports to the U.S. That's the most of any country, and nearly five times as much as the US$689 million that China would lose under the tariffs.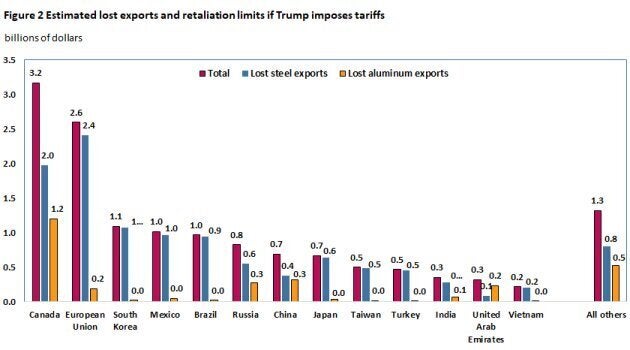 "The United States currently imports relatively less steel and aluminum from China because previously imposed anti-dumping and countervailing duties have already severely limited U.S. imports from China of those products," wrote Chad P. Bown, a fellow at the Peterson Institute, in the report.
Canada exported $24.1 billion-worth of steel and aluminum to the U.S. in 2017, with the vast majority of that coming from Ontario and Quebec.
In fact, according to an analysis from the Bank of Montreal, Quebec has the most exposure to U.S. steel and aluminum exports, which made up about 2.5 per cent of the province's economy in 2017, compared to 1.1 per cent for the country as a whole.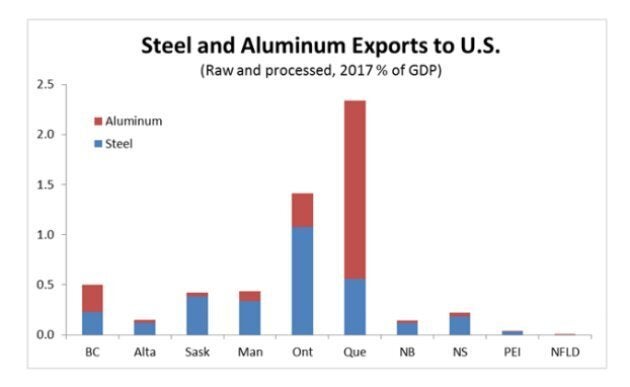 "The bulk of Quebec's exports are concentrated in aluminum, so if producers in that sector are able to pass on much of any tariff through higher prices, the economic impact would be relatively modest," BMO senior economist Robert Kavcic wrote.
"The bigger risk is probably that this is a precursor to more troubling trade outcomes ahead."
Trump's announcement last week that he intends to slap tariffs on steel and aluminum has sent shockwaves through the global economic community, with fears growing that the move will lead to an all-out global trade war.
Trump: Trade tariffs will be implemented in a 'loving, loving way'
The PIIE report suggests that the U.S.'s trading partners will be able to retaliate through the World Trade Organization. Assuming the WTO rejects Trump's argument that the tariffs were based on "national security" concerns, which seems likely, countries hit by the tariff would be able to retaliate with tariffs equal to the loss suffered by the U.S.'s original steel and aluminum tariffs.
In Canada's case, that would mean up to US$3.2 billion in penalties against goods imported from the U.S.
Canada has not suggested what U.S. imports it could target in retaliation, but the European Union earlier this week released a list of possible targets, including iconic American exports such as blue jeans, bourbon and Harley-Davidson motorcycles.
Trade war could mean 'deep recession'
An all-out trade war between the U.S. and its top trading partners could lead the world economy off a cliff, the head of the WTO warned this week.
"An eye for an eye will leave us all blind, and the world in deep recession," Director-General Roberto Azevedo said on Monday. He added that countries "must make every effort to avoid the fall of the first dominoes."
But if Trump follows through on the threat, many trade experts argue retaliation will be necessary.
Some have suggested that Canada, and other countries embroiled in a trade war with the U.S., wouldn't wait for a WTO ruling to retaliate against Trump's move; there will be political pressure to respond more quickly, they say.
"I don't believe any countries affected by these tariffs will wait for WTO procedures to be completed before acting," international trade lawyer Lawrence Herman of Herman & Associates told the Globe and Mail.
"Politics will drive this. Governments, including Canada, will be forced to respond immediately. That's the dangerous precipice we're facing, thanks to Mr. Trump."