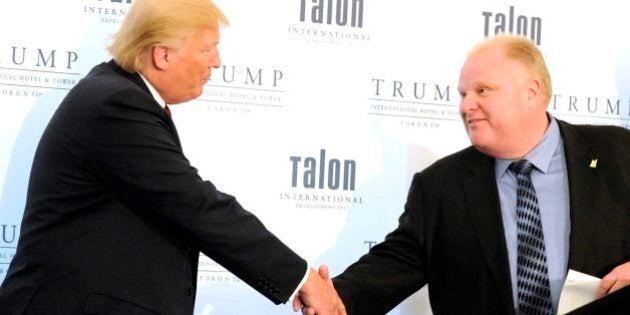 Real estate investors in Toronto are getting nervous about the market's future prospects, but few of them are as nervous as the investors behind the Donald Trump-branded hotel-condo tower that opened last year.
Talon International — the developer contracted by Trump to build the 65-story tower with 118 condos and 261 condo-hotel suites — is flatly denying there's anything wrong.
But in documents filed in a lawsuit against Talon by investors, the developer noted that there is a condo corporation in place at the tower but it has no members yet because "Talon has not at this time transferred 20 per cent of the units in the corporation."
That would suggest no more than 50 of the 261 hotel-condo suites have been fully paid for by investors, a year and a half after the building officially opened. That's a very small percentage compared to just about any other development.
Story continues below slideshow
The principal reason appears to be that the investors haven't been able to get mortgages for the units, and those investors participating in the lawsuit — there are reportedly 38 of them — say it's because of the way Talon marketed the project to them.
Investors say they bought the units on the understanding they would be classified as residential. But the Star reports banks are saying the units are commercial and refusing residential mortgages for the people who bought them.
Many of the investors may not have expected to have to pay the full price of the property, as they would have been expecting to "flip" the condos quickly for a profit. But Toronto's slowing real estate investment market has made that difficult.
"One mortgage company asked me, 'How could I give you a mortgage on a property that is losing money every single day?" an unidentified buyer told the press last year.
A law firm representing the investors suing Talon said last year the condo-hotel units are losing money at a rate of $175 per day, because rental prices are lower than expected and the occupancy rate is a paltry 10 to 50 per cent.
Talon says its finances are secure in part because it already has the investors' deposits. But if the 38 investors suing Talon succeed, the company will have to return that money, along with $1 million per litigant. Talon counter-sued some of the investors last year, asking for payment in full and $750,000 in damages from each investor.
The law firm Heydary Hamilton, which represents the investors, has previously said as many as 100 Trump Tower investors have contacted it about potential legal action.
Popular in the Community