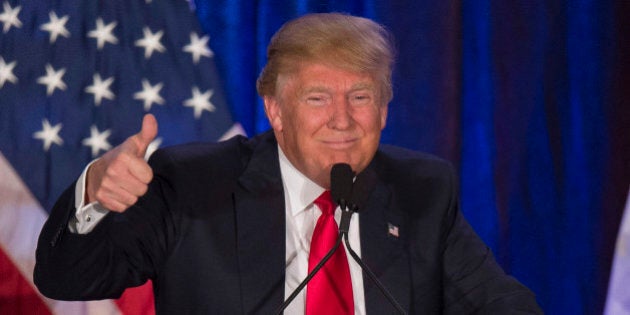 Two weeks ago week at Davos, while discussing potential outcomes and the impact of the looming U.S. election, WPP's CEO Sir Martin Sorrell said: "Trump is close to creating the biggest brand in the world."
This struck me. Not just because of the insanity of our prospective future, but mostly because Sorrell is right.
We may have been prepared for the outrageous politicking, the bigoted rhetoric, the latent misogyny, even the HAIR. But, one thing has caught us off guard about Donald Trump: he's proven to be a savvy, reliable and, frankly, brilliant self-marketer. He knows what to say, when to say it, and to whom -- and how to elicit the reaction he wants when he needs it. In fact, one of the reasons his campaign platform is resonating and cutting through the clutter is precisely because he is embracing principles from the world of content marketing.
Trump's divisive politics aside, let's think this through (stay with me...):
1. Cutting through the clutter... and then some.
Carving out a differentiated and fresh point of view can be difficult for a brand or company that doesn't want to risk offending any of its potential or existing audiences.
Well, this isn't a problem for a brand like Trump. Like any good content marketer, The Donald knows his audience. He's totally attuned to what appeals to his base, and has mastered how to speak clearly and frequently only to his core supporters. Team Trump, with all his partners, organizations and influencers, and then defend him when the media and pundits attack.
This same strategy is embraced by successful brands. Because different people are interested in different aspects of a company's story, there's no one-size-fits-all approach to delivering messages. Brands who know their core audience, and understand what resonates with them, start there. It's about building relationships and brand love with advocates before trying to engage a broader audience.
2. Layering the narrative
Some argue that Trump isn't as conservative or bigoted as he comes off in speeches and debates--rather, he knows that his controversial messages resonate with people, and is strategically amplifying those messages to strengthen his position with core supporters. He's aiming to draw out the strongest reactions possible.
And how does he stir the pot, so to speak? He starts with a small message and creates layers of stories around it, with the test and build model we regularly apply to content.
Like a good content marketer, he's always in control. What might start with a comment in a speech is reinforced in a different way via his Twitter, where he responds to detractors, and listens to what his supporters are saying. He'll then engage the media, building layers around his original point with strategic interviews backed up by supporting, calculated comments at a rally. He repeats his message different ways on different channels over and over again, leaving a trail of content around him. Let's face it: he's a one-man publishing powerhouse.
3. Not relying on paid advertising
Owned, earned, shared media -- Trump's using it all so strategically that he hasn't had to do much, if any, paid advertising.
Canadians are no strangers to this aspect of the Trump phenomenon. After all, we sprung another media-manipulating idiot savant on the world in Rob Ford.
During the heated 2014 election Ford used his added media attention to hammer home his key messages time and time again. It's no accident that Torontonians have a visceral reaction to the term "gravy train."
Just like Ford, Trump knows his detractors are listening. More importantly, he knows that his supporters are listening too. Both controversial politicians have used the 24-hour news cycle and earned media to amplify their voices, rather than spend precious dollars on advertising.
This applies to content marketing as well--building content that newsrooms can use is a huge key to ensuring it is successfully consumed. While digital advertising is still extremely effective in its own right, it remains important to use third-party channels to spread your brand's message. And, Trump gets it: he is one of the most widely spoken about personalities in the media, and doesn't have to outspend competitors to get his points across.
So, where does that leave us? Even Trump said recently that his campaign is good for his business: his estimated $4.5 billion dollar empire. Even if he loses in the primaries this week, he's already spinning this as a win-win situation. And if brand building were his ultimate business objective -- well, then we'd have to acknowledge that Trump is the winner after all.