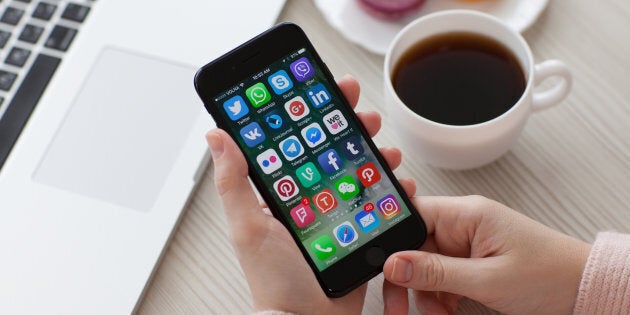 In the wake of the controversy over the role of "fake news" in the election of Donald Trump, as well as its role in other recent events, it seems many people are losing faith in social media.
A new survey from public relations firm Edelman finds that trust in social media platforms dropped in 21 of 28 surveyed countries over the past year, including in Canada.
The largest decline was in the U.S., where trust in social media dropped by 11 percentage points in a year, with 42 per cent of respondents now saying they trust social media, down from 53 per cent. But that brings the U.S. into line with Canada, where 43 per cent say they trust the media, down one point in a year.
Watch: Facebook to prioritize "trustworthy" news sources
In fact the U.S. is now experiencing an overall "collapse of trust," Edelman said, driven by "a staggering lack of faith in government." Trust in government fell by 14 points over the past year, Edelman's Trust Barometer found, with only 33 per cent of Americans now claiming to have faith in that institution.
But even as the global public questions the trustworthiness of social media platforms, its faith in journalism is somewhat on the rise. The Edelman survey found a five-point spike in faith in the profession, with 59 per cent of respondents worldwide now expressing trust.
In Canada, that rises to 61 per cent. In the U.S., 53 per cent said they trust journalism.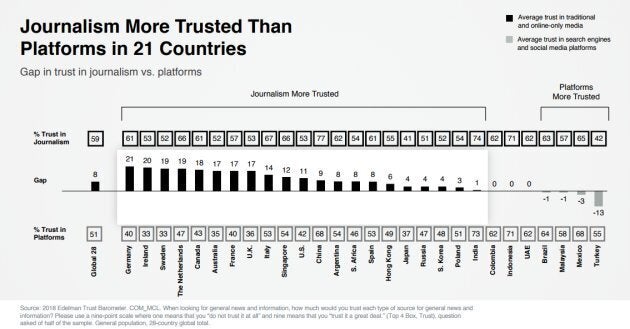 Though people tend to view "media" as a unified whole, a growing number are beginning to differentiate between platforms and journalism, said Steve Rubel, chief content strategist at Edelman.
People "are starting to question their sources," he told HuffPost Canada. "They are questioning the media environment."
And they are increasingly seeking out what they see as more credible sources of information. The survey results show that technical experts and academics are the most highly trusted authorities, Rubel said.
But the decline in social media trust has made media overall the least trusted institution worldwide for the first time in Edelman's annual survey. In 22 of the 28 countries covered, including the U.S. and Canada, only a minority of respondents said they trust media overall.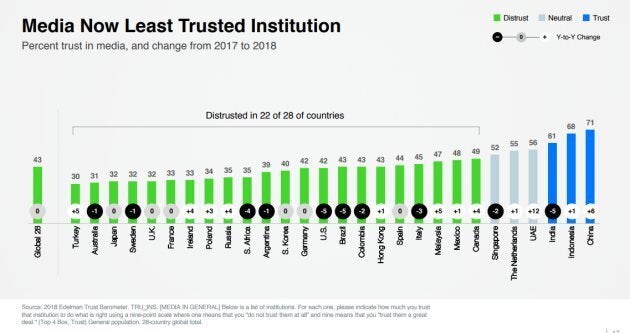 The survey found technology companies are the most trusted institutions globally — perhaps paradoxically, given that many of them have created the social media platforms people increasingly distrust.
"There are credibility problems for both platforms and sources. People's trust in them is collapsing, leaving a vacuum and an opportunity for bona fide experts to fill," said Stephen Kehoe, Edelman's global chair of reputation, in a statement.
"In a world where facts are under siege, credentialed sources are proving more important than ever."
Earlier on HuffPost Canada:
The attitudes displayed in the survey seem to reflect a recent growing discomfort with the role of social media in society — nowadays often voiced by the very people developing those technologies.
Case in point: Facebook's first-ever president, Sean Parker, warned last fall that the site was built to exploit people's emotional weaknesses.
The self-reflection continued earlier this month with Facebook's own announcement that it cannot guarantee that social media is good for democracy.

"I wish I could guarantee that the positives are destined to outweigh the negatives, but I can't," wrote Samidh Chakrabarti, a Facebook product manager.
The company, the world's largest social network with some 2 billion users, says it is focused on weeding out the sort of "fake news" that some say affected the outcomes of elections in the U.S., U.K. and elsewhere.
Those in the media have to "double down on the facts," Rubel said. To be trusted in the current climate the media have to "make sure we're telling the true story."
"Inform rather than advocate. Present multiple sides of the story," he suggested.