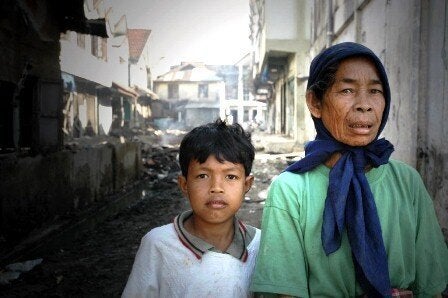 A boy and and old woman wander the streets of Banda Aceh, Indonesia, after tsunami waves pummeled their community in 2004.
As Canadians headed to bed on Christmas night, 2004, a giant earthquake rumbled beneath the waters of the Pacific Ocean. I awoke the next morning to news reports of utter devastation. Tsunami waves caused by the earthquake had slammed into coastal villages in Indonesia, Thailand, India and Sri Lanka, home to some of the world's poorest children and their families.
There was never a question of whether I would head to the region, but how soon. We initially had no idea how many World Vision staff members in the region were alive, or where planes could land. The moment we could connect the dots, I was on a flight to India.
Only after I arrived did I comprehend the scale of the destruction. In harbor communities, huge waves had shoved fishing boats into piles four, five and six high. Some neighborhoods lay in ruins, others weren't there at all. In rural areas, places which just days earlier had looked like dream holidays in vacation brochure were now completely stripped of their palm trees.
The most difficult thing to witness was the destruction in people's lives, especially when they had lost children. Even the strongest love was no match for the cruelty of a 10-metre wave, especially when children were small or malnourished. Meenachi Mahtendra, a mother in Sri Lanka, had been trying to lead her family uphill to safety, everyone holding hands to keep together. The water got there first. Meenachi watched in horror as a receding wave pulled away her two youngest daughters.
"Our home was also pulled into the sea so I have no photographs of my children," she told me. "They live only in my memory. And my mind is very disturbed."
In my 40 years with World Vision, my own mind has often been very disturbed. I have stood amidst the chaos of all kinds of disasters. The Tsunami stands alone, in terms of sheer size, scope and total devastation. Yet I've also struggled to reckon with the effects of man-made disasters, like the genocide in Rwanda 20 years ago, or current conflicts in Syria, South Sudan and Central Africa Republic. Here, the wreckage can take many forms. Sometimes children continue to live, but with their physical, emotional and psychological well-being torn away.
I always feel some survivor guilt. The sight of an entire community flattened, or human bodies stacked in piles, still devastates on a level too deep to describe. How did I win the cosmic roll of the dice that landed me in a country of privilege, a place where natural disasters and civil conflicts are almost unheard of?
There are two things to which I cling. First is the knowledge that we can do better for children and families the next time around. When it comes to natural disasters, the challenge is helping communities prepare with things like concrete community centres where people can gather safely, early warning systems, and escape plans that even the youngest children can understand.
I also cling to hope. Even in the immediate aftermath of the Tsunami, I could see people being rescued, families reunited. Their own hope kindled hope in me. From a faith perspective, it was a reminder that one of the Creator's greatest gifts is hope in the midst of disaster.
In the decade since the Tsunami, I've watched communities rebuild with the help of donors from all over the world. There are beacons of light like Muhammad in Indonesia, born on a mountaintop in the hours after the waves hit his community. The boy with a big smile goes to school, loves soccer, and celebrates his 10th birthday this Boxing Day.
As I remember the South East Asian Tsunami and other global disasters which have broken my heart, my challenge has been finding enough peace to sleep at night, while waking with the renewed energy to do my best for those who survive. Somehow, we must all find that place.
In Indonesia, Muhammad, born atop a mountain in the hours after the Tsunami, turns 10 this Boxing Day.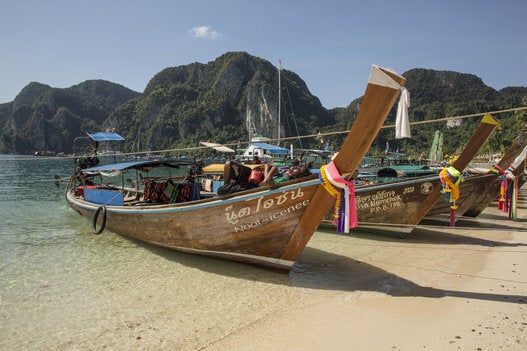 Thailand 10 Years After Devastating Indian Ocean Tsunami