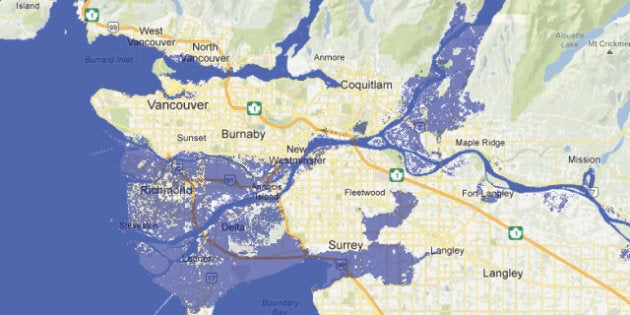 Vancouver would survive a tsunami, but Richmond might have a hard time coping if it was flooded with the same force as Hurricane Sandy this week, according to a graphic created by a B.C. student.
The striking image circulating the interwebs shows what would happen if the sea level were to rise by four metres. The graphic shows Vancouver surviving just fine, but the suburbs of Richmond, Delta and Ladner are completely submerged underwater.
SFU Urban Studies student Brandon Yan created the graphic after learning about the website flood.firetree.net during a lesson on geographic information systems (GIS) in one of his classes.
The site allows users to look at a Google Maps and adjust the sea level to see which areas would be flooded in the event of rising water.
"When I was watching/hearing about the damage in New York, I was amazed at how susceptible the world's major cities are to rising water," Yan told The Huffington Post B.C.
Yan learned from the website that Steveston, Richmond's touristy fishing village, would be wiped out, and much of Delta and Ladner's agricultural land would be completely flooded. Surrey and Langley would also see flooding in certain areas.
Last June, the City of Vancouver put the finishing touches on an art project meant to raise awareness of rising sea levels, OpenFile reported.
Artists painted bright blue and white stripes on the legs of the Cambie Bridge to show what future sea levels might look like.
A 2011 report from the provincial government showed that sea levels in Vancouver could rise by as much as one metre by the year 2100. The online map showed that one metre of sea level rise would put portions of Richmond, Delta, Ladner and Surrey underwater.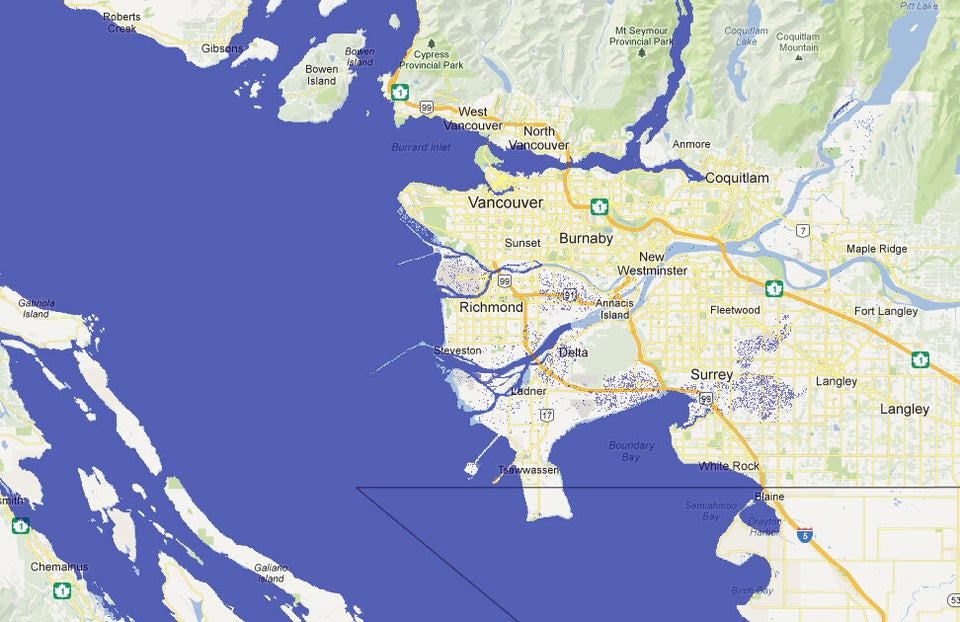 Vancouver Sea Levels Rising