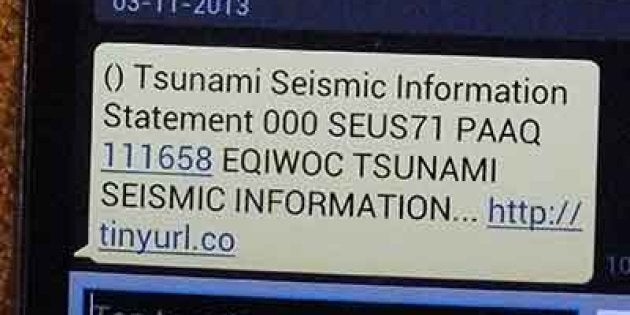 For the past month, text message tsunami warnings from the West Coast and Alaska Tsunami Warning Center (WCATWC) have transformed from clear, concise vital information to incomprehensible computer code with a link to a useless URL -- at least on my Bell Android Samsung phone.
My phone beeped this morning with the tone that let me know this was a possible tsunami warning.
This is what appeared on my phone.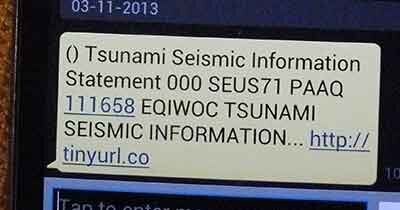 And this is what appeared on my Tweetdeck feed.

The SMS text message is completely useless. Not only is there no vital information, it directs you to tinyurl.com, which is the homepage for the Tiny URL website.
From October until mid-February, the messages on Twitter and on my phone were identical. Then in February everything changed, perhaps because the U.S. National Oceanic and Atmospheric Administration (NOAA) changed the transmission servers.
It is not clear why and how simply changing an outgoing server would have any affect on a message that the U.S. and Canadian federal governments, and state and provincial governments along the West Coast consider vital public information.
According to my phone's text message log, the last clear message about a possible tsunami was received on Feb. 14 from the server nws.noaa@service.govdelivery.com. All the gobbledygook messages since then have come from weatherupdates@public.govdelivery.com.
This problem should be fixed as soon as possible. A spokesperson for the tsunami warning center could not be reached for comment.