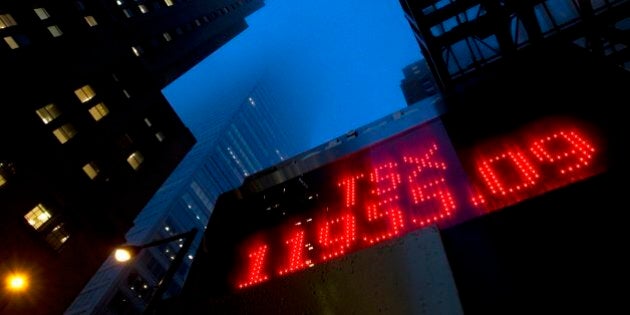 TORONTO — The Toronto stock market posted a triple-digit loss Wednesday on another wild day on global markets as the price of oil fell yet again.
The Toronto Stock Exchange's S&P/TSX composite index ended the day down 159.13 points at 11,843.11, its lowest close since June 24, 2013, when it finished at 11,836.86.
It was the latest in a rarely interrupted string of down days since the Christmas break that has seen Canada's main index lose more than 10 per cent of its value.
In a client note earlier this week, BMO Capital Markets pointed out that the TSX has erased all its gains since 2006, making it a "lost decade" for Canadian stocks.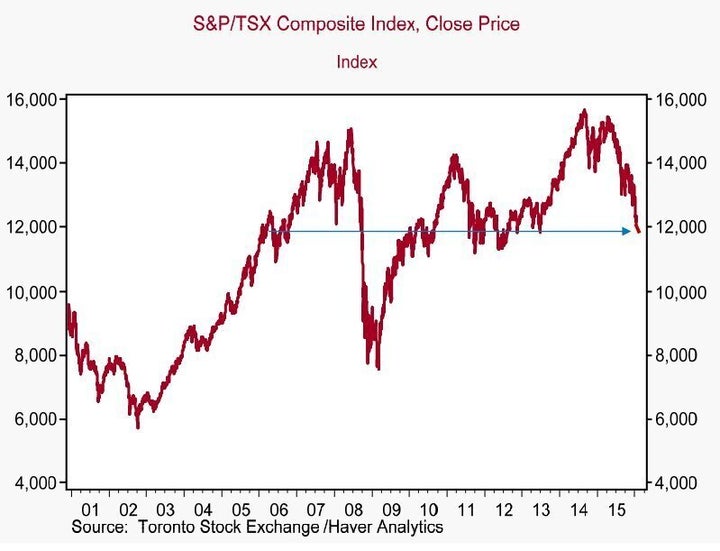 By comparison, the U.S.-based S&P 500 has posted returns of 8 per cent over the past 10 years, BMO economist Robert Kavcic noted.
Of today's decline, Andrew Pyle, of Scotia Wealth Managemetn said, "What we're seeing in Toronto is not a Toronto-only or Canada-centric decline, this is reflecting what we're seeing around the world.'
New York markets were also negative but well off their worst levels of the day that at one point saw the Dow Jones industrial average shed more than 500 points.
At the close the Dow was down 249.28 points at 15,766.74, while the broader S&P 500 fell 22 points to 1,859.33 and the Nasdaq lost 5.26 points to 4,471.69.
"This, to a certain extent, has become this vicious circle where one market is experiencing a rout in its equity market leading to almost a contagion effect into another market,'' Pyle said.
The cycle of uncertainty has roiled markets in the early weeks of 2016 and Pyle said positive indicators from earnings season or the continuing American recovery may not be enough to snap them out of it.
"When you're in this kind of a market, where there's a lot of anxiety and panic-based selling, if you want to call it that, you need more than just some good news, you need a lot of good news,'' he said.
The Canadian dollar, however, benefitted from the Bank of Canada's decision not to cut interest rates, and the commodity-sensitive currency added 0.32 of a cent to 69.01 cents U.S.
"People had built so much of a rate cut view into this meeting that, by not cutting rates, it actually gave the Canadian dollar room to move higher,'' Pyle said.
— The Huffington Post Canada, with files from The Canadian Press