Few people on this side of the pond noticed, but over the past day or so, a major proposed transatlantic trade pact has come to the brink of collapse.
And its possible demise also throws into question the future of a separate proposed free trade deal between Canada and the European Union.
Classified chapters of the proposed U.S-EU free trade deal, known as the Transatlantic Trade and Investment Partnership (TTIP), became public after Greenpeace leaked more than half of the negotiating text on Monday.
The environmental activist group said the documents showed the deal "presents an across-the board threat to environmental and climate action in both the U.S. and Europe."
The documents reveal that the U.S. is demanding that the EU lower environmental and public health protections as part of the TTIP, Greenpeace said, and U.S. corporations would have the power to override European laws under the proposal.
But the top U.S. negotiator in the talks said Greenpeace's assertions "appear to be misleading at best and flat out wrong at worst."
With negotiations currently underway in New York, France's trade minister made it clear Tuesday his country is opposed to the deal. Matthias Fekl said talks "are totally blocked'' and an end to negotiations "is the most probable option.''
Fekl insisted on better farming and environmental protections, and said "in its current state, France cannot sign it.''
A breakdown of the U.S.-EU deal could jeopardize Canada's proposed free trade deal with the European Union as well.
The Canadian deal, known as the Comprehensive Economic and Trade Agreement (CETA), is at a far more advanced stage than the U.S. deal. It was seen by many as a "test run" for the larger U.S.-EU deal.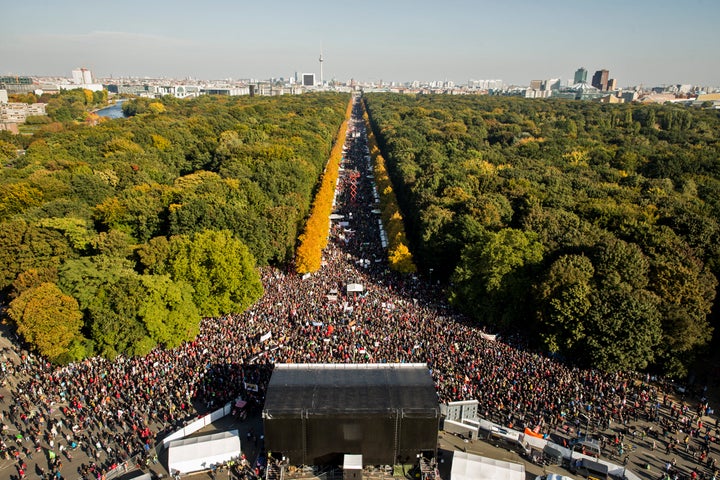 Officials on both sides of the Atlantic have said the Canada-EU deal could come into force as early as this year, but serious obstacles remain. For one thing, it's still unclear what has to happen for the European Union to ratify the Canadian deal.
EU trade officials say that the deal need only to be ratified by the European Parliament. But many individual countries in the EU insist that the deal is a "mixed agreement" under EU law, and requires all 28 member states to ratify it.
That Europeans may be confusing the Canadian deal with the American deal has become an issue of concern to some Canadian officials. Trade Minister Chrystia Freeland recently found herself having to highlight the fact that Canada has separate relations with the EU from the United States.
Like the proposed U.S.-EU deal, the Canada-EU deal includes a controversial investor-state dispute settlement (ISDS) mechanism that opponents say gives corporations the ability to override national laws.
— With a file from The Associated Press