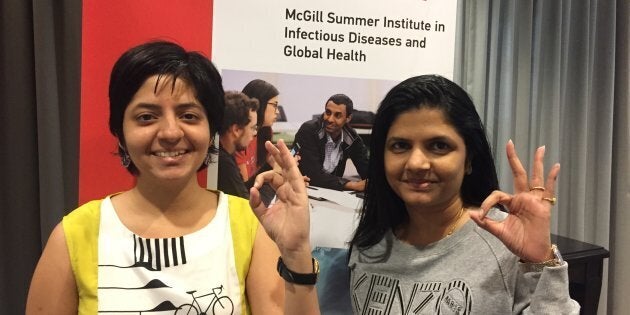 Deepti Chavan relived her fight against TB. She was diagnosed with TB at the age of 16, after weeks of experiencing symptoms. In all, she endured six years of toxic drug therapy, including 400 painful injections, and had much of her affected lung removed to recover from a severe form of drug-resistant TB.
During her emotional opening talk, Deepti spoke about how she visited several doctors, and about how most physicians changed her antibiotics without doing any drug-susceptibility testing. "I really wanted to know if the TB drugs I was taking were working or not," she said. In practical terms, this means doing drug-susceptibility tests on all person with TB, to make sure the medications are effective. That is exactly what is needed, said Deepti. "We cannot risk the lives of TB patients by delaying diagnosis and putting them on wrong treatment," she argued. "Perhaps if my doctors had done drug resistance tests earlier, my lung could have been saved."
Nandita Venkatesan recounted her struggle that began at the age of 17 when she was diagnosed to have abdominal TB and started on therapy three months after developing symptoms. After taking a prolonged course of anti-TB therapy, she was declared cured, only for the disease to resurface at the age of 23. This time around, she needed multiple surgeries to stay alive.
The unkindest cut of all was waking up, two days after her 24 birthday, to total silence. Nandita lost her hearing because of the toxic effects of Kanamycin, a second-line TB drug that is used for patients with drug-resistance. In a TEDx talk entitled "From Sound to Silence - Lessons from my journey into hearing loss," Nandita gives us a peek into her world of silence, the challenges she faces in a society that is not friendly to persons with disabilities, her determination to get back to work, and how she started dancing again.
In her talk at McGill, Nandita challenged us to come up with better diagnostics for extrapulmonary TB. "A test result to check drug-resistance takes 6 weeks to come. But that time is enough to turn a patient's life upside down!" she said. She also made a passionate plea for developing better TB drugs with fewer adverse effects. She asked why all patients on second-line drugs do not get routine audiometry (hearing tests) to screen for hearing loss? Patients don't just need correct diagnosis, but they also need adequate follow-up and monitoring during the long therapy, she said.
Women in India are stigmatized when they have TB. But this has not stopped Deepti and Nandita. They are powerful TB advocates today, championing the fight against TB in India, and engaging with scientists and policy makers to improve the situation for patients in the country. They constantly remind us that the fight against TB cannot be won without empowered patients. In fact, their work is invaluable in raising awareness about the devastating effects of the disease, and about the need for us to invest in better tools, and work harder to improve quality of TB care that we offer to patients. The seriously under-funded Indian TB program will do well to harness the passion and energy of these TB champions.
By the time our Summer Institute ended, it was clear to one and all that Deepti and Nandita's contributions were the highlight of this year's Institute! They spoke the truth, won our hearts, and reminded us that we need to create a space for patients in our scientific conferences, courses, and events. After all, if we care that our science makes a difference, then we need to listen carefully to those who desperately need science to work for them. Thank you, Nandita and Deepti, for two inspiring weeks. More power to you!
Note: Photograph and quotes used with permission from Nandita Venkatesan and Deepti Chavan.
Follow HuffPost Canada Blogs on Facebook