 When The Arcade Fire won the Grammy for Album of the Year in 2011, it was a historic win for the Canadian music industry. Grammys are meant to crown the best of the best in music and for that year our very own Arcade Fire were it. But amidst the industry back-slapping and chants of "we're number one" from muso-journalists, I remained unusually quiet.
You see, Grammy or no Grammy, Arcade Fire are a damn good band, but they're not the best band in the world. In fact, no matter what transitory trophy is presented to knight whichever best band in the world, chances are they'll always get it wrong.
That's because the best band in world aren't from Los Angeles or New York or London or Montreal. The best band in the world are from Oslo, Norway and they're called Turbonegro.
Back in 1998, while I was on tour with the New Bomb Turks, their bassist Matt Reber and guitarist Jim Weber kept raving about this band they had just played with in Europe called Turbonegro. I immediately raised an eyebrow and interrupted with a "Turbo-What?"
They were unfazed and played me their Apocalypse Dudes album. The band photos of six eyeliner wearing bearded dudes were kinda sinister, and I rated it a pretty darn good punk rock album, but that was it. Fast forward to 2002, standing amongst a rain-soaked crowd at the Hultsfred Festival in Sweden getting ready to witness the Turbonegro reunion with their then-newly clean and sober singer, Hank Von Helvete, I couldn't help but get caught up in the frenzy. When the band hit the stage, everything jigsawed into place like it was being orchestrated by some death punk Keyser Soze. I got it. And from that moment on I've been a Turbonegro devotee.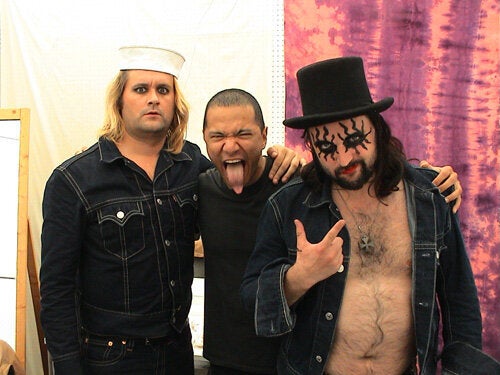 Their 2003 return album Scandinavian Leather had the band hitting the streets with a renewed vigour, making up for lost time and garnering fans like Jello Biafra and James Hetfield. Their brand of punk rock, that they christened "Death Punk," was a homoerotic, biker/sailor, denim 'n' leather goulash, with songs about prostitution, anal sex and... pizza. Think Alice Cooper meets The Ramones with simple hooks and hummable melodies and you're getting close. But, unlike The Ramones, Turbonegro's lyrical themes will have them banned from Starbucks outlets for a long time to come. Sure, Joey sang about sniffin' glue, but Turbonegro's most popular song is called "I Got Erection." Getting it now?
Years of touring abroad has made me aware of the wide dichotomy between the music tastes in North America and Europe. And while music pundits and punters alike have lined up to touch the hem of Justin Vernon's gown on this side of the Atlantic, the denim jacket and sailor's cap-wearing members of Turbojugend, the worldwide fan club of Turbonegro, have lined the streets prostrated in reverence to the Sailor Men of Oslo everywhere else.
When I first met Turbonegro bassist, Happy Tom (The Happy Sailor Man), he told me that "KISS have an army, but we have a navy!" He said it to me dead in the eye, fisting the air. It was irresistible. How do you not fall in love with a band after that? Original singer Hank Von Helvete recently relinquished his spot as frontman to Tony "Duke of Nothing" Sylvestor, for their supreme 2012 comeback record, Sexual Harassment.
This has left the Norwegians bruised, but still back in full force to vex and peeve. It should be noted that Helvete is one of the greatest frontman that music has ever produced and I put him in the same league as Iggy Pop, Paul Stanley, Axl Rose, Ozzy Osbourne and Lemmy Kilmister. His absence from the fold is gravely missed, but Turbonegro's sum parts are greater than their whole and trudge on they will.
It might sound cliche, but the one fast rule I always clung to when searching out music, throughout my teens into adulthood was that it needed to have a degree of danger. Whether it was KISS, Black Flag, Motorhead, Public Enemy, Diamanda Galas, The Boredoms or John Coltrane, to turn something as intangible and abstract as music into something with an edge of menace was always attractive to me. Nowadays, though, we're amidst what people have called an indie rock renaissance that espouse bookish bands like The Decemberists and Death Cab for Cutie. It just seems to me that everyone and their mom swallowed a Matrix-style blue pill in a Jim Jones/"Shiny Happy People"/Little House on the Prairie-style attempt to marginalize music like "Ace Of Spades," "Annihilate This Week" and "She Watch Channel Zero." Not on my watch.
Over the years, it's only natural that my fandom for bands -- the ability to get excited about anything new -- comes with diminishing returns. However, every so often there's a band that will reignite that wide-eyed fervor I had when I was discovering music as a teenager. I would venture to say that there's an even greater, even desperate, eagerness to continue stoking those musical passions when everyone else around me seems to not care so much anymore.
Turbonegro are in that select group (that includes Grand Magus, Middle Class Rut, Shining (Norge), The Doomriders, Danava and Church of Misery). And as I watched them play with dropped jaw just this past Friday in Dortmund, Germany, right before I got ready to follow them on stage, I knew that the red pill path that I had chosen was the correct one and couldn't help but "Shake My Shit Machine."
Denim Demons, Unite! Remain Untamed! Darkness Forever!