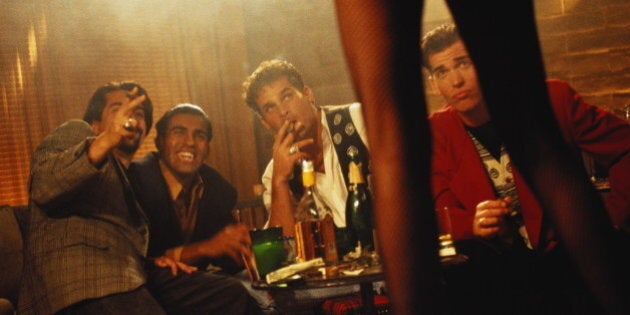 Some of Canada's strip club operators think they have a better solution for sex workers than the government — and it involves turning their clubs into licensed brothels.
The Adult Entertainment Association of Canada is proposing an alternative Canadian model for prostitution to the Conservative government's recently proposed Bill C-36, which criminalizes the purchase of sex.
The group, which represents three dozen exotic clubs across Ontario, believes the world's oldest profession is best dealt with through the provision of licences to strip clubs that would allow prostitution in separately licensed areas of the clubs. It would not require dancers to sell sex or sex workers to dance.
It plans to submit a five-month-long "Enhanced Adult Services Study" to the Ontario and federal governments, as well as each municipality in Ontario in the hopes politicians will consider alternatives before the controversial bill passes.
The five-month-long study released Thursday concludes decriminalization, regulation and licensing of the business would keep sex workers safer. It would also allow governments to collect millions of dollars in tax revenues from "the market for sexual services," which it estimates to be worth between $870 million and $1.7 billion per year.
The study, conducted on behalf of the AEAC by an independent consultant, suggests authorities consider allowing a one-year pilot project that allows strip clubs to provide "enhanced services" (prostitution).
"Adult entertainment clubs are in the best position, out of any other adult business, to ensure the health, safety and protection of consumers," wrote the report's author, former City of Toronto Licensing Policy Manager turned independent consultant Rudi Czekalla.
Strip clubs have a stake in both the proper and legal operation of their businesses, and in the maintenance of good relations with their neighbours, he said, as well as "a track record of caring about the safety and well-being of the people they work with."
However, dancers at strip clubs do not appear to be in favour of the proposal. As part of the study, Czekalla also surveyed the opinions of 159 exotic dancers by going to clubs across the province in March and April, and found less than a third of dancers supported it, while 60 per cent opposed it.
The study estimates that governments could generate between $87 million and $170 million in revenues through a 10-per-cent excise tax. It suggests at least some of that tax revenue go to harm reduction and social services programs for those in the industry.
The group began looking at the possibility of "enhanced services" in their clubs in December, after the Supreme Court of Canada struck down the country's prostitution laws. The unanimous decision threw out the prohibitions against keeping brothels, living on the avails of prostitution and street solicitation, saying they violated sex workers' Charter rights to life, liberty and security of the person.
The Conservative government answered with its controversial Bill C-36 earlier this month, which is based on the so-called Nordic model that criminalizes buying sex but continues to allow its sale. The proposed law has upset many in the industry who say it continues to put sex workers in harm's way by driving the industry further underground.
Tim Lambrinos, executive director of AEAC, believes the bill will not stand up to a constitutional challenge and that the time is ripe to push an alternative model.
"It makes sense that licensed adult entertainment clubs be chosen as safe brothel locations since they already have a good track record at protecting women," he said.
The enhanced services model would create a system of municipal and provincial licensing and regulation to address health and safety, consumer protection and nuisance control issues. Municipalities and provinces would be able to regulate the industry and enforce such issues as the number of establishments allowed, minimum age requirements and sexual health check-ups, the report said.
Lambrinos said the plan is safer for workers because it brings sex work into the light and out of problematic situations like illegal massage parlours, escort services or street solicitation, which are dangerously difficult to track.
He pointed out that strip clubs are already zoned for sexual services operations, so no rezoning would be required, while their scattered locations would mean the controversial industry is not concentrated in a red-light district that local residents might oppose.
Under the AEAC's proposal, human trafficking and sexual exploitation would remain illegal.
Lambrinos said the most shocking part of the study was how inadequate the information is that police have about crimes against sex workers.
Czekalla requested information about crimes targeting sex workers from police services in cities across Ontario and found that there was very limited data, and was told the information would require a record-by-record review. He recommended the program have a stipulation requiring police services to collect and provide uniform data to regulators.
The AEAC has already submitted a summary of the report to several MPs and has registered to present the findings before the Justice and Human Rights Standing Committee in July.