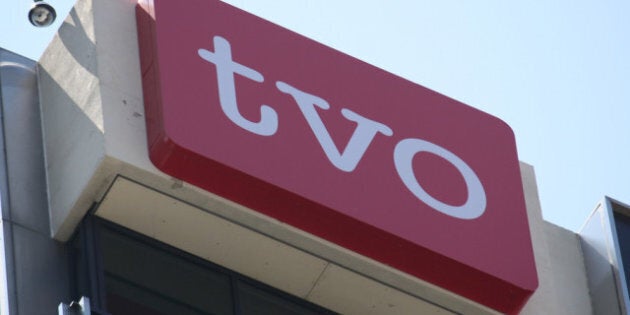 TVO -- which blandly calls itself "Ontario's public education media organization" -- is terminally worthy.
So worthy that, by rights, it should be a national TV network.
So worthy that it frequently puts our supposedly national public service TV network, CBC, to shame.
TVO (motto: Makes You Think) does great children's programming, runs some really intelligent shows, most with British accents, and for the past 21 years has been home to one of Canada's top journalistic interviewer/hosts.
The host's name is Steve Paikin. He's senior editor and anchor of TVO's live daily flagship, hour-long, current affairs program, The Agenda.
Paikin has written four books, produced a bunch of excellent documentaries, won awards for his work in Canada, the U.S. and China and is so good at interviewing and hosting that he's moderated five national and provincial election debates.
So who the hell is this Hamlin Grange to tell Paikin how to improve the sainted Agenda? Right up front on his own program!
Actually, I know who Hamlin Grange is. He's an old friend and sparring partner who's co-founder of the annual, non-profit, Innoversity Creative Summit (Motto: Innovation. Creativity. Diversity) dedicated to media diversity and inclusion. His day job is president of DiversiPro, a diversity training, coaching and consulting company. He was born in Jamaica and himself boasts a whole string of awards for public service.
Let me paint the picture.
A recent edition of The Agenda with Steve Paikin focused on how to better reflect the diversity of Ontario on TV. (Roughly 20 per cent of Ontarians and half of Torontonians are visible minorities.)
The idea for the show sprang out of a viewer voicemail to Agenda asking "why do you guys always trot out the same middle-aged white men?"
At the start of the show came the usual polite and probing questions from Paikin and polite and insightful answers from panelists Tina Edan, (DiverseCity Voices), Rubén Gaztambide-Fernández, (Ontario Institute for Studies in Education), Sarita Srivastava (Queen's University), Susan Eng, (CARP) and Hamlin Grange (DiversiPro).
All, including Paikin, agreed that reflecting diversity on Ontario's TV stations is a good thing which could be done a lot better. No doubt about it.
Which is when Grange, looking every inch the tough, no-bullshit journalist and social reformer he is, turned the tables on Paikin and moved in for the kill.
Grange: When I was hosting my programs on CBC, when I did Work Week for TVO... I had a choice. All my producers were white and I would say to my producers 'Why is it I'm always talking to the same people... that all look the same?'

Paikin: Because they're in the Rolodex already?

Grange: They're in the Rolodex. So get out of your comfort zone. You talked about fishing in particular ponds, let's use a metaphor. Maybe keep fishing in those ponds, Steve, but if you want to get a different fish, you may have to go someplace else. OK? And you have to be very deliberate about it.

It becomes problematic when the only time you have people of colour sit around this table is when its an issue that entails or involves people of colour. The fact is that this is the second time I've been on this program to talk about this. No one's ever called me to talk about...

Paikin: But this is your business.

Grange: This is my business. But I also have other expertise. No one's ever called to ask me about policing for example. Although I was on the Toronto Police Services Board for six years. Not a call from TVOntario.

I sat on the ROM (Royal Ontario Museum) as a trustee for six years. Not a call from TVOntario asking me about arts, about culture, about anything like that. I've got a lot of information about that stuff, Steve.

Producers and journalists in general, I believe... we've become lazy. We go for the hits. Those folks we've actually trained to be good guests. We train people how to give good clips. We train people how to behave on panels like this. We actually train people to be on television. And what I'm saying is... keep doing what you're doing but train a whole bunch of other people.

It's the way we do business as news information gatherers. We must change that approach. So for me its not just about diversity any more, its about inclusion. How do we include voices at the table to live the code and, quite frankly, the core values of journalism. Accuracy, balance, respect, fearlessness... all those things.

If you hear from a single voice all the time I think we are betraying the very core values of journalism.

You make the decision because at the end of the day its your show. You can have anybody on this program that you want.
Not often that you get a guest on a TV show telling the host what's wrong with the program and how to fix it! In detail! And at great length!
What if it's the start of a trend?
What if people interviewed by broadcast or print journalists start their answers by some version of that question to The Agenda: "Why do you guys always trot out the same middle-aged white men?"
For instance: "First, you should know that I believe your organization runs too many crime stories." Or celebrity/weather/political/human interest stories.
Or "For the record, I think you ignore gay people in your coverage." Or women. Or Muslims. Or disabled people. Or young people. Or Aboriginals. Or whatever.
First the statement, then the answer to the question asked.
It's unlikely that the media will actually publish such answers. But if the idea catches on, it will certainly be one way to send a message to media bosses that we're not at all satisfied with their journalism and we want improvement.
(Full Disclosure Department: This interview has been edited and condensed. Also, Knight once trained TVO's Inside Education program and won its International Silver Focus award. Also, over the years he's worked with both Steve Paikin and Hamlin Grange. Also, he'll be interviewing for Innoversity at its summit in Toronto next month.)