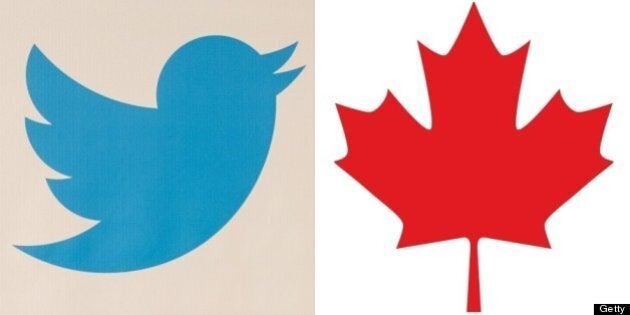 UPDATE: Twitter Canada's official launch Thursday in Toronto wasn't about wooing more Canadians onto the social media platform, but about convincing advertisers and broadcasters that Twitter is the future for brand building.
Kirstine Stewart, who recently left a position as CBC's head of English services to lead Twitter Canada, said the company's entry into the Canadian market provides an opportunity for its partners to "take your market and own it."
The company has already signed on two Canadian broadcasters -- Shaw and Bell -- to its Twitter Amplify program, which allows them to embed video clips and extras on the site, and says it has had discussions with more.
It is also appealing to advertisers, who would pay for a pre-roll ad and to promote those tweets.
The "authenticity" of Twitter is what helps deliver receptive and engaged audiences to its potential partners, Stewart told the audience at the launch event in Toronto, which included many broadcasting and advertising reps.
"It's very real, it's things that people really want to get into -- they click on that link because they want to see it."
Still, Stewart said Twitter Canada will also be about fostering unique relationships specific to Canadian users.
"You can't just come up here and sell ads, you have to talk about what type of content Canadians want to engage with in order to create a bigger user base," she said.
Stewart said Twitter Amplify, which makes money from advertisers only when people engage with their promoted tweets, will not bombard users with advertising because the ads are attached to content that a person actively seeks out through a click.
"The last thing you want is kind of a stream of ads that go in between regular tweets that have no relevance to what I want and what I am interested in," she told Huffington Post Canada in an interview.
"It's actually much better even than the 30-second commercial, which everyone is subject to on real time television. This is actually content you want to see."
Original story follows below.
The launch Thursday of Twitter's Canadian operation and its strategy for this country may be shrouded in mystery, but recent moves by the microblogging network suggest it aims to capitalize on the growing interplay of social media and television.
The San Francisco-based company is competing with a host of other companies eager to claim the emergent and potentially profitable trend toward "second-screen" entertainment in which TV viewers use a companion device such as a tablet or smartphone to interact with what they're watching.
Twitter Canada, which will open its Toronto office Thursday, has already announced partnership deals with two Canadian broadcasters and wooed Kirstine Stewart, former CBC vice-president of English language services, to manage its Canadian operations. (Stewart's appointment was announced in April, suitably, in a tweet by Adam Bain, the company's president of global revenue).
Outside Canada, Twitter has forged deeper broadcast relationships and moved this year into the TV advertising space. It acquired social TV analytics firm Bluefin Labs and signed a partnership deal with one of the largest advertising agencies in the world, the Starcom MediaVest Group, to measure and track data and advertising.
Traditional television advertising revenue has taken a hit as advertisers grow wary of the medium, concerned that it no longer offers the same number of eyeballs on their commercials as viewers switch to video-on-demand, video streaming and PVRs, while those who are watching live TV turn their attention to a second screen during commercial breaks.
For Twitter, social TV offers a way to generate revenue in the social media sphere, where sources of income can be sparse and profit models are still evolving. Canada's $3.7 billion television advertising market is ripe for companies looking to capitalize on social TV partly due to the country's high rates of online video viewing and cable penetration.
That's good news for Twitter, which is reportedly seeking to churn out US$1 billion in revenue in 2014 in advance of an initial public offering. A viable revenue model would help convince investors it's worth a hefty price.
Still, the revenue model for its new service, called Twitter Amplify, is not completely clear, but advertisers would pay broadcasters to have their ads featured in pre-roll video ads featured in tweets that target TV viewers watching certain shows. Twitter would make money when those advertisers pay to make those promoted tweets.
The relationship between social media and traditional television appears to offer revenue benefits for both parties, but the question is: Who needs whom more? Twitter or the broadcasters?
"The reality is that TV benefits Twitter and Twitter benefits TV – it's pretty much the perfect relationship," said Mike Proulx, director of social media at ad agency Hill Holliday and the author of Social TV.
Twitter activity tends to spike during big media events, with users tuning into their TVs and the social media site simultaneously to join conversations about everything from the presidential debate to the Super Bowl to the season finale of "Game of Thrones." The platform has a dedicated audience that is a prime target for advertising.
About 32 million people in the United States tweeted about TV programming over the past year, and it's safe to say that that behaviour penetrates the Canadian television market as well, Proulx said.
He added that Nielsen has found a correlation between a TV show's tweets and its ratings. which has led some to say that Twitter is giving people a reason to watch live TV.
"TV networks love it when viewers tweet during their broadcasts, because it can help get other people to tune-in. … And, of course, Twitter loves this, as the more that its platform gets exposed to mainstream media audiences, the more people sign up and the more attractive it becomes to advertisers, investors, and other revenue generating opportunities."
While both broadcasters and social media stand to benefit from a partnership, the relationship more heavily favours Twitter, because TV existed on its own long before social media, says Christopher Walton, supervisor of advanced television solutions at Media Experts.
Story continues below slideshow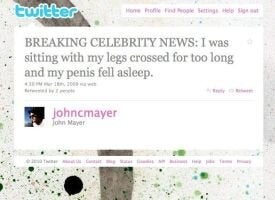 Worst Twitter Overshares
"The broadcast business has always existed without Twitter, [that being said], if you want to go into the future and people are going to be looking at services like Netflix or other over the air cord-cutting experiences, that power is going to be taken from the broadcaster slowly," he said.
"So if they can form a partnership with someone like Twitter and stay out ahead of that trend, it's going to be beneficial to them, but at the end of the day I would say this benefits Twitter."
Seven in 10 Canadians with a smartphone, tablet or computer use it while watching television, and one-fifth of those do so to monitor social media activity, suggests a Rogers Communications survey released last week.
As viewer habits shift to the online realm, and amid fears that Canadians are "cord cutting," media and telecommunications companies are increasingly looking for ways to engage their audience on multiple screens and keep eyes on their content.
A relationship between Twitter and broadcasters is inevitable, some say, because of user-driven trends such as tablet and second-screen adoption. In addition, a majority of Twitter conversation revolves around what is happening on TV – from tracking weather events to connecting with celebrities to weighing in on political scandals. And 95 per cent of live TV conversation happens on Twitter, the company says.
Some Canadian broadcasters are joining those in the United States in positioning themselves in the multiscreen market, with Shaw and Bell Media both announcing last week that they would partner with Twitter Amplify to enhance the two-screen experience for viewers, provide additional ad time for advertisers, and provide more analytics for broadcasters.
U.S. broadcasters such as ESPN use the Twitter Amplify service to offer Twitter users instant video replays during basketball or football games. Those replays are sponsored by a major U.S. brand whose products are promoted in a short ad before the content runs.
"This gives TV viewers the control (and choice) to re-experience and share compelling TV moments by simply using Twitter on their second screens. It represents yet another way for broadcasters to add value to their dual-screen TV audiences," Proulx said.
In order for Twitter to partner with broadcasters on TV advertising campaigns, it must focus on the local level to sync ad campaigns that vary from country to country, and a Toronto office gives it a springboard to do just that.
Shaw Media, which owns Global TV and a host of specialty channels, was the first Canadian broadcaster to partner with Twitter, saying the move will help advertising clients extend their brand presence online.
Bell Media announced just days later that it had also forged a partnership with Twitter, although it seems to focus more on analytics than Shaw's. Bell would not speak with The Huffington Post Canada for this story and did not provide a reason.
Twitter has become "the new water cooler," especially for some of the Shaw's shows, such as "Lost Girl" or "Continuum," which have a "rabid fan base," said Christine Shipton, vice-president of original content.
"It used to be the next day and everyone would stand around and talk about 'Did you see?', but now it's immediate 'Did you see?' 'Are you watching this'?"
Twitter users may already have those water cooler conversations, but the social media site's newfound focus on marketing allows advertisers for the first time to jump in and say "Hey! While you're having that conversation, check us out," said Walton. For him, the emphasis on social TV is a recognition that television is the foundation for Twitter's growth.
Still, those in broadcasting like Shipton acknowledge that Twitter's push to ramp up advertising revenue risks annoying users and making them less likely to log on, a challenge that Facebook has faced. Twitter will have to be conscious of limiting the volume of ads related to any one program so as not to bombard users and push them to unfollow a show.
"What social media is is a conversation, so it's not a push out, it's a circle of dialogue. … To artificially just try to push messaging into social media is not always accepted in the best way by consumers," she said.
For advertisers, second-screen viewing provides a way to guide consumers through "their path to purchase" by targeting customers who just viewed their commercial and persuading them to shop for their brand while sitting in front of the TV, Walton said.
"It's really going to be a big breakthrough" for broadcasters, he said, adding that others will have to join in soon if they want to offer advertisers relevance between live broadcasts and the conversation that is already occurring in response to them.
Jumping on the social TV trend also gives broadcasters another buffer against viewers who might otherwise be inclined to cut their cords, because it highlights an aspect of live TV that cannot be replicated by those watching on demand: a sense of community.
"That's going to drive live viewing," he said of the engagement that viewers get through watching and commenting in real time with others.
"Hopefully, the broadcasters can gain a little bit more strength back with a move like this."
As social TV evolves, Walton said, it will eventually be melded into one screen that allows users to perform all actions on one device, as well as one big player that serves as a "one-stop shop" for that conversation. And that's what Twitter should be aiming for, he added.
Second-screen viewing will only increase, Proulx said, and that represents a "huge opportunity" for broadcasters who can find ways of providing worthwhile "companion experiences" on the second screen in order to mitigate the impact of viewers' turning to another distraction during commercials and provide additional ad opportunities.
"There's going to come a time when we all stop calling it "social TV" and simply go back to describing television as "TV" again. Television has always been a social medium. Social media has simply made being social around television that much more easy, instant, and virtual."
Popular in the Community