There's a little more than a month to go before "Two And A Half Men" -- the longest running live-action sitcom on television -- comes to an end for good.
But before the cameras switch off and those memorable sets go dark for good, the question on everyone's minds remains: will Charlie Sheen return to the role that solidified him as a household name, or did his much-publicized exit harm any shot of that ever actually happening? Turns out, there may be more of a chance than we previously thought.
Last summer before the final season of "Two And A Half Men" kicked off, CBS Entertainment President Nina Tassler spoke to critics at the 2014 Summer Television Critics Association Tour, and she told reporters in the post-panel scrum that they weren't "having those conversations" at the time. Last week she took the stage for the 2015 Winter TCA Tour, and the questions about Sheen's return popped up again.
"I can promise you there will be a lot of surprises, and out of respect for Chuck [Lorre], and actually this is a direct quote, he has promised to deliver what he's calling a 'mystery sandwich.' There you have it."
On Thursday night, reporters had the chance to ask Lorre directly whether Sheen would return to the show before the finale, when Warner Bros. hosted a Chuck Lorre night on the lot and brought out talent from "Two And A Half Men," "The Big Bang Theory," "Mike & Molly" and "Mom."
"We're going to have a finale that you'll be very pleased with and that's all I'll say," he responded, dodging the question. A minute or so later he backtracked, and made it clear that he had no more hard feelings.
"It would be inappropriate to not acknowledge the extraordinary success we had with Charlie and how grateful I am -- we all are -- for his contributions," Lorre added. "There is nothing but great feelings for the eight-and-a-half years we worked together."
It was a sentiment that "Two And A Half Men" co-star Jon Cryer echoed on the set later on in the evening, where he chatted with reporters following the announcement that Warner Bros.' Stage 36 was being renamed the "Two And A Half Men" Stage.
"To paraphrase what Chuck already said, there is still an enormous good feeling and gratitude toward Charlie," he added. "That wouldn't be what would keep him from being on the show."
Whether Cryer and Lorre are being coy in a bid to get viewers to tune into the hour-long series finale on Feb. 19 remains to be seen.
"How to wrap the show? It's tricky. In a way, the show morphed into something else entirely for the last four years," Lorre posed, referring to Ashton Kutcher coming in and replacing Sheen in the leading role. "We want to honour both. How to honour both is the challenge of this finale. The other challenge is how to get people to watch something without telling them what it is?"
Being sly about Sheen seems like a good place to start, Chuck.
"Two And A Half Men" airs Thursday nights at 9 p.m. ET on CBS & CTV.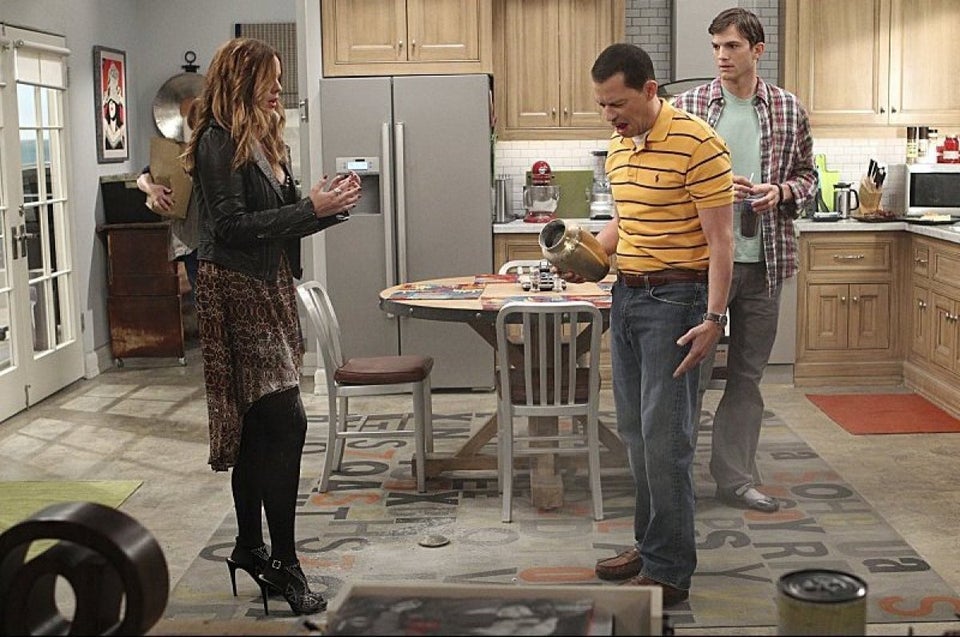 Two and a Half Men