An Alberta teen was honoured for saving his stepdad's life Tuesday – by none other than the Queen of England.
Eighteen-year-old Tyler Bailer, from Wetaskiwin, Alta., was invited to a ceremony at Buckingham Palace, where Queen Elizabeth II presented him with the Russell Medal.
Last July, Bailer was at home one evening with his parents when he heard his mother scream. He ran upstairs and saw his stepfather lying on the floor, not breathing.
He sprung into action and began performing CPR until emergency crews arrived to take over.
"Many of the health professionals asked who had performed the initial CPR and commented on how skillfully he had administered it for the first time, especially on a family member and without any injury to the patient. He did, in fact, save his step-fathers life," it read.
"I started with swimming lessons," Bailer said. "Our pool has always had this junior lifeguarding club and I just got into it, I really liked it and I've been doing it ever since."
He had never performed CPR on an actual human before, but Bailer told The Westaskiwin Times when he saw his stepdad in distress he went into autopilot.
"I saw him on the floor and my training kicked in," he told the newspaper.
Due to his efforts, Bailer's stepdad has made a full recovery and was able to be with him at the London award ceremony.
The Russell Medal is awarded annually to a person under the age of 18 for the most outstanding resuscitation or attempted resuscitation in the past year.
Bailer described some nerves over meeting Her Majesty.
"But I just shook her hand, and just [tried to] think of her like a normal person. Just kind of have a normal conversation, although she's the Queen so it's kind hard of to do."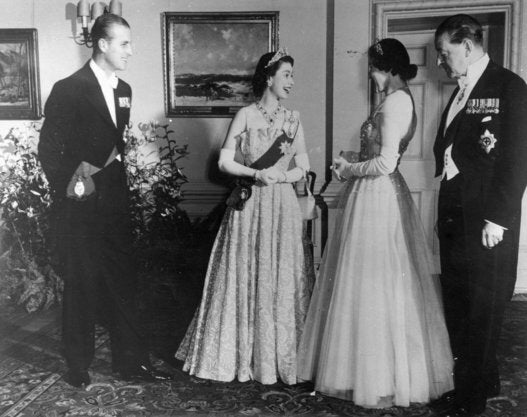 45 Photos Of The Queen In Canada