There are probably a lot of days that go by when you don't take the time to appreciate Tyra Banks. That's OK — we've been there, too. But this is a reminder that Tyra Banks is someone you should think about more often, because she is a treasure.
Banks was a presenter at this year's iHeartRadio MMVAs on Sunday, for reasons that aren't completely clear — maybe to promote her new book, "Perfect is Boring," co-written with her mother? Regardless, we were thrilled to see her in Toronto, being extra in the most appealing way.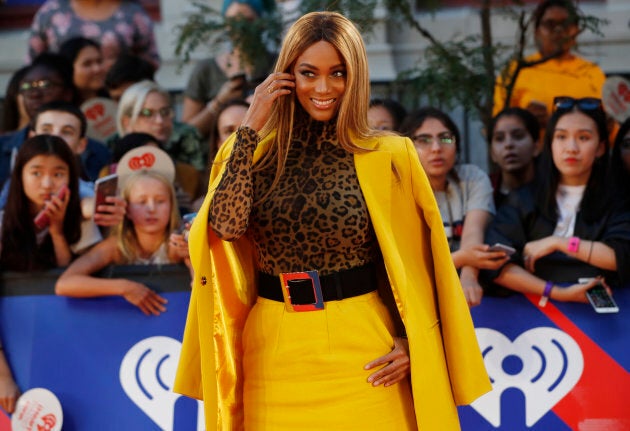 She has made a fortune through her work as a model, but what's most appealing about her is that throughout her career, she's always been a delightfully expressive person. Her freakout when a contestant on "America's Next Top Model" wasn't adequately upset at being cut from the show is without a doubt one of this century's most lasting moments of TV entertainment. Please take a minute to re-watch this clip. (We can't imagine there's anyone who hasn't seen this, so utterly has it permeated pop culture.)
And she hasn't gotten any less expressive since then. Her time at the MMVAs was pure delight from start to finish. She began her night by tweeting her outfit, a lemon-yellow miniskirt paired with a leopard-print turtleneck and thick black belt, with a matching yellow jacket draped over her shoulders.
She doubled-down a few minutes later.
On the red carpet, Tyra seemed to be having a ton of fun, teaching a wide variety of red carpet hosts her signature model moves, the "smize" and the "booty tooch." (The male version is simply called the "booch," apparently.)
No one could quite believe how excited they were after interacting with Tyra.
"My dream just came true!" gushed red-carpet hosts Jaclyn Forbes and Michael Rizzi. Even the singer Bebe Rexha freaked out after Tyra presented her with an award (in a new outfit, a glittery black dress with giant elbow pads, and the same tights and thigh-high boots.) "It's Tyra Banks!" Rexha exclaimed to the crowd. "I'm like, damn!"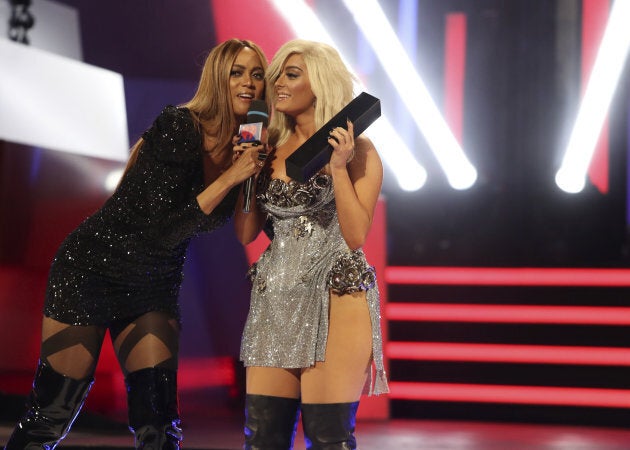 Before presenting the award, Tyra took the time to raise up the crowd and repeat her message that "perfect is boring" and that self-love is important. Her rallying cry:
She has no shame in citing herself as a motivation, and and nor should she.
Because Tyra Banks is never boring. And that, frankly, is perfect.