UBC's Beaty Biodiversity Museum has revamped a "Pokemon"-inspired card game with professionally printed decks in the hopes of encouraging kids to learn more about the real wildlife around them, than the fictional Pikachus and Charizards.
"Phylo" is a game that ditches the universe of colourful, anime creatures for scientifically-accurate "characters" and situations in order to teach children and adults about biodiversity.
"We were motivated by a study that showed children as young as eight could identify up to 120 different Pokemon characters," said UBC biologist David Ng, director of the Advanced Molecular Biology Laboratory at Michael Smith Laboratories.
The study, published in "Science", found children were far more interested in learning about "Pokemon" than the native wildlife in their own backyard. It was a finding that motivated Ng to spearhead "Phylo".
In the game, players learn about ecological impacts by building food chains that may be disrupted by natural disasters or human events such as oil spills or habitat loss via urban expansion.
"It's not actually my game. The reality is that this project is a crowdsourcing initiative," Ng said in a video interview.
For three years Ng leaned on a network of artists, scientists and game enthusiasts to translate both the "awesomeness" and fragility of the Pacific Northwest's ecosystems and its organisms into engaging cards.
The game's educational angle has attracted partnerships with London's History Museum and the 2012 World Science Festival, each producing their own downloadable decks.
In addition to possibly inspiring a new generation of biologists, Ng is thrilled about the high-quality print run of updated cards the museum is offering.
"They look awesome, and will hopefully inspire some kids to learn more about biodiversity."
Forty-eight-packs of professionally-printed full-colour playing cards will be available at the Beaty Biodiversity Museum gift shop for $12.99 until Sept. 1. Proceeds will fund museum education activities.
Check out some of the cards here: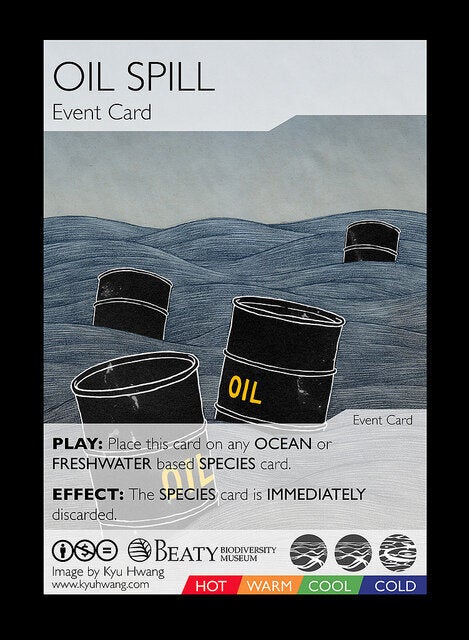 PHYLO: The Trading Card Game
Popular in the Community