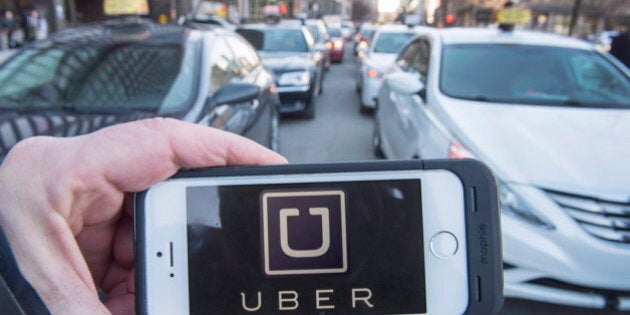 There has been no end of controversy over how much money UberX drivers make.
Others suggest the "sharing economy" company is exploiting drivers and turning a once stable job (taxi driving) into an unstable, low-paid contractor job.
The Journal de Montréal decided to find out for itself. It sent out a reporter to work as a full-time UberX driver. After a 35-hour week on the job, the reporter estimated he earned $4.60 an hour — below any minimum wage in Canada, and as the Journal noted, below the poverty line.
After Uber took its 25 per cent cut, the driver/reporter earned $13 an hour, but that fell to $4.60 after subtracting expenses — gasoline, insurance, car maintenance and even depreciation in the car's value over that week.
Several UberX drivers told the Journal they earn less than the promised $17 to $20 an hour, but still like the social aspect of the job. It would be difficult to pay the bills working as an Uber driver full-time, some told the paper.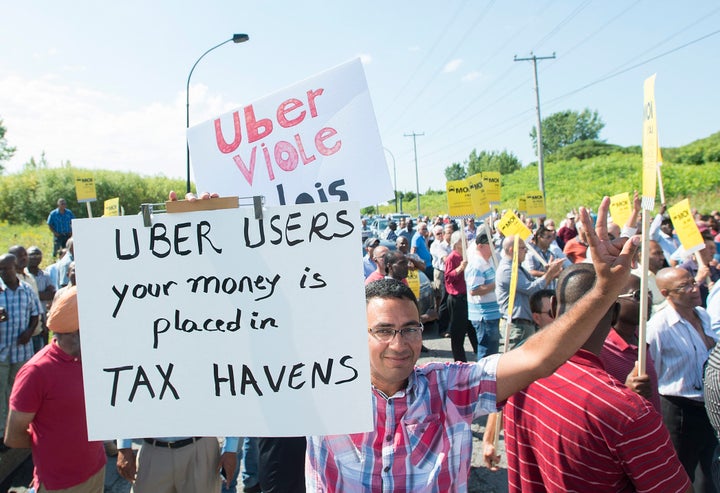 Taxi drivers demonstrate against UberX in Montreal, Tuesday, Aug. 25, 2015. (Canadian Press photo)
Not all drivers tell the same story. One Toronto driver told the Toronto Sun she earns $22 an hour, working part-time.
"I want to enjoy this part of my life," semi-retired Esther Nerling told the paper. "This is the perfect job for me because I can go on vacation when I want, I can turn [the app] on and off when I want. I've had a career and I don't want that (now)."
The taxi industry says Uber is driving down its incomes. A taxi industry group told the Journal incomes fell 30 per cent last year. Some drivers in Toronto say they've lost half their income.
Some academics are growing concerned that Uber's business model is undermining driving as a viable source of income.
"Right now, everyone on both sides is losing," Olivier Germain, a professor of management and technology at Université du Québec à Montréal, told the Journal. "This is a classic capitalist business model in which the one who benefits most is Uber."
Policy-wise, different cities are reacting in different ways to Uber. The city of Edmonton, Alberta, recently legalized the service, setting a minimum fare for Uber rides (but no maximum, allowing for surge pricing) and giving taxis a monopoly on street hails and taxi stand pickups.
Toronto is also looking at legalizing and regulating the service, though some cab drivers object to giving the ride service legal status.