One of the most important economic movements in a generation
Even restaurant reservations could be 'Uberized'
'Uberization' could exacerbate income inequality
Take the power of Uber and apply it to X.
That's the formula currently being touted by a deluge of tech startups seeking to convince investors that they have the next revolutionary, billion-dollar idea.
The Uber app, which connects passengers through their smartphones with nearby drivers for hire, is worth some $40 billion, making it the most highly valued tech startup in the United States. Like the Silicon Valley darlings that came before it — think Groupon or Netflix or Facebook — Uber has inspired a gaggle of copycat startups hoping to convince venture capital markets they've tapped into Uber's formula for success.
But Uber has yet to prove whether it is worth its multi-billion dollar valuation or whether it is just the latest tech fad that could leave a trail of copycat casualties in its wake when the shine wears off, as Groupon did.
"Peak Uber" has hit, says Nick Waddell, who has received multiple "Uber of X"-style press releases as author of the tech blog Cantech Letter.
He came to this realization at a mixer event for investors and startups after watching a fund manager so fed up with hearing Uber-related ideas that he stopped an entrepreneur who was pitching his company as the next Uber and walked away.
"It's a kind of lazy shorthand that's always been around. Three or four years ago, it was Groupon, and now it's Uber," Waddell said.
He also believes, however, that Uber is much more than a fad. He thinks it's one of the most important economic movements we've seen in a generation.
"Economists have been talking for decades about the idea of deploying unused assets into the economy, and it's finally happening, and it is a massive movement."
And it seems Uberization could disrupt any and every industry.
In Toronto alone, there's an app for restaurant bills that has adopted Uber's mobile payment strategy, allowing users to easily split restaurant bills paid through their phones; an "Uber" of house cleaning that allows customers to use the geo-location program to find someone who wants the job; the "Uber" of takeout, which enables diners to-pre order lunch on-demand through their phones; and the "Uber" for bars, which uses a heat map and real-time data to show club-going customers their options and lets them start a mobile bar tab.
Uber itself has even experimented with "Uberizing" other services since its arrival in 2009 — from delivering kittens and ice cream to weddings and Christmas trees.
The Uber app, now available in 250 cities around the world, has been the subject of controversy in many of the countries it has entered over everything from its surge pricing during emergencies to safety issues surrounding the use of unaccredited drivers.
Taxi drivers have protested its arrival in cities around the world, a sign, perhaps, that the innovative technology is truly disruptive.
"Technology is removing barriers, and sometimes those are really painful barriers for the stakeholders," Waddell said.
"Some of these industries that have been protected by regulation have grown lazy, and, as they've grown lazy, it's been really bad for consumers."
The Uber phenomenon is similar to the Netflix revolution in the TV industry or what downloading did to the recording industry; traditional players will have to adapt or die, says Will Mitchell, chair in new technologies and commercialization and professor of strategic management at the University of Toronto's Rotman School of Business.
"They do create winners and losers, as all market changes do."
Figuring out where Uberization works and what the limitations are is the key for those who wish to follow in Uber's footsteps, but pinpointing exactly what it means to take the power of Uber and apply it to X is a bit of a mystery.
Uber removes the middleman — in its case, the taxi dispatcher — from the buyer/seller equation, allowing each driver to be his own boss and work independently of a central company, thanks to the magic black box that is the Internet.
The current labour climate, in which the job market is shifting away from traditional employment and towards part-time and temporary work, self-employment and alternative working arrangements, actually creates a perfect recipe for the Uberization of labour.
It could help both highly skilled workers, who don't want to be employees or are seeking a more flexible work schedule, as well as low-skilled labourers who can find flexible part-time work when it's convenient for them.
However, Uberization of the economy could also exacerbate income inequality, Mitchell noted.
On the demand side, those who can most afford to pay for services will win out. In an extreme weather scenario, the rider willing to pay 100 times the normal Uber fare gets the drive and the person who cannot could be left stranded. On the supply side, those who already have possessions — cars or homes, for example — can sell their services much more easily than those who do not.
"It may make it harder for people without possessions to get jobs. If there are fewer traditional taxis, that's going to make it harder for a recent immigrant to get a job."
For many, the app has also become synonymous with its controversial surge pricing system — raising prices when demand is high and competition for a cab is more fierce in order to create an incentive for more drivers to get on the roads. The idea is an economist's dream, sort of a logical extension of capitalism toward a more perfect supply and demand equilibrium, wherein efficiency is achieved through the financial incentive for pricing goods and services based on demand.
The web is making it easy to pay people to do anything. On TaskRabbit, consumers can pay others to do things they don't want to — anything from unpacking to standing in line for the latest iPhone.
The concept of highly flexible prices based on current market demands is not new — airline tickets and hydro peak pricing are good examples — but wider applications are made possible by this particular era's technology, characterized by real-time data, payment by mobile app and geo-location services. The idea could be applied to any number of industries, creating a world where even restaurant reservations are auctioned off to the highest bidder, using real-time data to raise prices.
To others, Uber is representative of an emergent sharing economy, in which owners rent out something they're not using to consumers who prefer to pay for access rather than ownership – and Generation Y is all about that.
A U.S. survey by Zogby Analytics found that more than half of millennials aged 18 to 34 have used sharing services such as Uber or Airbnb and that 54 per cent believe these types of services will become even more popular.
Uber succeeded by replacing the need for an expensive item that is largely unnecessary for many urbanites with its cheap and quick on-demand car service.
Other high-profile successful applications of the trend include Airbnb and Dropbox, two other highly prominent tech companies each valued at about $10 billion by investors. And the logic has already been applied to on-demand services such as lawn mowing and tuxedo rentals.
Another aspect of Uber's success is its on-demand nature, connecting consumers and providers in real time. It's what Who's On Now, the self-proclaimed "Uber of everything", hopes to do for, well, everything.
"Nobody really has patience, everybody wants things now, but it's only really now in this era that we actually get to do that and implement those ideas," said Mehran Moeinifar, who founded Who's On Now after a frustrating search for a local electrician after business hours.
"If you don't do it when I want it, then there's going to be someone else that will do it. So it's all about the now, now, now."
Who's On Now sells itself as the first "instant connect mobile search engine," promising to revolutionize local business connections as Uber did for taxi rides. It allows consumers in need of a service to search for local sellers of products and services based on proximity, availability, customer reviews, track record and response times, then send them an instant message to connect.
"This is definitely where the world is headed," Moeinifar said.
"I think everyone wants to pull the phone out of their pocket and connect."
The industries most ripe for Uberization are those with customers who are not entirely happy with the existing way of doing business, but where there has been little change in the delivery model and where there are enough people willing to provide the service and enough demand for it, said Yvette Romero, a San Francisco consultant.
But mostly, she added, the allure of Uberization comes down to instant gratification as a psychological need — people's desire to order and pay for a service through their smartphone whenever and wherever they desire.
"Instant gratification is going to have its evolutions, and I think that there are a lot of areas it can go to. I don't think it's a fad, but I do think we're kind of at the beginning of it."
Romero compiled an analysis that found that the market potential is biggest for lawyers accessible by an on-demand app, followed by housekeepers, lawnmowers and services that can deliver alcohol on demand.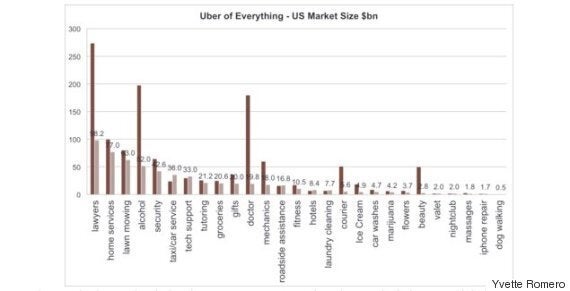 However, a startup's success when trying to apply Uber to another market, even those with the biggest market potential, also depends on other factors such as how frequently customers need a certain service. People generally need housekeepers or alcohol and groceries more often than lawyers or doctors, so the convenience of Uberizing the more frequently used services improves the experience to a greater degree, she said.
It also depends on how well a company executes its own ideas, so a failed attempt to "Uberize" something doesn't mean the industry isn't ready, she added.
Some Uber-like companies have already tried and failed, including Tutorspree, an Uber for tutors and ReWinery, an Uber for wine delivery.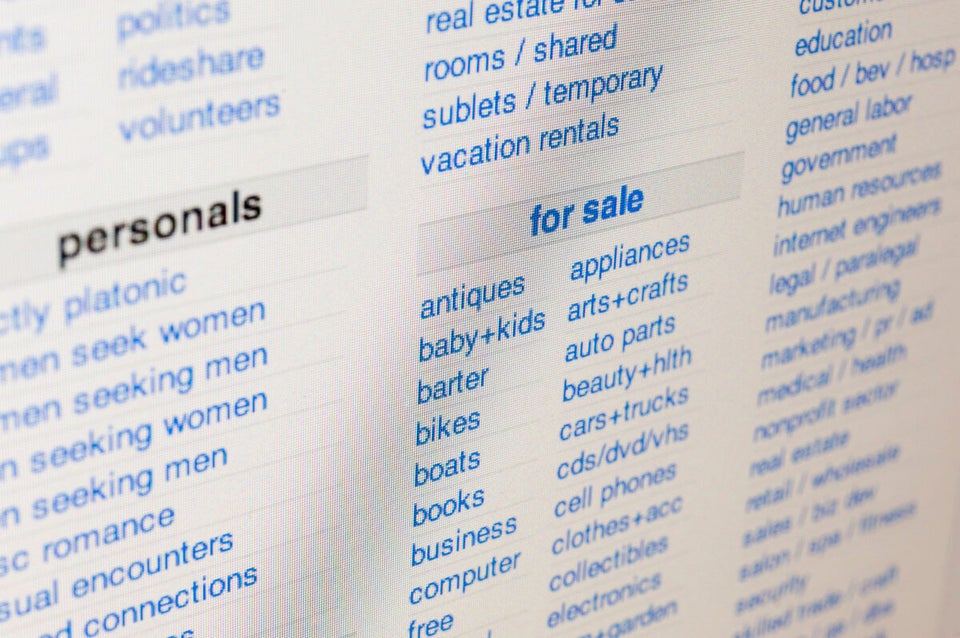 The Sharing Economy