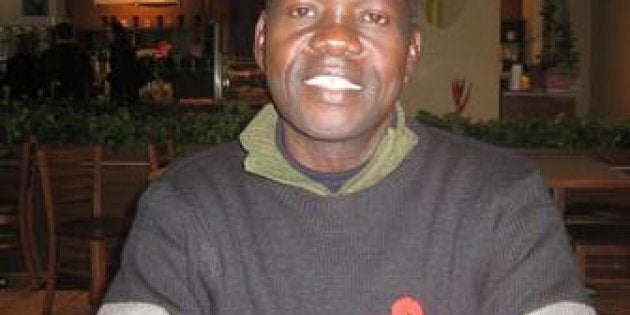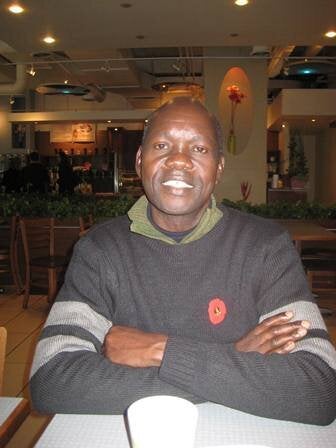 In order to be able to work with David's very tight schedule while he was in Canada, we met for breakfast instead of lunch. We met at a café at Bloor and Church. We each had a small coffee and I had a regular croissant and David had a chocolate croissant. I love all croissants and this one was no different. Very delicious mostly due to butter, but also very flaky and messy. Total bill was $7.63 with tax.
David spoke to me about how radio is used as a peace building tool in Uganda. I studied Radio & Television Arts in university and while I saw the value of radio from a Canadian perspective, I never imagined the power and impact it can have in a place like Uganda. The radio station that David managed was in the northern Ugandan region of Gulu, an area at the centre of the civil war and the Lord's Resistance Army (LRA). The government passed an amnesty for rebel soldiers, allowing them to return to the community and not face prosecution. This was especially important given that many of the rebels were children when they joined, while some were born in the rebel camps themselves and knew no other life.
While the amnesty was extremely important, getting the word into the rebel camps was extremely difficult. David's radio station became the peace-building tool, broadcasting information about the amnesty, often at night when rebels were no longer on the move and more likely to be listening to the radio. And rebels began returning to communities, giving up the fight and taking advantage of the amnesty.
As more and more rebels left, the rebel commanders banned radios and threatened to burn down Mega FM, David's radio station. Soldiers were stationed outside the station and the rebels were never able to stop the broadcasts. And because the rebel commanders still had their own radios, the message continued to get out simply through someone overhearing and spreading the word. Radio can be incredibly powerful and it was truly incredibly to hear this story from David who played such a major role.
Beyond the incredibly powerful role radio played in peace building in Uganda, David's work with Farm Radio International is also truly amazing. FRI was originally founded to share best practices for small-scale farming. Farming is completely different in these rural communities than what we see here in Canada and many of the techniques that are used for farming here are not at all practical, feasible or affordable in Uganda.
Prior to FRI, farming radio programming in Africa often touted the techniques used by commercial farmers such as pesticides, fertilizers and herbicides. But small-scale rural farmers were unable to afford these materials and the advice was pretty much useless. FRI was able to provide and share tips and techniques across communities, networking the best practices of other farmers so everyone was able to succeed. David was able to explain many of the techniques that are used in his community and by his own mother, a farmer.
While most farmers do not have access to tractors, rather than ploughing a field with a hoe by hand, a ploughing tool pulled by two bulls will reduce the time it takes to finish a field to two days from 10. For livestock farming, neighbours will get together on a community grazing field. They will then rotate days of bringing the animals to the grazing field and supervising the animals while there to ensure they don't damage nearby crops, which could be very costly.
By sharing the supervision, these farmers are able to focus on other aspects of their farms on their off days. Many farm owners also owned plots of land that were quite scattered and they often spent far too much time travelling between the fields rather than working on the land. Neighbours have since gotten together to split the land in a more practical way, caring for the land nearest to their homes and making the work more efficient.
Much of the farming where David lives is for consumption and not exporting. However, he did let me know that there are now huge food markets in South Sudan that local farmers are beginning to supply -- a new opportunity for growth. Speaking to David, you hear a story of hope. As communities rebuild from the civil war and former rebel soldiers re-integrate themselves into the community, farming has become an important way of life and Farm Radio International is helping locals teach each other and grow the community as a whole.