Canadians are more satisfied than their American and British counterparts with how their government is handling the escalating crisis in Ukraine, a new poll suggests.
But the majority in all three countries still have little appetite for a military response, instead preferring a combination of economic sanctions and diplomatic pressure against Russia.
A three-country, online survey from Angus Reid Global asked 2,002 Britons, 1,504 Americans, and 1,505 Canadians between April 29-30 what actions, if any, Western allies should take to deal with the conflict.
According to the poll, 62 per cent of Canadians believe the Harper government's response so far has been "about right." Fifty-three per cent say they are following the Ukraine situation quite or very closely.
Seventy per cent of past Tory voters approve of the government's response so far, compared to 54 per cent of past Liberal voters and 57 per cent of past NDP voters.
Only 29 per cent of Canadians feel the Harper government has been "too soft," while 39 per cent of Americans surveyed feel that way about U.S. President Barack Obama.
And just 10 per cent of Canadians say the government has been "too tough."
The vast majority of Canadians — 70 per cent — see the Ukraine-Russia situation as a very serious threat to stability in Eastern Europe, while 47 per cent say it threatens global peace.
Canadians were also the least inclined to say their country should stay out of the conflict altogether, suggesting Harper's very vocal condemnation of Russian President Vladimir Putin is striking a chord.
While only 15 per cent of Canadians support NATO-led military action if the crisis worsens, that's still slightly more than Americans at 14 per cent and nearly double the support among Britons at eight per cent.
Sixty-six per cent of total respondents see sanctions and diplomatic pressures as the West's best possible response.
Shachi Kurl, vice-president of Angus Reid Global, says that while Canadians are "marginally more hawkish" than Americans or Britons on the possibility of military intervention, most are in favour of sanctions and other diplomatic actions.
Kurl suggested in an email to The Huffington Post Canada that Harper's tough talk could be resonating with a "loyal and solid" Conservative voting base.
"That, combined with a sizeable and long established Ukrainian-Canadian community in this country may go some way in explaining results that we may not always anticipate when it comes to Canadian attitudes towards armed conflict," he said.
The poll comes as Harper has again ramped up his rhetoric against Putin.
"We are obviously concerned by the continuing escalation of violence in Ukraine, which to me very much appears to be clearly what I would call a slow-motion invasion on the part of the Putin regime," he said.
In recent months, the federal government has imposed a number of political and economic sanctions against senior officials and some institutions in Russia and Ukraine, expelled a Russian ambassador, co-sponsored a UN resolution on the crisis and earmarked $220 million to help stabilize the Ukrainian economy.
Canada is also sending six CF-18 fighter-bombers to join a NATO air police mission.
"It is for Ukrainians and for Ukrainians only, to decide their future," he said at the time. "In this principle, Canada will not waver. And, to help the Ukrainian people peacefully secure a bright future of freedom, we shall spare no effort."
With files from The Canadian Press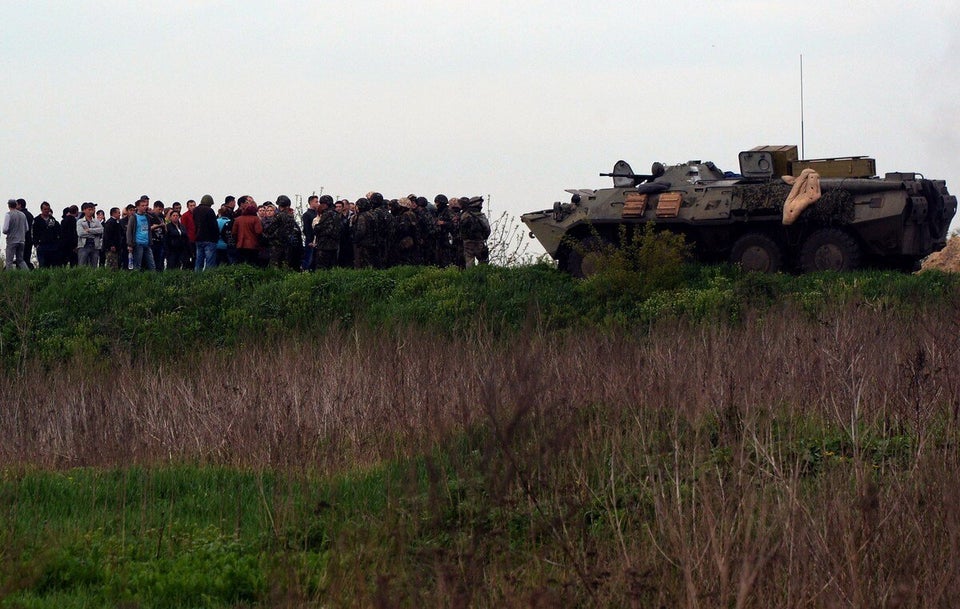 Ukrainian Troops Move Against Separatists
Popular in the Community