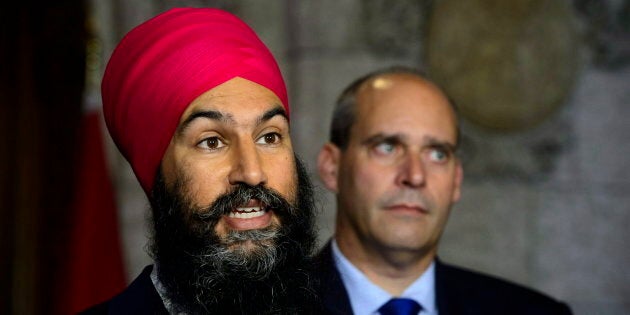 OTTAWA — The Green Party and the NDP have joined a Liberal backbench MP's call for an emergency debate to address what Canada can do to avoid catastrophic climate change.
Last week, the UN's Intergovernmental Panel on Climate Change released a frightening report outlining how the world is headed towards irreversible heating of the planet —and the food shortages, droughts, extreme weather, vanishing coastlines, human deaths, and species extinction it entails — without drastic decreases in carbon emissions.
The IPCC's Special Report on Global Warming of 1.5ºC notes that the world is likely to surpass the 1.5ºC degree goal set in the Paris climate agreement around 2040 — though more than a fifth of the world's population already lives in areas that are 1.5ºC warmer than in the pre-industrial age (around 1850 to 1900).
Watch: McKenna defends climate plan after auditor general's report
In a letter to House of Commons Speaker Geoff Regan last Thursday, Toronto Grit MP Nathaniel Erskine-Smith wrote that the report makes it clear that the world only has a few years to ramp up efforts to reduce global warming, otherwise the planet is on course for a disastrous 3°C of warming.
Slight global temperature differences may not seem like much but the IPCC report — which was co-authored by more than 200 experts and cites more than 6,000 references — notes that a change of 0.5ºC is significant. At 1.5°C, 70 to 90 per cent of coral reefs disappear. At 2°C, all the coral reefs, which sustain about 25 per cent of all marine life, will vanish.
"The impacts of climate change are being felt in every inhabited continent and in the four oceans," the report notes. "The more global temperature rises, the more frequent, severe, and erratic the impacts will be, and adaptation may not protect against all risks."
In a letter written Friday to Regan, Green Party Leader Elizabeth May said MPs owe it to Canadians, the international community, and our children, to ensure they do everything they can to address this global emergency.
"Time is not on our side," she wrote.
NDP parliamentary leader Guy Caron wrote in a letter Monday that to meet the required carbon emissions levels outlined by the UN panel, "Canada's emissions will need to be reduced by almost half – far below our current performance."
Indeed, the report notes that the planet will surpass 1.5°C even if countries abide by the pledges they made in Paris two years ago to cut emissions.
Meeting the new target will require a Herculean effort. Global net human-caused emissions of carbon dioxide would need to fall by about 45 percent from 2010 levels by 2030, reaching net zero around 2050 in order to stick to 1.5°C, the report stated.
"The Panel has made clear that preventing a single extra degree of heat could make a life-or-death difference for millions of people across the globe," Caron states. "It also firmly states that our current course of action is not working."
McKenna responds to 'sobering' UN report
An emergency debate, he argued, is needed to allow MPs to address this critical situation and to discuss how Canada can take a leadership role in this climate crisis.
"We know that in the North, in the Arctic, we are already way above 1.5 degrees of warming, we are at probably two or three degrees of warming," she said, noting that Canadians everywhere are seeing the impact of climate change. From the summer extreme heat in Quebec and Ontario "where people literally died," she said, to the forest fires in British Columbia "burning brighter and stronger than before."
"[The report] really makes clear that if we don't act now, in the next few decades, we will all be feeling very significant impacts of climate changes," she said, pointing to food shortages, extreme heat and hurricanes.
It's a "call to action," she added. "We are the first generation to feel the impacts of climate change and we are the last generation [who can] do anything about it."
McKenna used the report to explain the federal Liberals' decision to impose a price on carbon. When Prime Minister Justin Trudeau's government came up with its plan, four provinces — British Columbia, Alberta, Ontario and Quebec — already had a pricing scheme and their economies were growing, she said.
Canadians are already spending $1 billion for the cost of extreme weather, she said, noting the UN report stated $50 trillion dollars would be needed globally to address food shortages, relocation of businesses and homes and insurance.
We are the first generation to feel the impacts of climate change and we are the last generation [who can] do anything about it.Environment Minister Catherine McKenna
The Liberals have proposed a $20 a tonne carbon tax that would begin in Jan. 2019 and rise $10 every year up to $50 a tonne. Putting a price on carbon would incentivize companies to innovate and reduce emissions, she said, "so that they can save money and do right by the planet."
She noted how, last week, a Nobel Prize was handed to Yale professor William Nordhaus, whose research shows a carbon tax is a far more effective way of reducing emissions than government regulations.
While McKenna's government is being criticized by those who say its climate action is nullified by its pursuit of projects such as the expansion of the Trans Mountain pipeline, it is also facing increased pressure by Conservative politicians who say the policy is wrong-headed.
Conservative Leader Andrew Scheer pledged earlier this year that his first act, if elected in next fall's federal election, would be to cancel the federal carbon price. Ontario Premier Doug Ford has joined Saskatchewan Premier Scott Moe in fighting the federal government's pricing scheme. Jason Kenney, the leader of Alberta's United Conservative Party, praised former prime minister Stephen Harper's stance on carbon taxes tweeting: "People who want carbon taxes want money for the government."
Conservative politicians target carbon tax
In his recent book, "Right Here Right Now," Harper writes that carbon taxes are unpopular and that political parties "including mine, have won elections just by opposing a carbon tax." He writes, inaccurately, that carbon taxes "are not effective at reducing emissions."
Canada alone won't be able to significantly reduce global emissions.
In an interview with CBS program "60 Minutes" on Sunday, U.S. President Donald Trump said he wasn't prepared to sacrifice his country's economy to address a problem he isn't sure is real.
Trump said he isn't certain climate change is "man-made" and while he knows something is happening, he thinks "it'll change back again."
"I don't wanna give trillions and trillions of dollars. I don't wanna lose millions and millions of jobs. I don't wanna be put at a disadvantage," he explained.
Watch: Scheer says carbon tax is 'bad for everyone'