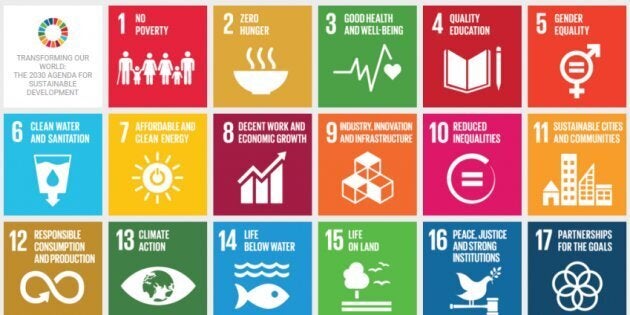 Imagine a policy agenda in Canada that truly left no one behind. What kind of social programs would be in place? What would the distribution of wealth look like? Which programs and services would be made obsolete?
Turns out, Canada already committed to such an agenda, at least on paper, when in 2015 it signed on to the UN Sustainable Development Goals (SDGs), a set of 17 ambitious goals that address social and environmental issues from poverty to climate change to inequality at a global scale.
Each goal includes targets that elaborate on the outcomes the goal seeks to achieve. Countries measure progress on each target with one or more UN global indicators.
At the UN's High-Level Political Forum, currently underway in New York, the world is gathered to assess progress on these goals for the first time. Leading up to the Forum, my colleagues and I put together a report using factsheets, expert interviews, and case studies to better understand Canada's progress on the seven SDGs that are in focus at the HLPF.
Of all that we learned, one overarching message is clear: If Canada is serious about "ensuring no one is left behind," it must create a national SDG strategy, including a set of SDG indicators that make sense and are meaningful in a Canadian context. Here's why it matters:
The UN's indicators aren't all relevant to Canada's context.
Under the SDG for health, one global indicator would track the prevalence of tropical diseases in Canada. Another would track the proportion of women who own cell phones as a measure of gender equality. These measures don't correspond to the Canadian reality.
Of course, many of the UN indicators are worth tracking in Canada. But we need to think seriously about the indicator thresholds that are relevant to wealthy countries; if we measure our progress against thresholds like a poverty line of $1.25 a day, we may become dismissive of the pressing social and environmental issues that persist in Canada.
The SDGs don't capture all Canadian issues.
As we interviewed experts, we noticed issues that matter in Canada but were omitted from the SDG targets. For example, SDG 5: Gender Equality does not extend beyond the 'traditional' gender binary of men and women; it excludes transgender people and other LGBTQ2+ identities altogether.
We identified that many other of Canada's most marginalized groups are excluded from SDG indicators. These include:
Refugees and immigrants

Indigenous Peoples

Individuals with disabilities

Children and youth in government care

Individuals in the criminal justice system

Individuals struggling with mental illness.
Aggregate data doesn't tell the full story.
As it stands, many of the UN indicators ask for aggregate data at a national level. For example, the global indicators ask Canada to report a percentage of people that experience food insecurity. What this doesn't cover is the regional and demographic variation in success on the SDGs.
When we take a closer look at the data, we find that outcomes for people who are part of certain groups or come from certain regions lag behind those of the average Canadian. That's why disaggregate data collection matters; we can't implement effective solutions if we don't fully understand the problem.
Canada lacks data on certain populations.
Some experts we interviewed noted gaps in data collection as a hurdle in understanding the problems they are working to address.
For example, a lack of self-reported, subnational data makes it challenging to understand true rates of sexual violence in Canada. Further, the government's 'pan-Aboriginal' approach to data collection for Indigenous health outcomes masks the diversity of First Nations, Métis, and Inuit communities.
As the government rolls out new policies, the SDG framework can push it to improve data collection and evaluation of program effectiveness on these issues.
The SDGs don't track progress on Indigenous rights.
Canada has been criticized for human rights violations toward 1.4 million Indigenous people, a product of colonialism. The UN Declaration on the Rights of Indigenous Peoples and the Truth and Reconciliation Commission's Calls to Action contain some of the clearest and most comprehensive actions the government can take to move toward reconciliation.
The federal government has already signaled support for these initiatives, but has yet to deliver substantially on its promises. Why not use the SDG framework as a chance to hold the government accountable?
SDG universality applies both to the global and domestic spheres.
As a wealthy country, Canada has a responsibility to contribute to progress on sustainable development at a global scale. However, our international presence is no excuse to neglect the pressing social and environmental issues facing Canada at home.
An SDG strategy for Canada, configured with nationally-relevant, disaggregated indicators, will capture a fuller picture of pertinent domestic issues. It is a vital step in understanding what we need to do to ensure no one is left behind.
Sadie DeCoste is a Research Assistant at the BC Council for International Cooperation. BCCIC is a network of civil society organizations and individuals that work to share knowledge, build relationships, and develop their capacity towards achieving sustainable global development.
Follow HuffPost Canada Blogs on Facebook
Popular in the Community