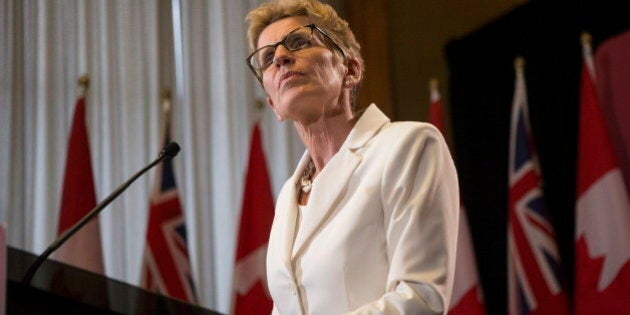 It's not likely to be the next Greece or anything, but Ontario's debt burden is becoming riskier, says one of the major credit ratings agencies.
Standard & Poor's has downgraded Ontario's debt to A+ from AA-, saying the province "will continue to make slow progress" in paying down what it owes.
"The downgrade reflects our view that Ontario is a sustained and projected underperformer on its budgetary performance and debt burden versus domestic and international peers," S&P said in a statement.
Ontario now has the same credit rating as New Brunswick and Nova Scotia. That's "questionable given Ontario's larger, more diverse economy with arguably more flexibility to raise revenues," BMO economist Robert Kavcic wrote Monday.
But Kavcic noted that Ontario's debt ratio "has risen by more than any other province" since the Great Recession.
"In our view, Ontario has been slow to fully roll out the spending controls and revenue measures needed to eliminate its structural operating deficit, which has caused its tax-supported debt level to approximately double since fiscal 2008," S&P said.
"However, we expect the province to remain on track toward fulfilling its policy objective of eliminating its operating deficit by fiscal 2018."
S&P says that while Ontario will be able to balance its operating budget by 2017-2018 as the Liberal government of Kathleen Wynne has vowed, the province will still face shortfalls in its capital budget, thanks to large projects it's planning to take on.
Ontario's debt will peak at 267 per cent of annual revenue and interest payments will make up 9 per cent of operating expenditures, "which we consider very high," S&P said.
But "Ontario's budgetary performance remains very weak, according to our criteria," S&P said.
"Like other provinces, Ontario continues to see slow economic growth, which is limiting the natural rate of increase in its key revenue sources, such as personal and corporate taxes."
On the upside, S&P notes that Ontario continues to have a "well-diversified and wealthy" economy, and federal transfer payments mean that Ontario, like all provinces, benefits from a "very predictable and well-balanced" financial framework.