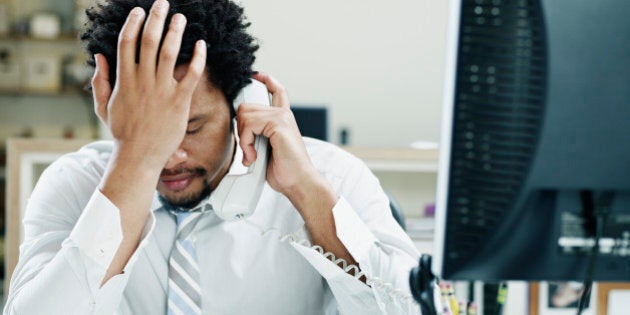 Canada turned in another disappointing performance on the jobs front in August, with StatsCan reporting a net loss of 11,000 jobs for the month.
That wasn't enough to budge the unemployment rate, which remained at 7 per cent.
But perhaps the most surprising number in Friday's jobs report was the net loss of 111,800 private-sector jobs, the largest single-month loss on records going back a long time, according to BMO chief economist Doug Porter. Those losses were partly offset by gains in public-sector jobs — up 14,000 — and gains in self-employment (up 87,000).
This means that, in effect, the private sector in Canada has created no net new jobs over the past year.
"Public-sector employment has been on an upward trend since February 2014, while the trend for private-sector employees and self-employment has been relatively flat since the fall of 2013," Statistics Canada said.
Public-sector jobs grew by 14,000 in the month.
UPDATE: Following last month's fiasco with StatsCan having to revise its job numbers due to a computer error, some economists are advising the public to be wary of this month's numbers as well.
"We again advise clients to be very careful with the Canadian jobs numbers," Scotiabank economist Derek Holt and Dov Zigler wrote in a client note Friday.
They noted that the drop in private sector payrolls, the largest on record, was "coincidentally" offset by an equally unlikely large jump in the self-employed.
That's "statistically possible" but "looks very fishy," the Scotia economists wrote.
National Bank senior economist Matthieu Arseneau noted that 2014 has seen "unusual volatility" in the jobs numbers.
"It's best to look at the longer term trend for a more reliable picture," he wrote. "Over the past year, the labour market is running at a tepid pace with monthly job creation of 7,000 on average with virtually all of the gains being part-time and in the public sector. That's a pretty dismal record for an economy that is growing above potential."
Rather than hiring, companies are making productivity gains — they're producing more without hiring more. Productivity (outpt per worker) shot up at an impressive 6.1-per-cent annual pace, quadrupling the normal rate.
Fewer young people and women had jobs in August. The number of people between the ages of 15 and 24 working fell by 20,000 during the month. Employment fell by 18,000 among women aged 25 to 54.
Men, however, fared better. Statistics Canada says the number of men between the ages of 25 to 54 with jobs rose by 36,000 in August.
Surprisingly, Alberta saw the country's largest job losses when broken down by province. It lost 13,400 jobs in the month.
The August job numbers are "yet more evidence that the Canadian economy is struggling to churn out meaningful job growth," BMO's Porter wrote in a note Friday morning. "The fact that private sector payrolls are unchanged from a year ago, and now even Alberta appears to be cooling a tad tells us all we need to know about the sluggish state of Canada's job market."
The Canadian Press reports:
OTTAWA — Canada's national unemployment rate was 7.0 per cent in August. Here's what happened provincially (previous month in brackets):

— Newfoundland 13.5 (12.4)

— Prince Edward Island 10.0 (9.4)

— Nova Scotia 8.8 (9.4)

— New Brunswick 8.7 (10.0)

— Quebec 7.7 (8.1)

— Ontario 7.4 (7.5)

— Manitoba 5.5 (5.3)

— Saskatchewan 4.2 (3.2)

— Alberta 4.9 (4.7)

— British Columbia 6.1 (5.9)

By city:

— St. John's, N.L. 6.4 (6.6)

— Halifax 5.8 (5.7)

— Moncton, N.B. 6.5 (5.9)

— Saint John, N.B. 6.9 (7.6)

— Saguenay, Que. 9.5 (9.7)

— Quebec 5.7 (5.7)

— Sherbrooke, Que. 6.9 (7.4)

— Trois-Rivieres, Que. 6.8 (7.6)

— Montreal 8.6 (8.7)

— Gatineau, Que. 6.9 (6.5)

— Ottawa 6.7 (6.4)

— Kingston, Ont. 7.1 (6.3)

— Peterborough, Ont. 8.0 (8.6)

— Oshawa, Ont. 7.7 (7.5)

— Toronto 8.3 (8.2)

— Hamilton, Ont. 6.3 (6.9)

— St. Catharines-Niagara, Ont. 7.9 (7.9)

— Kitchener-Cambridge-Waterloo, Ont. 6.4 (6.2)

— Brantford, Ont. 6.2 (6.6)

— Guelph, Ont. 7.0 (7.4)

— London, Ont. 7.5 (7.4)

— Windsor, Ont. 9.0 (8.7)

— Barrie, Ont. 6.2 (6.1)

— Sudbury, Ont. 6.3 (7.0)

— Thunder Bay, Ont. 4.7 (4.9)

— Winnipeg 6.1 (5.8)

— Regina 3.1 (3.3)

— Saskatoon 4.4 (3.5)

— Calgary 5.5 (5.3)

— Edmonton 5.6 (5.5)

— Kelowna, B.C. 5.4 (4.7)

— Abbotsford, B.C. 8.4 (8.1)

— Vancouver 5.7 (5.7)

— Victoria 5.3 (5.2)