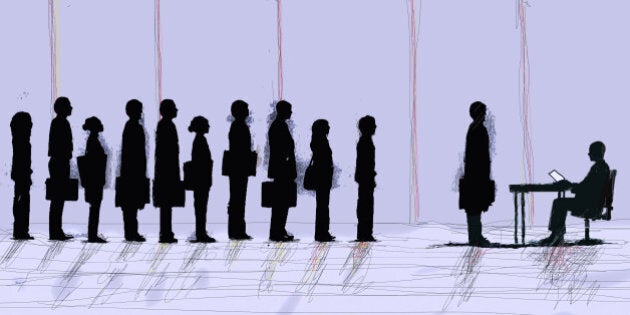 Alberta rate above national average for first time in 28 years
Canada's rate 2.3 points higher than U.S. — biggest gap in 14 years
More trouble ahead as oil crash 'trickles across broader economy'
Canada's unemployment rate rose in January as the country lost 5,700 jobs, Statistics Canada reports.
The country's job growth over the past year is now well below the rate needed to keep up with population growth. The country has added 0.7 per cent net new jobs over the past year, below the 0.9 to 1 per cent needed to keep up with the population.
In that time, the jobless rate has jumped from 6.6 per cent to 7.2 per cent in the latest labour force survey.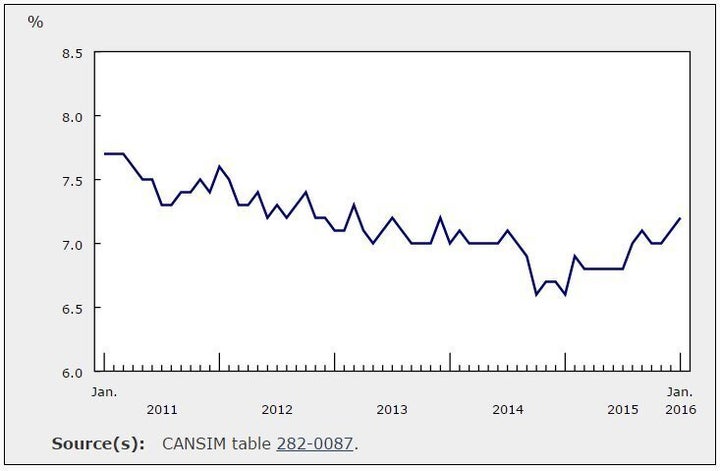 Canada's unemployment rate has been creeping upwards for a year. (Chart: StatsCan)
Alberta, Manitoba and Newfoundland all lost jobs, with Alberta shedding 10,000 positions. Employment in the province is down by 35,000, or 1.5 per cent, over the past year, but the province has shed a whopping 100,000 private-sector jobs. Government hiring has offset some of those losses.
Ontario was the one province that saw job growth, StatsCan said. The province added a strong 20,000 jobs in January, and the number of jobs is up a solid 1.5 per cent over the past year. The province's unemployment rate stayed steady at 6.7 per cent, as more people entered the workforce.
Bank of Montreal chief economist Doug Porter noted that Canada's unemployment rate hasn't been this much higher than the U.S.'s in 14 years. The U.S. Bureau of Labor Statistics reported Friday that the country's unemployment rate stands at 4.9 per cent. The 2.3 percentage point gap in jobless rates between Canada and the U.S. is the highest since 2002, Porter wrote.
Porter noted another dubious milestone in today's data: Alberta's unemployment rate is now higher than the national average, for the first time in 28 years. It ticked up to 7.4 per cent, marking the first time the province's jobless rate is higher than the national rate since 1988.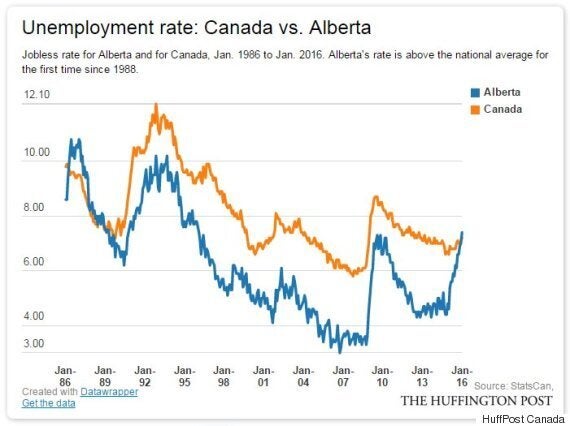 CIBC chief economist Avery Shenfeld says this isn't the end of rising unemployment in Canada. There's "likely more to come on that front as [the] impact of a resource price slump trickles across the broader economy," he wrote in a client note.
The poor jobs report is "hardly a surprise given that [the fourth quarter of 2015] showed virtually no GDP growth," Shenfeld added.
Agriculture led the way on job losses, with 13,700 jobs lost in a month. Employment in the sector is down 6.2 per cent in a year. Construction is also struggling, shedding 5,400 jobs last month. Construction employment is down 1.8 pe cent in a year.
Though manufacturing lost 11,000 jobs last month, it's still up by 17,000 over the past year, an increase of one per cent.
Despite the oil slump, natural resources added 1,400 jobs in January. But employment in that sector is still down 3.6 per cent from a year ago.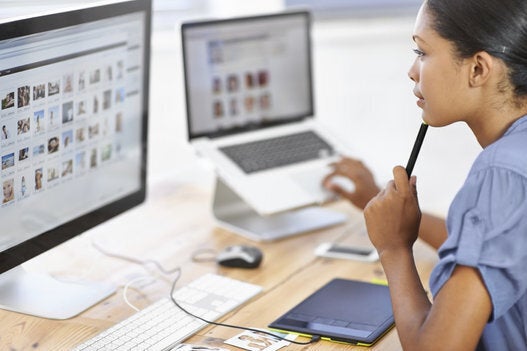 Jobs That Trended Upwards Most, 2015