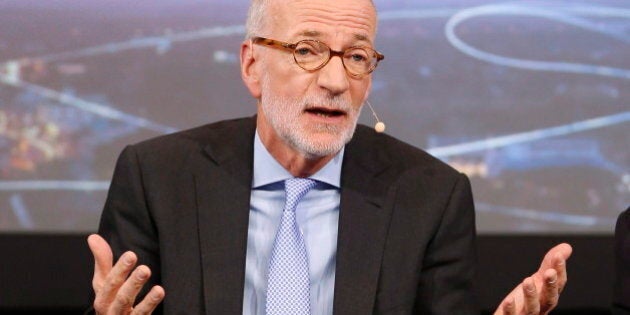 Despite the incoming Liberal government's vow to reverse funding reductions to the CBC, the broadcaster's top brass are still planning layoffs and production cuts, two unions that represent CBC/Radio-Canada employees say.
The Canadian Media Guild, which represents CBC workers, and the SCRC, which represents Radio-Canada workers, issued a statement Thursday calling for CBC President Hubert Lacroix and the entire board of directors to step down.
"Instead of fighting for a strong CBC/Radio-Canada, accessible on different platforms, they have announced that even if the funding is restored, they will continue with the plan to diminish CBC/Radio-Canada," the unions said in a statement.
Over the last eight years, CBC/Radio-Canada has been systematically crippled with unprecedented programming cuts across the country and questionable plans to sell off production assets and buildings, which threatens the public broadcaster's ability to produce programming in both official languages," the statement reads.
"Along with constant cuts to staff – more than 25 per cent of workers laid off in five years – this damage is the vision of this President and Board."
The Harper government cut the CBC's public funding starting with the 2012 budget, reducing the broadcaster's $1-billion annual subsidy by $115 million. The Liberals under leader Justin Trudeau promised to invest an additional $150 million a year in CBC/Radio-Canada.
The Canadian Media Guild estimates the CBC has cut some 2,000 staff in the past five years, 600 of those in just the past year, to plug a $130-million budget shortfall.
Lacroix, a Harper government appointee, has raised the alarm recently about the future of public broadcasters.
At a conference in Germany earlier this year, he said public broadcasters haven't reacted quickly enough to the challenges they face.