United Airlines' stock dropped on opening Tuesday, as anger spread on social media over the violent removal of a passenger from a flight.
Shares of United Continental Holdings Inc., United Airlines' parent company, were down around four per cent as of mid-day Tuesday, trading at US$68.65, down from a close above $71.50 the day before.
That erased some US$900 million (C$1.2 billion) from the company's value in the space of several hours. The company's market value sat at US$21.6 billion, down from US$22.5 billion at Monday's close.
The company's stock price recovered a good part of its early losses Tuesday, though it still closed down 1.1 per cent for the day. That left its market value down around $250 million from the day before.
All three of United's major competitors enjoyed an upswing in their stock price, with American Airlines closing up 3.8 per cent, at US$43.93, Delta Air Lines up 0.7 per cent to US$45.29 and Southwest up 1.55 per cent to US$55.06.
An editorial in China's state-run Global Times wondered whether "the victim's Chinese ethnicity potentially made a difference."
The topic page for the subject on Sina Weibo, China's equivalent of Twitter, had been viewed by more than 350 million users within a day, the South China Morning Post reports, with numerous people vowing to boycott the airline.
United Continental Holdings CEO Oscar Munoz issued an apology Monday "for having to re-accommodate these customers," in reference to four people who were asked to leave a flight from Chicago to Louisville, in order to make room for United employees.
One of those passengers refused to move, and was dragged off the plane by Chicago aviation department police, in an incident that was caught on video and has spread around the world.
In a memo to staff, Munoz said agents were "left with no choice" but to call security officers to remove a "disruptive and belligerent" passenger, the company's CEO wrote Monday in an email to employees.
One day later, Munoz issued the company's second apology over the incident, describing it as "truly horrific" and vowing to make changes at the airline.
"It's never too late to do the right thing," Munoz said in a statement on Tuesday. "I have committed to our customers and our employees that we are going to fix what's broken so this never happens again."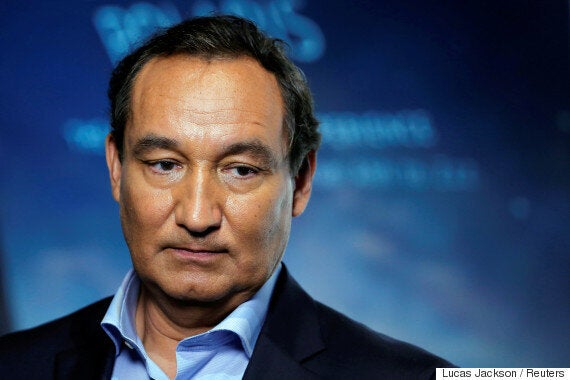 Munoz said United will review how employees handle overbooking situations and how the airline cooperates with airport and police authorities, and will report back by April 30.
Additionally, the passenger at the centre of the controversy was identified as David Dao, 69, of Elizabethtown, Kentucky, according to the Associated Press.
Dao, a doctor, has a criminal record for writing fraudulent prescriptions. He was convicted in 2004, and lost his licence to practice medicine. The licence was restored in 2015.
There's no indication that Dao's criminal record influenced his treatment aboard the airplane, nor that the airline or police were aware of his past.
'Creating your own crisis'
Public relations experts told media the situation is an example of a mismanaged incident.
"This is what we call in crisis management 'creating your own crisis,'" Eric Rose of Englander, Knabe & Allen told the Los Angeles Times. "They created their own crisis and handled it miserably."
But many market analysts say history shows an incident like this will have little impact on the airline in the longer run.
"This is going to have no financial impact on United," industry analyst Henry Harteveldt said. "I don't expect them to lose any meaningful revenue."
United released traffic numbers for March on Monday, showing a three-per-cent increase in passengers.