An advocacy group representing Canadian scientists is urging Prime Minister Justin Trudeau to not reuse "draconian" rules of the former government during his term as prime minister.
Ottawa-based non-profit Evidence for Democracy released an open letter Wednesday praising Trudeau for reinstating the mandatory long-form census as well as giving the go-ahead to Environment Canada and Fisheries and Oceans Canada researchers to speak with the media and public as they please.
It was also addressed to Innovation, Science, and Economic Minister Navdeep Bains, and Science Minister Kirsty Duncan.
"But there's more to this than just the 'muzzling' issues."
"We applaud this quick action to support the open communication of scientific information to the public," reads the letter. But the group warns traces of policies from the previous government still remain in some departments.
"The scale of communication restriction under the previous government has left a legacy of draconian communication policies in many departments that prohibit journalists from contacting government scientists directly."
The one-page letter was signed by the group's president Debi Daviau and executive director Katie Gibbs.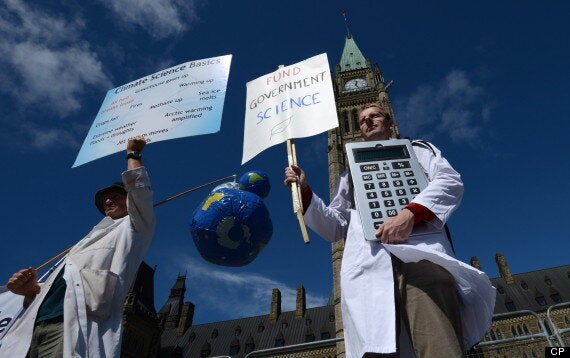 Scientists rally on Parliament Hill in Ottawa on Sept. 16, 2013. (Photo: Sean Kilpatrick/The Canadian Press)
Gibbs told The Huffington Post Canada that, to the group's knowledge, some of the media blackout policies enforced by the former Conservative government have yet to be lifted.
"But there's more to this than just the 'muzzling' issues which is why we're calling for broader science integrity measures to be brought in," she said in an email.
The group wants to see rules in place to protect scientists' work, ensuring research is "free from political interference" as well as the right to last review — a condition that would grant experts the right to make sure government communications citing their work isn't misleading or inaccurate.
Gibbs says they've yet to hear back from the federal government about the open letter.
Evidence for Democracy represents more than 15,000 federal scientists across the country
Liberals: We will treat scientists 'with respect'
During the last years of the former government under Stephen Harper, the Conservatives courted controversy over their decision to slash research funding and their policy of "muzzling" scientists from speaking with media.
The Liberals had campaigned with a pledge to let scientists "speak freely" about their work.
Last year, to show how serious the party was about its election pledge, Bains was appointed to a new cabinet position as minister of innovation, science and economic development — a new portfolio.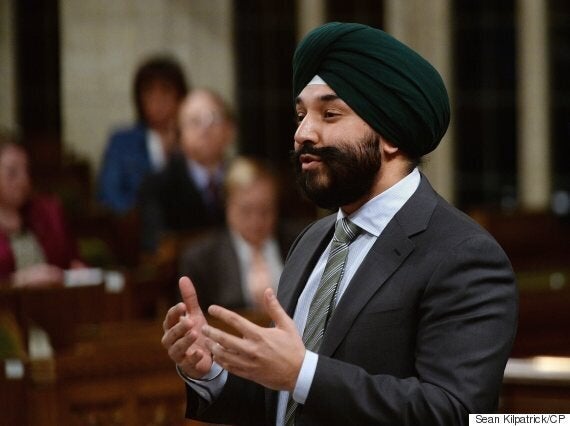 Minister Navdeep Singh Bains responds to a question during question period in the House of Commons on Parliament Hill in Ottawa on Feb. 19, 2016. (Photo: Sean Kilpatrick/The Canadian Press)
"Our government values science and will treat scientists with respect. This is why government scientists and experts will be able to speak freely about their work to the media and the public," the Mississauga-Malton MP said days after being sworn in.
The priority was repeated in the science minister's mandate letter from the prime minister, asking that scientists be able to "speak freely about their work, and that scientific analyses are considered when the government makes decisions."
Trudeau is in Washington, D.C. for a three-day official visit where negotiators for the two countries announced a new climate deal to curb methane emissions.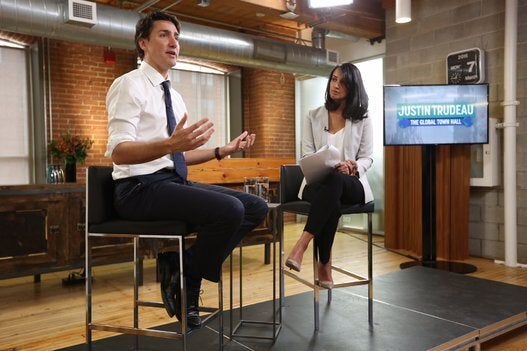 Justin Trudeau: The Global Town Hall