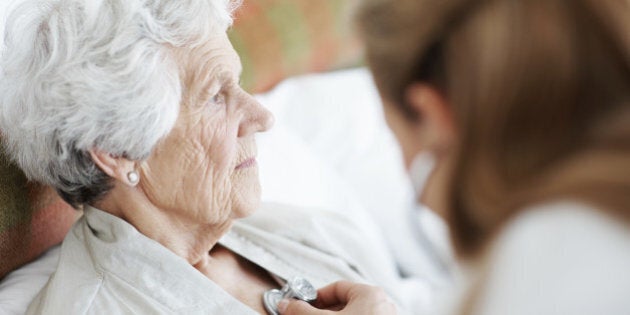 My parents are getting older. It's tough to think about but it's true, and it's the reality for many of us. I personally never want to think about putting my parents in a care home, but the alternative doesn't bear thinking about.
Oftentimes we assume we have resources available to us that will help when the time comes to take care of our Mom and Dad. But is that really the case? Many of us will be forced to make very difficult decisions when it comes to funding care for our aging parents. I've known people who have sold their family homes to keep up with the monthly fees for a care home. It's truly heartbreaking to see.
Here's why your next job could be an unpaid caregiver, and here's what you can do to prevent that becoming your reality.
Our aging population is increasing
Yes, we're all getting older -- that's a given. But as we're living longer and the baby boomer generation reaches retirement, we find ourselves in a very tricky situation. For example, the number of seniors in Canada is projected to reach between 9.9 and 10.9 million by 2036. This is more than double the 4.7 million in 2009. And in BC alone, the number of people aged 65 and up is set to increase from 730,500 in 2012 to over 1.4 million within the next 21 years.
Now, this is not to say there isn't help out there, there is. In fact, Canadians aged 65 plus take nearly 44% of all provincial and territorial government health care dollars. But this is surprising considering seniors comprise just 14% of the population, So what happens when that ratio changes? Despite our best efforts, there is no question that this demographic shift will put a strain on our healthcare system.
Most care homes are privately owned
In BC alone, the majority of residential care for seniors comes from private contractors. This dispels the myth that senior care is entirely taken care of for us -- it isn't. The cost of long-term residential care services is truly staggering. To be specific, the dollar figure in BC falls anywhere between $991.20 and $3,157.50 per month.
And this is for care subsidized by our government, so this is the lowest cost scenario and yet it's still more than most of us could afford. What about private residential care options? Paid for privately, residential care can cost $4,000 to $9,000 per month, depending of course on where we live in Canada. Considering most of us earn per month,$943 a week -- or almost $4,100 per month -- it's easy to see the extent of the challenges facing us when funding senior care.
You may have to leave your job to care for your parents
What does all of this mean? If our aging population is increasing, and most care homes are privately owned and outside of the budget of the average hardworking Canadian, the only other rational option is to move your Mom or Dad into your family home. This can start as well-meaning -- "we want our Mom to be close to us because she's getting forgetful." But as her condition deteriorates and she needs round-the-clock care, you have to consider other options.
If a care home or assisted living community isn't in your budget (for many of us, this is the case), then you are forced to continue caring for your Mom at home. This of course means that either you or your partner would have to quit your job, halving the family's income and putting immense strain on your finances, relationship, and ultimately your health. It's also not ideal for your Mom -- you will try your best, but you're not a nurse and can only do so much. Additionally, consider that on average, health care spending per person is highest for those age 80 and older. And if your parent's pension is modest, it will be up to you to fund this, all while getting by on half of your usual salary.
So what's the alternative? There is no quick solution. But, armed with the reality of what we're heading towards in the next ten to twenty years, we can start planning now. There are some options including savings, investments, and healthcare funding solutions providers. By thinking about this before you're in need, you help build a solid foundation to protect your family and navigate the healthcare challenges that are facing all of us.